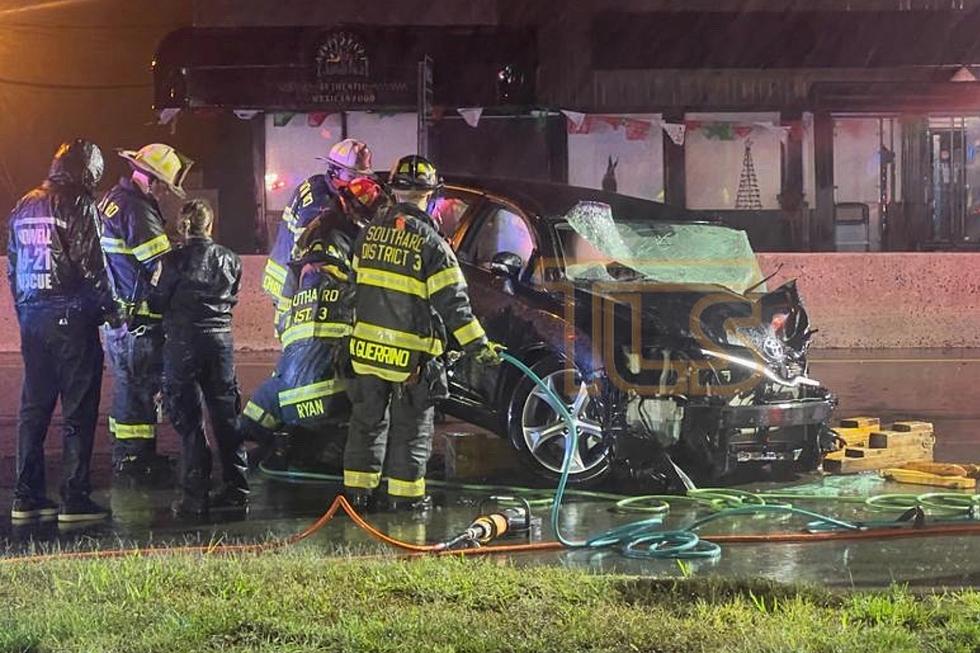 69-year-old NJ man dead in early Sunday morning Howell crash
Deadly crash on Route 9 in Howell 9/24/23 (Courtesy The Lakewood Scoop)
🚗 One 69-year-old man was killed in an early morning crash
🚗 At least one person reportedly had to be extracted from the car
🚗 An investigation into the crash is underway
---
HOWELL — One person was killed in a crash on Route 9 early Sunday morning.
Two vehicles were involved in the crash in Howell that occurred around 2:53 a.m., according to the Monmouth County Prosecutor's Office.
Police found the wreck at the intersection of Route 9 and Aldrich Road.
One person identified as a 69-year-old Lakewood man was killed in the crash, officials said.
Several other people were injured in the crash, the Lakewood Scoop reported. One person was reportedly extracted from a heavily damaged vehicle.
Authorities did say how many people were injured in the collision.
An investigation into the crash remains ongoing. Officials ask witnesses to contact either MCPO Det. Brian Boryszewski at 800-533-7443 or Howell Police Officer Michael Silvani at 732-938-4111.
These are the best NJ high schools for sports
Stacker
put together a list of the best high schools for sports across New Jersey — using data from Niche that included sports championships, family surveys, student enrollment, athletic participation rate and sports options. Here's the top 25.
Report a correction 👈 | 👉 Contact our newsroom
LOOK: 19 Drinks Only '90s Kids Remember
Grab that weird bendy straw you bought with your Chuck. E Cheese tokens, because we're sluprin' up these definitive flavors of the '90s.
LOOK: 50 Photos That Show Madonna Being Absolutely Iconic
Born Madonna Louise Ciccone in Bay City, Michigan on Aug. 16, 1958, Madonna rose to fame in early 80s following the release of her self-titled debut album. She would then go on to release a string of hits earning the moniker the "Queen of Pop." As much as Madonna is known for her music and acting roles, she also is an icon in the fashion world having adopted several looks through the years. Here is a look back at Madonna in the late 1970s through today.