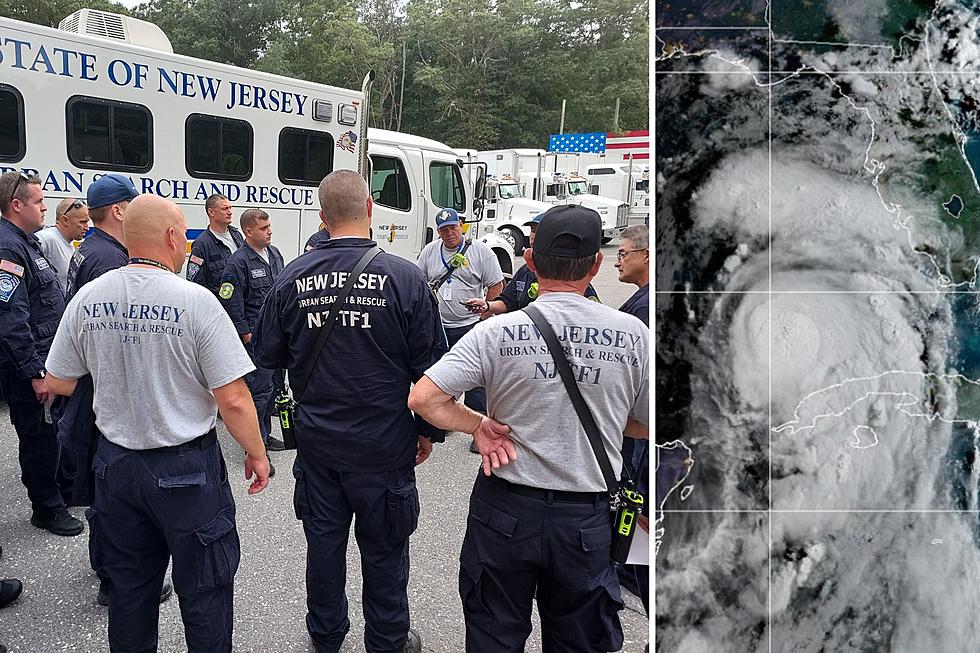 Hurricanes Franklin and Idalia's indirect impacts on New Jersey
Task Force 1 gathers in Wall (NJ OEM), satellite image of Idalia (NOAA)
🌀 Hurricanes Franklin and Idalia will not make direct hits on New Jersey
🌀 Red flags are flying at Jersey Shore beaches for a high risk of rip currents
🌀 New Jersey's TF-1 is Florida-bound to help with recovery efforts
---
As Hurricane Franklin makes its presence known with heavy surf and rip currents at the Jersey Shore, members of New Jersey's Task Force 1 are headed south to be ready to help Florida recover from Hurricane Idalia.
Hurricane Franklin, a Category 4 storm with sustained winds of 140 mph winds, is about 500 miles southeast of New Jersey as of Tuesday morning, the closest it will come to New Jersey as it heads away from the East Coast.
Red flags flying
Despite being hundreds of miles away there is a High Risk of Rip Currents through Wednesday evening with 4 to 6-foot waves creating dangerous conditions for swimmers and boaters.
"Any time a powerful storm passes between the U.S. East Coast and Bermuda, we have to ring alarm bells for rough surf and rip currents. Ocean wave heights may grow to 6 feet, battering the beaches. And minor coastal flooding is possible at high tide too," New Jersey 101.5 Chief Meteorologist Dan Zarrow said.
Capt. Rob Connor, head of lifeguards, told New Jersey 101.5 that with the red flags flying at the beach lifeguards will be keeping swimmers out of the water.
"If they want to put their feet in the water, maybe go knee deep, that's a possibility," Connor said. "The whole beach is red. Usually it's just a couple of spots here and there. It's really pulling hard. The water's probably going to have to be shut down and we're not going to let any swimmers in."
Task Force 1 heads out to help
Forty-five members of New Jersey's Task Force 1 left their headquarters in Wall on Monday night driving in 16 vehicles to Columbia, South Carolina, to stage in anticipation of helping with relief efforts in Florida once Hurricane Isalia makes landfall.
The deployment involves half of the members of Task Force 1 and all of their equipment including boats, generators and shelters. It's Task Force 1's first deployment since they went to Buffalo, New York following a blizzard. The team also went to Florida in September after Hurricane Ian.
Heavy rainfall from Idalia
Zarrow expects Hurricane Idalia to have serious, dangerous impacts for a wide swath of the southerneastern United States after making landfall along Florida's Gulf Coast on Wednesday. It will likely be a Category 3 hurricane when it makes landfall.
"Latest guidance shows the center of the storm coming no closer than 300-400 miles from New Jersey, as it ejects from North Carolina into the Atlantic Ocean. That is far enough away to avoid any severe weather impacts," Zarrow said.
There could be some breezy showers around New Jersey Thursday into Friday and a resurgence of rough surf and rip currents for the Labor Day Weekend, according to Zarrow.
Report a correction 👈 | 👉 Contact our newsroom
Your hurricane emergency kit: what to pack
Visiting the Twin Lights in Highlands, NJ: Photos
A virtual tour of the historic Twin Lights National Landmark. Please note that this particular tour was conducted in 2021 while COVID restrictions were still in place. Since then, all mask and COVID related restrictions have been lifted.
The Top 30 Roller Coasters in New Jersey
Happy National Roller Coaster Day! The state of New Jersey is home to the 6th most roller coasters in the United States, spread across 14 thrilling theme parks.