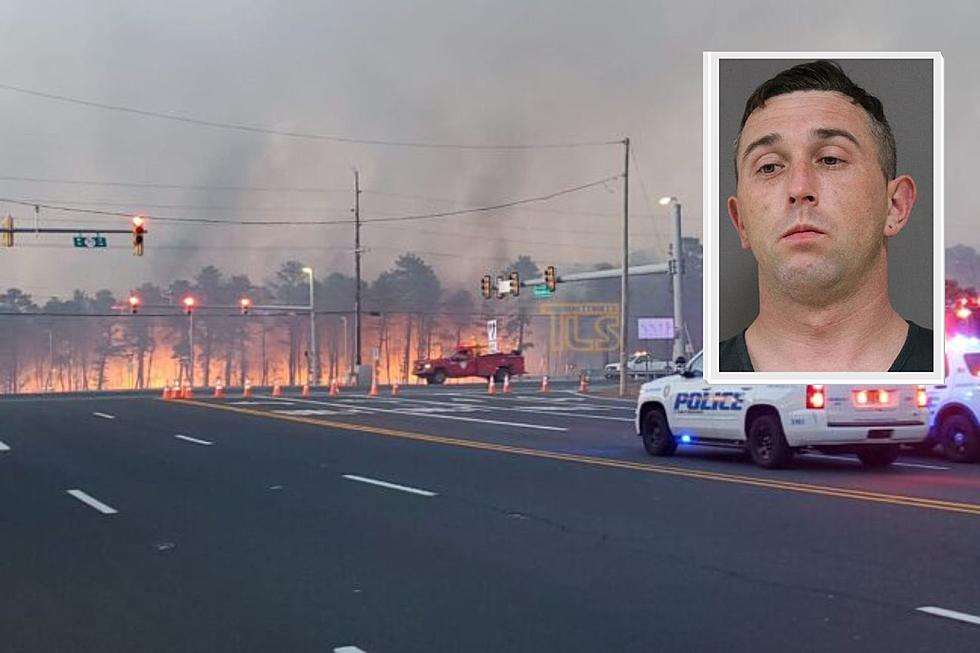 Manchester, NJ man admits setting multiple wildfires that burned hundreds of acres
Fire in Lakewood (The Lakewood Scoop), Gregory Fullman (Ocean County Jail)
🔥 Gregory Fullman, 33, pleaded guilty to setting fires
🔥 One of the fires burned 617 acres in Little Egg Harbor
🔥 Prosecutors will also seek restitution for the cost of putting out the fires
---
A Manchester man has admitted setting numerous fires in Ocean County including one that burned 617 acres.
Gregory Fullman, 33, pleaded guilty to three accounts of aggravated assault for fires set between May 2021 and January 2022 in Little Egg Harbor, Manchester and Lakewood, according to Ocean County Prosecutor Bradley Billhimer.  He will also have to make restitution for the cost of extinguishing the fires.
Prosecutors will ask for a sentence of 12 years.
Hundreds of acres burn
The May 2021 fire in Little Egg Harbor burned 617 acres for three days in the Bass River State Forest. Combined with a second fire in the Brendon Byrne State Forest, a smoky haze hung over Ocean County for several days.
A fire in Lakewood on Jan. 21 was reported in Bennett's Field near Exit 89 of the Garden State Parkway two days after a fire was set in a culvert at Exit 91 in Brick.
Two teens were sentenced to time in a detention center and probation after admitting they set the fire that closed both directions for 10 hours.
Detective work cracks the case
Police used meticulous detective work to connect Fullman with the fires. According to the affidavit in Fullman's arrest in April 2022, police used half-cut cigarette filters from Marlboro 100s, two empty Marlboro 100 packs and a Bang Unicorn energy drink that investigators say Fullman purchased at a Wawa store in Tuckerton.
Tire and shoe impressions were used to link Fullman to the Lakewood and Little Egg Harbor fires, according to the affidavit.
Dan Alexander is a reporter for New Jersey 101.5. You can reach him at dan.alexander@townsquaremedia.com
Click here to contact an editor about feedback or a correction for this story.
Play ball NJ: These MLB pros are from New Jersey
A fair amount of New Jersey born baseball players have made it to the majors. These pros, active to start the 2023 season, all have NJ roots.
LOOK: Food and Personal Care Shortages We Could See In 2023
Learn about the 13 potential shortages that could impact stores in 2023, from produce and meat to snacks and beverages.
LOOK: The 25 least expensive states to live in