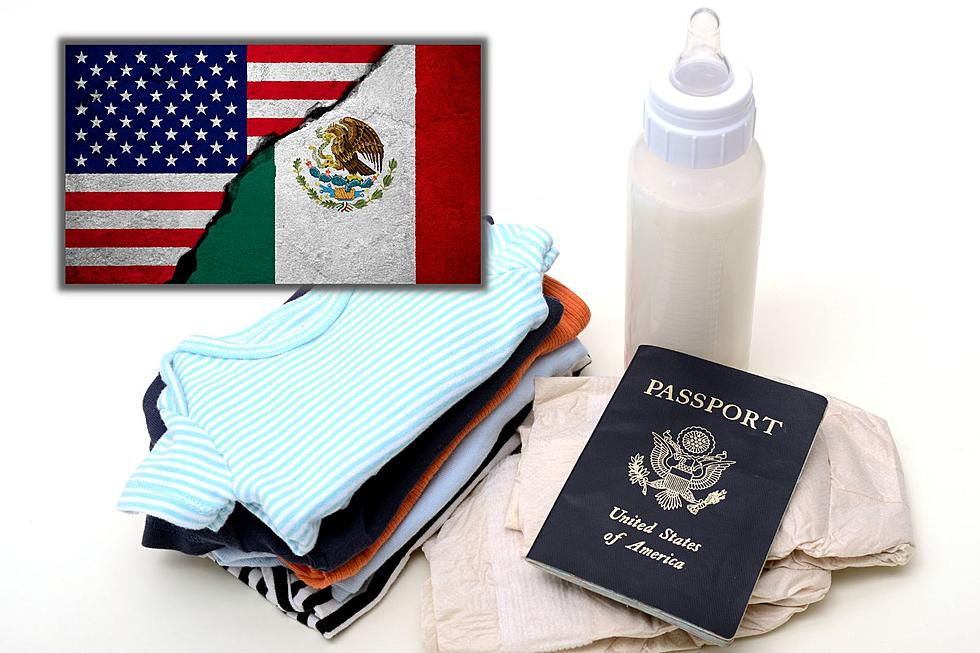 NJ couple says after paying surrogacy agency, their newborn baby was stuck in Mexico
(Canva)
⭕ NJ couple hired surrogate mother in Mexico to carry, deliver their newborn
⭕ Spouses say the agency misled them on risks of securing the baby's U.S. papers
⭕ Others considering surrogates outside the U.S. are warned to avoid similar struggles
---
A Freehold couple excited to grow their family have been living a documentation nightmare, with their newborn son stuck in Mexico.
Laura Kaitz and Sam Kaitz, who got married in 2021, hired a surrogate mother using a Mexican surrogacy agency, as first reported by the Asbury Park Press.
Before they signed with Surrogacy Mexico, Laura Kaitz, 52, said that they had been poised to use an agency based in the Ukraine — which was derailed when Russia invaded that nation in February 2022.
In an interview with New Jersey 101.5, Laura Kaitz said they did their research and voiced concerns to the Mexican agency about online accounts of other families "stuck" dealing with documentation issues — and they were assured that the law in Mexico had changed in 2021.
The initial surrogacy fees amounted to $60,000, she continued.
Since baby Simon's arrival and the ensuing struggle to legally bring him home, the family has spent at least another $15,000 — prompting a family friend to start a GoFundMe campaign to help support the Kaitzs.
After three months of international hurdles, their family was a huge step close to reuniting in the U.S. as of Wednesday — as the family was issued a passport for their newborn son.
Still, the Kaitzs hope that by sharing their story, they can help any other prospective families avoid the same unthinkable stress that they have endured.
⭕ Birth certificate causes roadblock for Freehold couple with baby in Mexico
The Kaitzs' baby was born in April after a pregnancy through in-vitro fertilization, using an anonymous egg donor. Sam Kaitz is the boy's biological father.
Their son arrived several weeks premature at the surrogate mother's house, according to Laura Kaitz.
During the baby's three weeks in a neonatal unit, they began getting together documents needed to bring Simon home to the U.S.
They were not allowed to make an appointment with the U.S. Embassy in Mexico City before the baby's birth.
Once there, the birth certificate issued to the Kaitzs ran into issues — it did not meet U.S. standards, by having a string of zeros instead of a unique number.
The zeros appeared to indicate a provisional birth certificate, embassy officials told the alarmed Kaitzs.
Multiple trips to the embassy to produce different documents proved fruitless, Laura Kaitz said — and each time, the turnaround for an answer stretched a few days past their visit.
She said they have also worked with the office of U.S. Rep. Andy Kim, D-NJ, who had reached out to the U.S. State Department on their behalf.
A spokesperson for Kim confirmed to New Jersey 101.5 that they had be in contact with both the Kaitz family and the department — adding they would not go into more detail "because we don't want to violate their privacy."
⭕ Kaitz hopes other families hiring surrogates can avoid their 'nightmare'
Kaitz said being told that their birth certificate was not valid was a considerable shock — as have been the weeks of uncertainty and extra expenses.
She returned to New Jersey for work and for her other young adult children, one of whom has autism and the other who just graduated college.
Her husband has moved accommodations multiple times while staying in Mexico with their newborn.
After seeing reports about the Kaitz family, a New York-based doctor, reproductive endocrinologist Brian Levine reached out to them, Laura Kaitz said on Wednesday.
He was able to connect them with someone in the Mexican government who was able to assist them in getting the latest DNA results that made it possible for Simon's passport to be issued.
Levine has also received attention for launching an online platform for helping connect potential surrogates with prospective parents, as reported by Marie Claire.
💰 U.S. surrogacy expenses are steep, in six-figure range
The average cost of surrogacy in the U.S. is considerably higher, according to a U.S. World & News Report article in May. "Experts say the total cost can range from $100,000 to $225,000, so it's important to plan ahead."
The same report outlined surrogacy expenses into at least seven categories — of which the most expensive were embryo creation (range of $20,000 to $50,000) and surrogate base compensation (range of $30,000 to $70,000).
⭕ Does a baby born to a surrogate outside the U.S. have citizenship at birth?
Under the Immigration and Nationality Act, a child born in another country must be genetically or gestationally related to a U.S. citizen parent or to a non-U.S. citizen parent who is married to a U.S. citizen parent at the time of the child's birth.
The parent must meet the following statutory transmission requirements of INA 301 or 309 in order for the child to acquire U.S. citizenship at birth:
A U.S. citizen who is a genetic parent of the child may transmit citizenship to the child if they meet all other statutory requirements in order to transmit U.S. citizenship to the child at birth, according to the state department website.
DNA testing is often the most accepted way to establish a genetic relationship, after a child is born.
🔎 Prospective parents urged to research rules, possible pitfalls of foreign surrogacy
Regarding "Assisted Reproductive Technology (ART) and surrogacy abroad," federal officials have cautioned families to do their research before signing documents or paying any money.
"U.S. embassies and consulates cannot recommend particular foreign fertility clinics. Parents should research their options carefully. If the circumstances involved in your surrogacy agreement do not comply with local law, it can be difficult to document the child as a U.S. citizen."
"Because of the complexity that may be involved in having a child abroad using ART, U.S. parents considering a foreign surrogacy arrangement may want to consult with an immigration attorney first."
Families considering surrogacy in Mexico, specifically, have been cautioned that the nation's own laws do not leave for much support for adoptive parents in the U.S.
Just what paperwork is needed for families welcoming a new addition that was born outside the U.S. is also referenced on the U.S. State Department website.
"A U.S. citizen parent who has a child overseas, including via a foreign surrogate mother, may apply for a Consular Report of Birth Abroad of an American Citizen (CRBA) or a U.S. passport for the child at the U.S. embassy or consulate in the country where the child was born," according to the site.
It added the nearest U.S. embassy or consulate should be consulted, to find out specifics on what's required.
Report a correction | Contact our newsroom
LOOK: Where people in New Jersey are moving to most
Stacker
compiled a list of states where people from New Jersey are moving to the most using data from the U.S. Census Bureau.
LOOK: The best minigolf in every state
Using 2022 data from
Tripadvisor
,
Stacker
compiled a list of the highest-rated minigolf courses in all 50 states including Washington D.C.
LOOK: Famous actors from New Jersey
Stacker
compiled a list of famous actors born in New Jersey from IMDb.
Calling all Disney fans! Disney100: The Exhibition is in Philadelphia
For the touring exhibit, there are more than 250 of Disney's "Crown Jewels" — original artworks, artifacts, costumes, props, and other memorabilia—many rarely seen, until now: