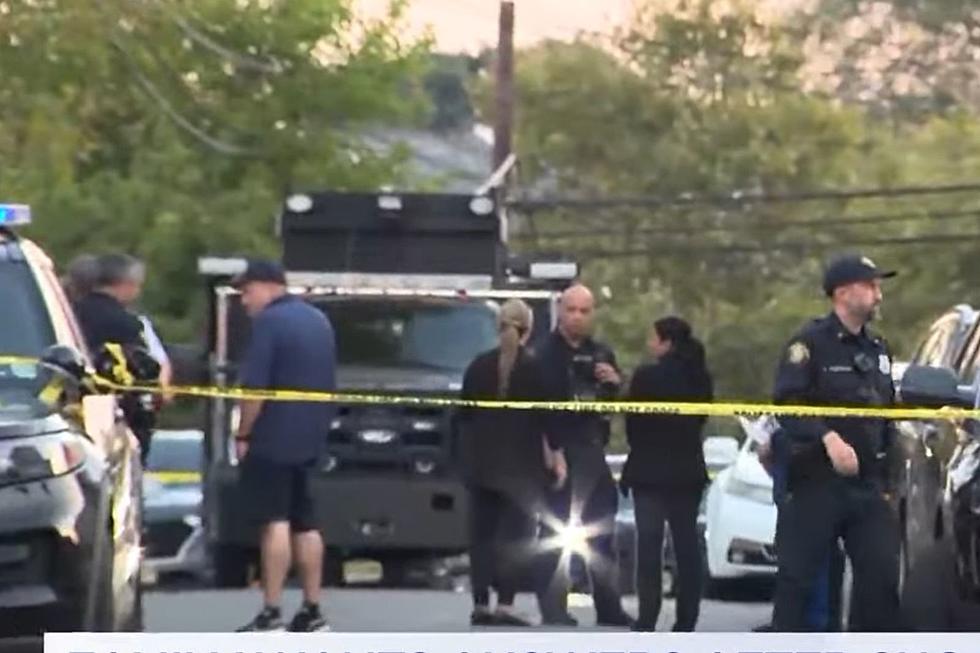 NJ man having mental breakdown is killed by cops after family calls for help
Police response in Jersey City (PIX 11 via YouTube)
🚨 The Attorney General's office is investigating the death of a Jersey City man
🚨 The man's family said Andrew Jerome Washington had a 'mental health crisis'
🚨 Washington's sister said he had a bipolar condition
---
JERSEY CITY — The Attorney General's Office is investigating a police-involved shooting inside a home that may have stemmed from a mental health crisis Sunday afternoon.
Jersey City police were called to a home by an EMS team on Randolph Avenue around 2:30 p.m. after an officer fired his service weapon twice, striking a man twice, according to the Attorney General's Office.  The man was taken to a hospital where he was pronounced dead.
The Attorney General's office did not disclose the circumstances of the shooting or the identity of the man struck.
The man's family spoke to the media about the events they said led to the shooting. Doris Ervin told ABC 7 Eyewitness News the man shot was her nephew, Andrew Jerome Washington, 52  while he was experiencing what she called a "mental health crisis."
The family called the Jersey City Medical Center Crisis Center, a facility Washington had been released from a few days earlier,  seeking help for the second time during the weekend, another aunt, Lisa Menendez, told PIX 11.  Washington was banging the walls and talking loudly to himself.  After a crisis team arrived they called for assistance from police.
Family asked for police to not use a 'real' gun
Menendez said she asked police to use a pellet gun or a conducted energy device commonly called a Taser if they had to shoot at him. Officials have not said what prompted police to fire at Washington.
Washington yelled at the officers, who sent family members outside before the shots were fired, Mendez told PIX 11. He later died in surgery at Jersey City Medical Center.
"I think the crisis center should've done a better job. The police should've done a better job. They should've had more compassion," Mendez told PIX 11.
Washington's sister, Courtnie Washington, told PIX 11 that her brother was diagnosed with a bipolar condition 20 years ago.
"We will never be the same and pray we are given answers and the hospital and police take accountability for not providing the care he deserved and for killing a man in his own home while his family begged them to not hurt him," Courtnie wrote in her statement.
The state Attorney General's Office is legally required to investigate a person's death that occurs during an encounter with law enforcement acting in the officer's official capacity or while the decedent is in custody.
Mayor Steven Fulop says actions justified
Jersey City mayor Steven Fulop at a press conference Monday morning said he has reviewed the video footage from Sunday's shooting and said the use of force in his opinion was justified. He urged the Attorney General's office to make the footage public as quickly as possible.
Fulop said the crisis team that responded called for police assistance as they belived it was unsafe for them to enter Washington's home. Police engaged with Washington for an hour until officers felt he would do harm to himself or someone inside the apartment.
When officers attempted to enter the room Washington "charged" at them with a kitchen knife with a 6-8" blade as they were in the doorway, according to the mayor. Officers used both a gun and a conducted energy device to subdue him.
"We do feel that the use of force yesterday was justified based on the circumstances and in line with police department training," Fulop said.
The officers followed their de-escalation training, according to Director of Public Safety James Shea .
"Mr. Washington is sick. He's not bad, he's not evil, he was sick. But that doesn't make him any less dangerous to the officers and they had to take reasonable steps to protect themselves," Director of Public Safety James Shea said, adding that he is not responsible for his actions.
Washington had an "interaction" with police in 2011 and had a violent history. His family said he was shot in the arm during that interaction.
Report a correction 👈 | 👉 Contact our newsroom
Wow! Aaron Rodgers new home in New Jersey: Inside and out
Here's a look at New York Jets Aaron Rodgers' new Montclair home with 8 bedrooms and 9 baths — and sweeping views of the rest of New Jersey and the Manhattan skyline.
The Top 30 Roller Coasters in New Jersey
Happy National Roller Coaster Day! The state of New Jersey is home to the 6th most roller coasters in the United States, spread across 14 thrilling theme parks.
Visiting the Twin Lights in Highlands, NJ: Photos
A virtual tour of the historic Twin Lights National Landmark. Please note that this particular tour was conducted in 2021 while COVID restrictions were still in place. Since then, all mask and COVID related restrictions have been lifted.