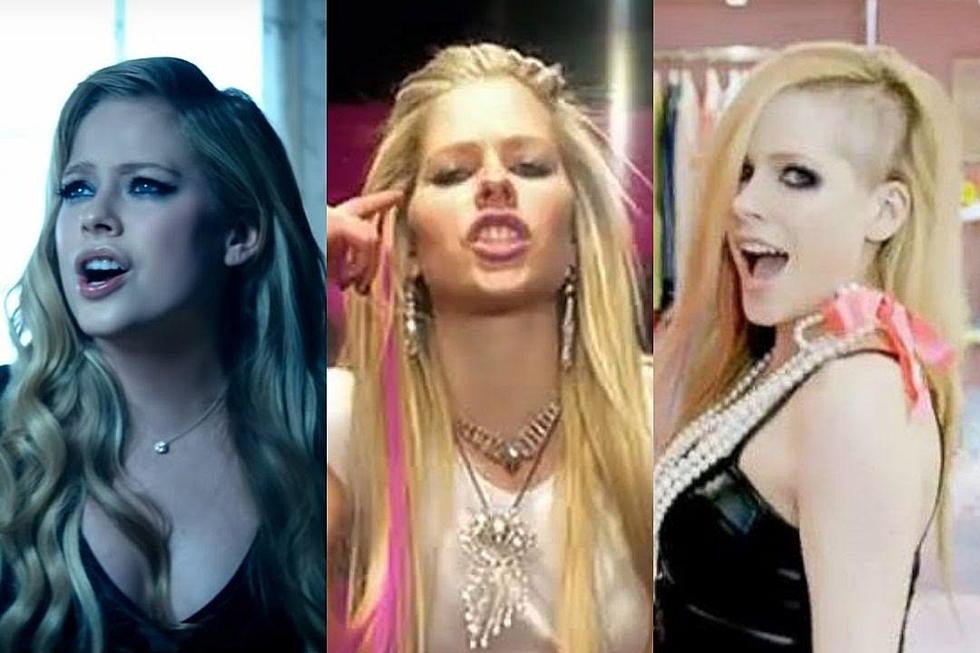 12 Times Avril Lavigne Proved She's Pop's Reigning Rebel
YouTube
Avril Lavigne has well and truly earned her title as the pop-punk princess, but in case you didn't know, she's actually one of the music industry's most versatile musicians. 
The hit-maker debuted with "Complicated" two decades ago. The rollicking "Sk8er Boi" followed shortly after. That one-two punch coupled with her uniform of cargo pants, tank tops, neckties and more than a little smoky eyeliner introduced us to a then-burgeoning talent who had no interest in becoming a traditional pop star. 
Avril knew how to rock out and spent the next several years proving it.
Based on what we've heard so far, Avril's seventh album Love Sux (out Feb. 25) is on track to deliver more of the pop-rock and pop-punk fans have come to know and love from the self-proclaimed "motherf---in' princess." Lead single "Bite Me" was co-produced by Travis Barker of Blink-182, and Machine Gun Kelly features on a song called "Bois Lie." What more do we have to say?
While it seems like Avril's new album will follow closely in the footsteps of Let Go and Under My Skin, the singer is capable of conquering a much wider range of genres.
She's a rock star in her own right, for sure. But she's also explored pop, country and (believe it or not) hip-hop and EDM. 
What we're saying is that Avril Lavigne's been known to make some very unexpected moves in the music industry. Below, here are 12 examples that make that very clear.
1

"Head Above Water" — 2018

The singer's experience with Lyme disease inspired the title track for 2019's Head Above Water. The stirring ballad finds Avril searching for strength and endurance in the face of a seemingly insurmountable challenge. It has a hymnal quality; her pleas for support wouldn't feel out of place on Christian radio. Mature and gorgeously performed, it's not exactly a song you'd expect from the once-rowdy teen who sang "Sk8er Boi" so convincingly, showcasing the depth and range that can develop over the years.  

2

"Tell Me It's Over" — 2018

"Tell Me It's Over" is evidence that this pop-punk princess also appreciates the classics. If you've ever wondered what an Avril Lavigne song inspired by the likes of Billie Holiday, Aretha Franklin or Etta James would sound like, look no further. This breakup anthem finds the hit-maker seeking closure over a vaguely retro production, and she sounds perfectly at home while pulling the vocal trigger. It's an unexpected detour in the star's discography that still somehow fits in perfectly.

3

Is any musician's career complete without a Nicki Minaj collab? Avril was late to hop on the trend when they linked up in 2019. However, she and the "Superbass" rap queen seemingly had a great time on "Dumb Blonde." Opening with a drumline reminiscent of "Hollaback Girl," the banger peaks on its sing-along chorus. A reference to "Cherry Bomb" adds a bit of edge that makes this celebration of being blonde that much cooler. As if we'd expect anything less…

4

Head Above Water is arguably the most eclectic album in the singer's discography. It weaves from the prayer-like title track to the bubbly "Dumb Blonde" before settling firlmy in the realm of acoustic pop on "Goddess." A sparse production highlights the evocative quality of Avril's voice here. After the emotional angst of earlier releases, she's clearly found peace in a relationship and is able to sing with utter sincerity. Oh, and don't get us started on the amazing pronunciation of "bananas." Sheer brilliance.

5

The last Head Above Water song on this list, "Souvenir" opens with some traditional Avril Lavigne vocal runs. However, what follows hardly bears the slightest resemblance to her classic tracks. Thematically, this breezy bop is about the end of a summer fling, and it packs an almost saccharine pop production to match the lyrics. It lacks any of the teeth the singer's traditional pop-rock numbers bare and instead nods at what could have been had the star taken a very different path in her career. 

6

"Get Over Me" (With Nick Carter) — 2015

Believe it or not, Nick Carter landed a duet with Avril before the Backstreet Boys dropped their collaboration with Britney Spears. The "I'm With You" star debuted as the antithesis to their bubblegum aesthetic back in 2002. But in 2015 she shocked pop historians by joining forces with Carter on "Get Over Me." Granted, the fun pop-rock anthem is absolutely in her wheelhouse, but her duet partner came out of left field. Like we said, she's the queen of unexpected music moves. 

7

Imagine going back in time to tell your angsty, teenage self that Avril Lavigne would one day include a beat drop on a song. In 2002 — well before the EDM craze took off — the concept would be unimaginable. However, that's exactly what happened on "Hello Kitty" in 2013. Bratty and arguably a little problematic, this is the singer giving her best Kesha impression. There's a whiney (in a good way) quality to her voice as she talk-sings her way to an irresistible dance-pop breakdown. We never saw it coming, but we're still glad it did — even if it's giving "Harajuku Girls" a bit.

8

"Let Me Go" (With Chad Kroeger) — 2013

Here's a lesser-known fact: Before becoming the pop-punk princess we know and love, Avril once performed with Shania Twain. Considering that, it may make her detour into country on 2013's "Let Me Go" easier to understand. To be fair, this duet with Chad Kroeger of Nickelback rides a fine line between being a rock or country ballad. Opening with forlorn keys, it features soaring vocals from both. There's a shortage of twang, but the song offers a hint at a sonic direction we'd love to see the star probe more deeply. 

9

2011's Goodbye Lullaby pushed Avril Lavigne in unexpected directions. The self-penned and produced "Goodbye," for instance, is an orchestral ballad. There's a lushness to the production, but it takes a back seat to the singer's tremulous voice. That fragile quality is at odds with the confidence with which she bids a former lover farewell. "Goodbye brown eyes / Goodbye my love," she coos, bringing the end to an era with grace and almost reverent beauty. 

10

Everything about "Girlfriend," Avril Lavigne's first and only chart-topper on the Billboard Hot 100, is truly iconic. However, the sing-along anthem really hits its stride on the pre-chorus."She's like so whatever / You could do so much better / I think we should get together now," she sings before falling into aggressive talk-singing. Banging drums and guitar riffs keep this perky banger from falling too far into the realm of pop, marking a drastic sonic shift for the artist. However, in 2007, it was about the furthest the hit-maker had ever gone from her punky roots. Not to mention it got a remix with rapper Lil Mama several years before the Nicki Minaj collaboration craze took off. Talk about being ahead of the curve. 

11

To release a song like "Head Above Water," Avril Lavigne had to lay the groundwork for it. That's what she did with "Keep Holding On" way back in 2006. The ballad landed on the soundtrack for Eragon and soars significantly higher than the flop of a dragon movie. Sonically this doesn't stray far from "Breakaway," which Avril wrote before handing it over to Kelly Clarkson. It's surprisingly wholesome but still retains those signature vocal tics and tricks to keep things firmly in the star's wheelhouse. 

12

In a time when Britney Spears and bubblegum pop ran the game, Avril Lavigne chose to go against the grain. The newcomer never even tried to blend in with the herd of pop princesses releasing music in 2002. Instead, she embraced her angst, threw it over a production courtesy of The Matrix and put it all out there in the form of "Complicated." That decision paid off in spades and positioned the then-teen as an answer to the pop stars that dazzled brightly on the charts. Raw and real, her debut single instantly became counter-culture and put her on a path to carve out a space for herself as one of the biggest stars of a generation. It still holds up 20 years later.