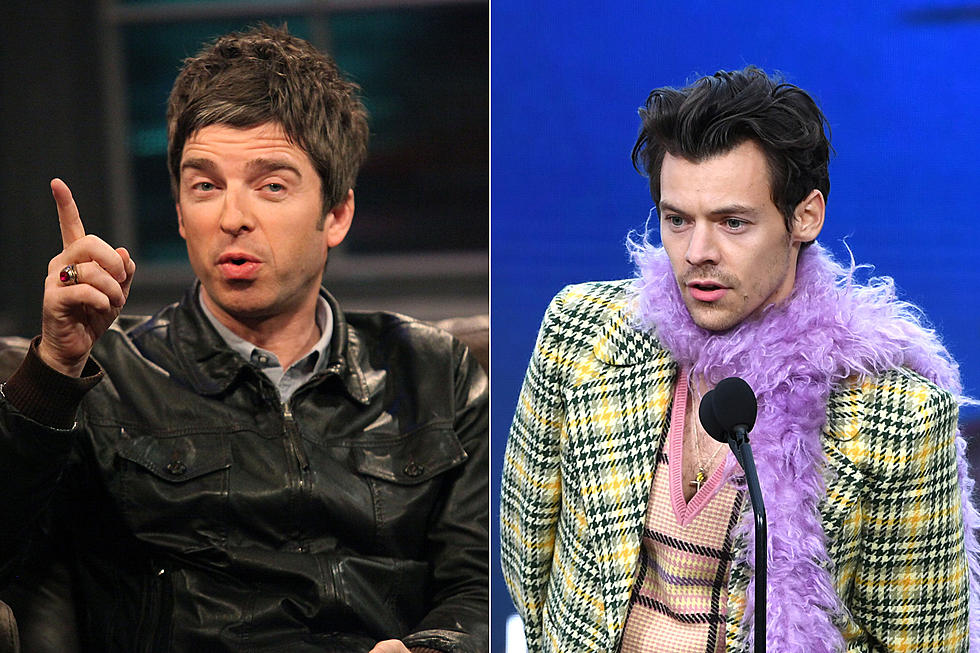 Noel Gallagher Calls Out Harry Styles for Not Working as Hard as 'Real' Musicians
Astrid Stawiarz / Kevin Winter, Getty Images
Noel Gallagher has hit out at pop star Harry Styles in the midst of his commentary on the U.K. talent show The X Factor, claiming that the "As It Was" singer and all X Factor musicians aren't working as hard as "real" musicians.
According to the Daily Star's WIRED column (as transcribed by the U.K.'s Yahoo), Gallagher started off by sharing a negative opinion of the musicians that have come from the U.K. talent competition series The X Factor.
"The X Factor is a TV show. It's got nothing to do with music. It's got nothing to do with music whatsoever," stated Gallagher, adding, "Anything that has come from that, that's got nothing to do with music."
It was through The X Factor that Styles' boy band One Direction first came to fame, and Gallagher then used the band and Styles to further his point, claiming that X Factor stars don't work as hard as "real" musicians.
"You're not telling me Harry Styles is currently in a room somewhere writing a song," stated Gallagher. "With any joy, he'll be surrounded by a lot of girls. I can assure you he's not got an acoustic guitar out trying to write a middle eight for something."
Styles has released two solo albums - 2017's self-titled release and 2019's Fine Line - and has a writing credit on every track that's appeared on those albums, albeit, with additional and sometimes multiple other songwriters listed. His third album, Harry's House, is due May 20, and the newly released single "As It Was" is credited to Styles, Thomas Hull and Tyler Johnson as songwriters.
This isn't the first time that Gallagher has been critical of Styles' music. In 2017, he cracked to Absolute Radio (as shared by NME) of Styles' "Sign of the Times" single, "People of my age have let themselves go. They're fat, balding idiots with fading tattoos. They sit in their garage and write shite like 'Sign of the Times' for Harry Styles, which quite frankly, my cat could have written in about 10 minutes."
He added, "My wife was falling over herself, 'Have you heard Harry Styles' new song? It's like Prince', I was like, 'Without even hearing it, I can assure you it's not like Prince."
This is not the first time a '90s Brit rock star has questioned the writing credits of a pop singer. Earlier this year, Blur and Gorillaz singer Damon Albarn took some heat after suggesting in a Los Angeles Times interview that Taylor Swift was not writing her own songs. When the interviewer countered that she co-wrote her material, Albarn stated, "That doesn't count. I know what co-writing is. Co-writing is very different to writing. I'm not hating on anybody, I'm just saying there's a big difference between a songwriter and a songwriter who co-writes. Doesn't mean that the outcome can't be really great."
Swift fired back after seeing the interview, stating, "I was such a big fan of yours until I saw this. I write all of my own songs. Your hot take is completely false and so damaging. You don't have to like my songs but it's really fucked up to try and discredit my writing. Wow." She then wrote. "PS I wrote this tweet all by myself in case you were wondering."
Albarn then apologized, stating, "I totally agree with you. I had a conversation about songwriting and sadly it was reduced to clickbait. I apologize unreservedly and unconditionally. The last thing I would want to do is discredit your songwriting. I hope you understand."
Noel Gallagher's brother Liam Gallagher then entered the conversation, speaking to NME about the row, calling out Albarn. "All them fucking gorilla albums are co-writes aren't they?" Liam quipped in his typically glib way. "I get it — Noel bangs on about it as well: 'I'm more important than you because I write my fucking songs.'" The ex-Oasis vocalist continued, "Well, he [Albarn] won't be saying that again in a hurry, though, will he? Did he not get ran out of fucking town by the Swifters? I think [Taylor's] fucking cool, man. She does write her songs and I'm sure she's co-wrote with people."
31 Rock + Metal Artists With Multiple Platinum Singles
They've sold over one million copies on a song more than once.