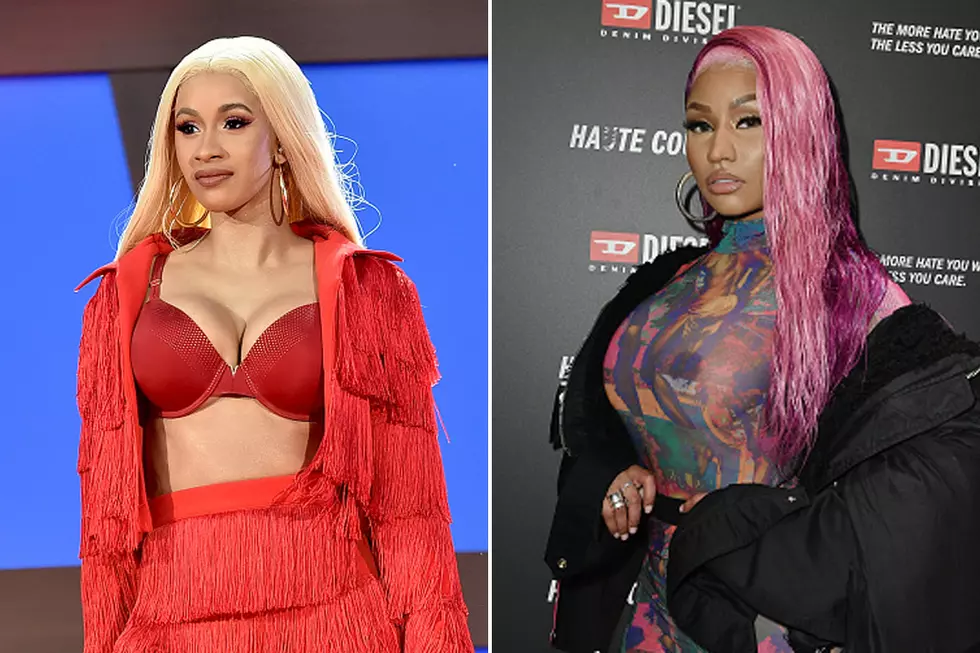 Cardi B Insists Clash With Nicki Minaj Was Over Parenting Tweet
Theo Wargo/Jacopo Raule, Getty Images (2)
"For a while now she's been taking a lot of shots at me," she told the magazine. "I spoke to her twice before, and we came to an understanding. But she kept it going." Cardi is certainly, at least in part, referring to when the two were photographed speaking at the 2018 Met Gala, and seemed to squash any rumors of beef. Cardi said that it was brought to her attention before the Harper's Bazaar party that Nicki had liked, then unliked, a tweet trash-talking her parenting abilities.
"I was going to make millions off my Bruno Mars tour, and I sacrificed that to stay with my daughter," Cardi continued. "I love my daughter. I'm a good-ass fucking mom. So for somebody that don't have a child to like that comment? So many people want to say that party wasn't the time or the place, but I'm not going to catch another artist in the grocery store or down the block."
The clash between Cardi and Nicki at the Harper's Bazaar party was well documented on social media. Cardi was photographed being escorted out of the event with a large knot above her left eye. Nicki later went on her Queen Radio segment and denied saying anything disparaging about Cardi's parenting skills, adding that she would "never speak on somebody's child"—despite the fact that she previously slammed Kylie Jenner and her daughter Stormi for seemingly helping Travis Scott sell albums.
Cardi went on to discuss her decision to drop out of Bruno Mars' tour because both her body and mind were "vulnerable" after giving birth to her daughter Kulture, whom she shares with Migos rapper Offset. The record-breaking female rapper also discussed her interest in the Holocaust, racism in modern America and the constant pressure to prove people wrong.
Head over to W Magazine to read the interview in full.
See Cardi B's Different Looks in 2018