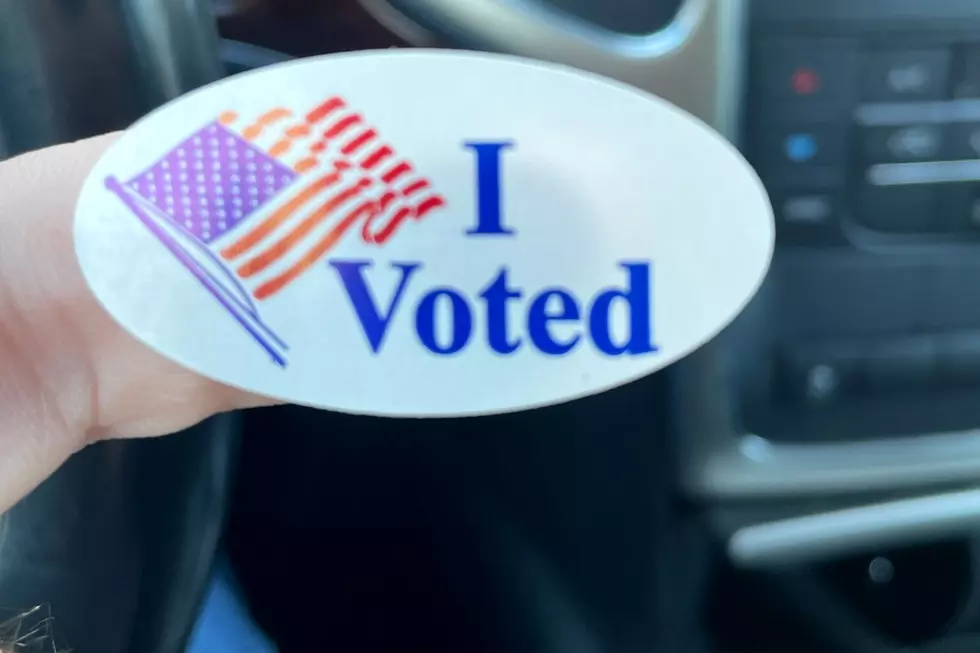 Did you vote yesterday in NJ? Results are in for major school changes
"I voted" sticker (Chris Swendeman)
💲 Five referendums passed, two failed and the result of one was unknown
💲 The most expensive referendum at $51 million failed
💲Another referendum had a turnout of less than 1,000 voters
---
Voters overwhelmingly approved a plan to merge three Monmouth County school districts into one, one of several bond referendums approved Tuesday.
Of the eight referendums put before voters on Tuesday five passed, two failed and the result was not yet known for one.
School merger in Monmouth County
The plan to combine the Highlands, Atlantic Highlands and Henry Hudson school districts was overwhelmingly approved, 64%-36%.
Sea Bright will join the newly created district once their withdrawal from their current districts is approved, according to Highlands Board of Education president Rebecca Wells.
"After nearly 45 years of working towards regionalization, the residents of Highlands and Atlantic Highlands made history by voting overwhelmingly to create a pre-K through 12 all-purpose regional school district and we have heard them loud and clear," Henry Hudson School District Superintendent Tara Beams said in an email. "We are excited to take this next huge step forward as we create a new school district for our entire community that will ensure the best education possible for all of our students."
The respective Atlantic Highlands and Highlands school boards will be dissolved by July 2024 with the current Henry Hudson board remaining in place. Each district's single elementary school will become part of the larger "tri-district."
Closter Borough
Closter Borough voters approved a $6 million plan to replace the roof and boilers at Hillside Elementary School and replace the roof, boilers, windows, and gymnasium HVAC system at Tenakill Middle School.
The final vote was 78%-22% with only 696 votes cast. Over 5,000 are eligible to vote in Closter.
Spotswood School District
An ambitious $12 million referendum at four schools in the Spotswood school district was approved 68%-32%. The project includes:
⚫ Replacement of the lighting and sound system in the cafeteria, and upgrades to the athletic facilities, at Spotswood High School
⚫ Improvements to the HVAC and electrical services at Memorial Middle School
⚫ Replacement of the playground equipment, and HVAC upgrades, at E. Raymond Appleby Elementary School
⚫ Replacement of the playground equipment, HVAC upgrades and improvements, and replacement of a portion of the roof at G. Austin Schoenly Elementary School
Butler Township, Pittsgrove Township
Three referendum questions in the Butler school district were approved for projects at Butler High School, the Aaron Decker School and the Richard Butler School including a building connector and locker replacement.
Pittsgrove voters approved a referendum that superintendent Courtney McNeely called the "Promise of Progress" by a vote of 62%-38%. Various upgrades at Elmer Elementary School, Norma Elementary School, Oliver Elementary School, Pittsgrove Township Middle School, and Arthur P. Schalick High School totaling $14.6 million will be move forward.
Not all the plans up for a vote on Tuesday were approved.
Hopatcong Township, City of North Caldwell
Hopatcong voters turned down two referendum questions by nearly identical 57%-43% votes. The $12 million plan would have paid for renovations and improvements at Hopatcong High School, Hopatcong Middle School, and Durban Avenue Elementary School.
North Caldwell voters turned down a $51 million referendum to construct additions and undertake upgrades at the Grandview School and Gould School by a vote of 57%-43%, accoridng to the Essex County Clerk's Office.
Results were not available for a $6 million plan to construct additions and undertake renovations at Myron L. Powell Elementary School in Cumberland County's Lawrence Township school district.
Previous reporting by Dino Flammia was used in this report.
Report a correction 👈 | 👉 Contact our newsroom
Dennis Malloy's dream vacation to Italy
LOOK: Average salary needed to get by in every U.S. state
According to data from
GOBankingRates.com,
The median salary across the U.S. a single person must make to get by collectively is $57,000. However, some states are far from that.
So how much higher or lower is your state to the national average, and which states are the top 10 most and least affordable overall? Let's find out.
Animals gone wild in NJ: Turkeys, tigers, snakes, bears and more
The best of animal encounters — real and a few rumored — from around New Jersey.