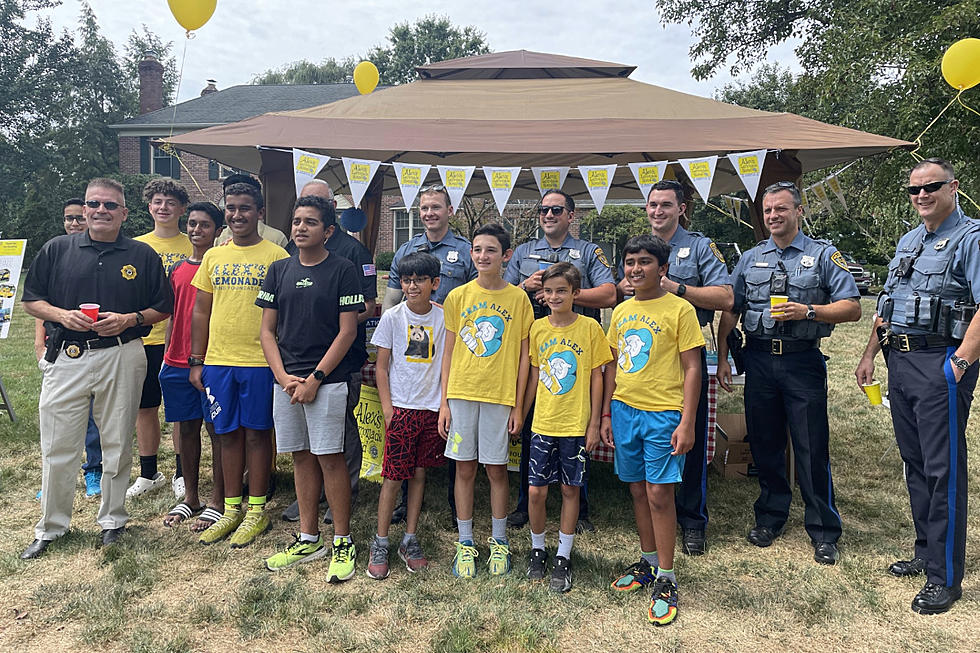 Big Central NJ community fundraiser for a great cause this Sunday
Photo via Neelam Khanna
This is such a touching story and one of the best fundraisers you could ever contribute to. We've all heard about Alex's Lemonade Stand and the money raised to find a cure for childhood cancer.
As a parent — or anyone with a heart — the story of how it began brings tears to your eyes and hopefully lots of money in support for a great cause.
One local family is trying their best to bring awareness to the cause and raise as much money as possible. More on that in a minute.
It all started with 4-year-old Alexandra "Alex" Scott, who was diagnosed with cancer. She asked her parents if she could set up a lemonade stand in front of their house to help get the doctors the money they needed to find a cure for cancer.
With the help of her older brother Patrick, they raised an incredible $2,000 in one day. Alex lived another four years and sadly passed away in 2004.
By that time her stand and inspiration had raised over $1 million.
In the years since the Alex's Lemonade Stand Foundation has raised over $250 million in the pursuit of finding a cure for childhood cancer.
A local family is doing their part this year and wants to push the envelope and raise the absolute most money they can for the foundation.
Neelam Khanna has been hosting this event for the past eight years and is hoping to make this one the best yet.
Their family has been hosting Alex's Lemonade Stand outside their house every year. This year's event will be held on Sunday, August 27th.
They are proud to say that they've raised a total of $16,507 over the past eight years to benefit childhood cancer research.
"We started this Lemonade Stand as a community event and are proud to say that now it's mainly led by our 2 boys Arjun and Rohan and their friends and other kids in the neighborhood," Neelam said.
They say that they are fortunate that every year that their community leaders, police and fire department also come and support our efforts and help them collect more money for Childhood Cancer Research.
The address is 7 Haskell Drive in Princeton Junction.
If you are anywhere in the area, please stop by and lend your support and keep Alex's legacy alive with this great community and family event.
What Are the Signature Drinks From Every State?
Most popular grocery stores in America
Opinions expressed in the post above are those of New Jersey 101.5 talk show host Dennis Malloy only.
You can now listen to Dennis & Judi — On Demand! Hear New Jersey's favorite best friends anytime, anywhere and any day of the week. Download the Dennis & Judi show wherever you get podcasts, on our free app, or listen right now.