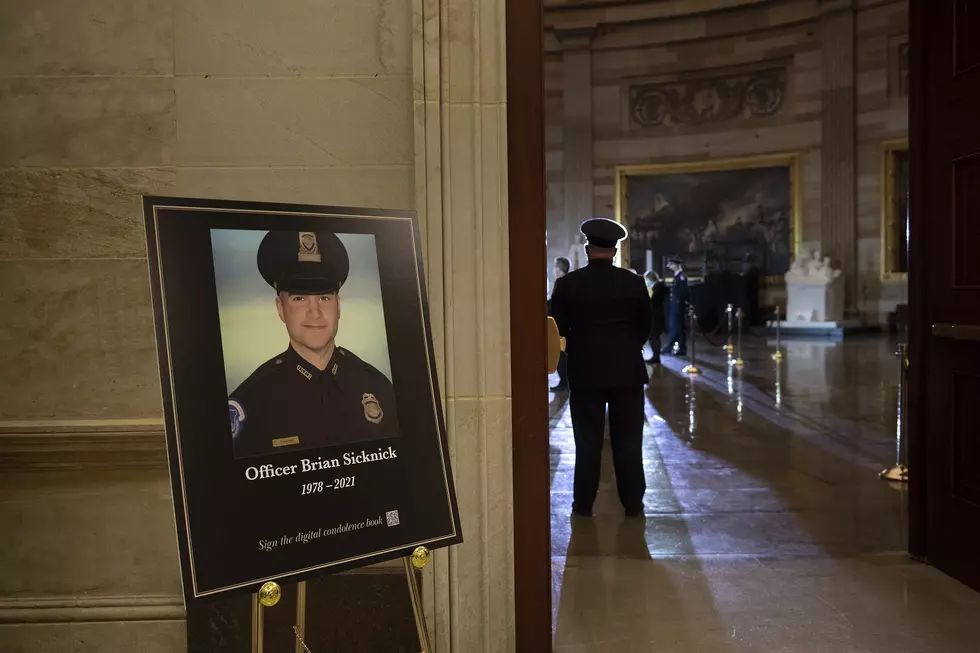 NJ family, GOP senator call Tucker Carlson's Jan. 6 report 'delusional, absurd'
A placard is displayed with an image of the late U.S. Capitol Police officer Brian Sicknick on it as people wait for an urn with his cremated remains to be carried into the U.S. Capitol (Brendan Smialowski/Pool via AP)
⚫ Officer Brian Sicknick, a native of NJ, died after defending the Capitol on Jan. 6
⚫ His family said that Fox News stories downplaying the violent riot are 'propaganda'
⚫ A Republican state senator in NJ also called the report 'absurd'
---
The New Jersey family of fallen Capitol Police Office Brian Sicknick shot back an "outraged" response to recent Fox News stories aimed at downplaying the Capitol insurrection, saying it was an "ongoing attack on our family by the unscrupulous and outright sleazy so-called news network of Fox News."
Sicknick was attacked by two men, also New Jersey natives, as violent supporters of President Donald Trump broke away from a peaceful demonstration and descended on the Capitol, according to federal prosecutors.
Sicknick suffered fatal strokes shortly after.
Tucker Carlson recently aired footage that he said showed that the mob had been peaceful and escorted.
"Every time the pain of that day seems to have ebbed a bit, organizations like Fox rip our wounds wide," the Sicknick family statement continued, adding that the cable network has shown "time and time again that they are little more than the propaganda arm of the Republican party."
On the talk host's claim that Sicknick was not "slain" — the family said "Carlson's 'truth' is to pick and choose footage that supports his delusional views that the Jan 6th Insurrection was peaceful."
"Leave us the hell alone and instead of spreading more lies from Supreme Leader Trump, why don't you focus on real news," the Sicknick family said.
Julian Khater and George Tanios sentenced for attacking Officer Sicknick at the Capitol
In January, Julian Khater, of Somerset, was sentenced to more than six years in prison for attacking Sicknick during the riot.
Khater had attended the violent attempt to overthrow the Capitol alongside George Tanios, also a native of New Jersey who now lives in West Virginia. Both men were arrested in March 2021.
In addition to his 80-month sentence, the 33-year-old Khater was ordered to pay a $10,000 fine and $2,000 in restitution stemming from his conviction of assaulting, resisting, or impeding officers with a dangerous weapon, for the run-in with Sicknick and a second officer.
Tanios was sentenced to time served. He reportedly spent five months in pre-trial detention after his arrest.
Top Republican in NJ criticizes Fox News report
State Sen. Jon Bramnick, R-Union, also slammed the recent Fox News stories.
"The Fox News reports denying that January 6 was a violent riot are absurd," Bramnick said in a written statement.
"We, as Republicans, must stand together and speak out against this nonsense. We shouldn't fear extremists."
U.S. Sen. Cory Booker, D-N.J., called the Fox News stories "dangerously misleading."
More than two years later, the U.S. Department of Justice has filed charges against more than 1,000 people for their roles in the violence on Jan. 6, and more than 500 have been convicted.
Over 20 defendants with New Jersey ties are among those facing federal charges.
NJ arrests, sentences stemming from Jan. 6 U.S. Capitol riot
By two years later, more than 20 people from New Jersey had been charged with involvement in the Jan. 6 insurrection at the U.S. Capitol.
Erin Vogt is a reporter and anchor for New Jersey 101.5. You can reach her at erin.vogt@townsquaremedia.com
Click here to contact an editor about feedback or a correction for this story.
From coast to coast: The 20 best regional fast-food chains to try
From burgers to subs and even creamy milkshakes, these tasty fast-food chains, compiled by
Stacker
, are a must-try on your next road trip.
Weird things NJ taxes - and some they don't
In general, New Jersey assesses a 6.625% Sales Tax on sales of most tangible personal property, specified digital products, and certain services unless specifically exempt under New Jersey law.
However, the way the sales tax is applied in New Jersey sometimes just doesn't make sense.
New Jersey puts out an itemized list for retailers that spells out what is, and what is not, taxed.
Perhaps because this is New Jersey, there are some bizarre and seemingly contradictory listings.
Most affordable places to live in New Jersey
SmartAsset released a study analyzing the
most affordable places to live in New Jersey
. The eighth annual study weighed several factors, including taxes, homeowners' insurance, and home costs relative to the local median income.