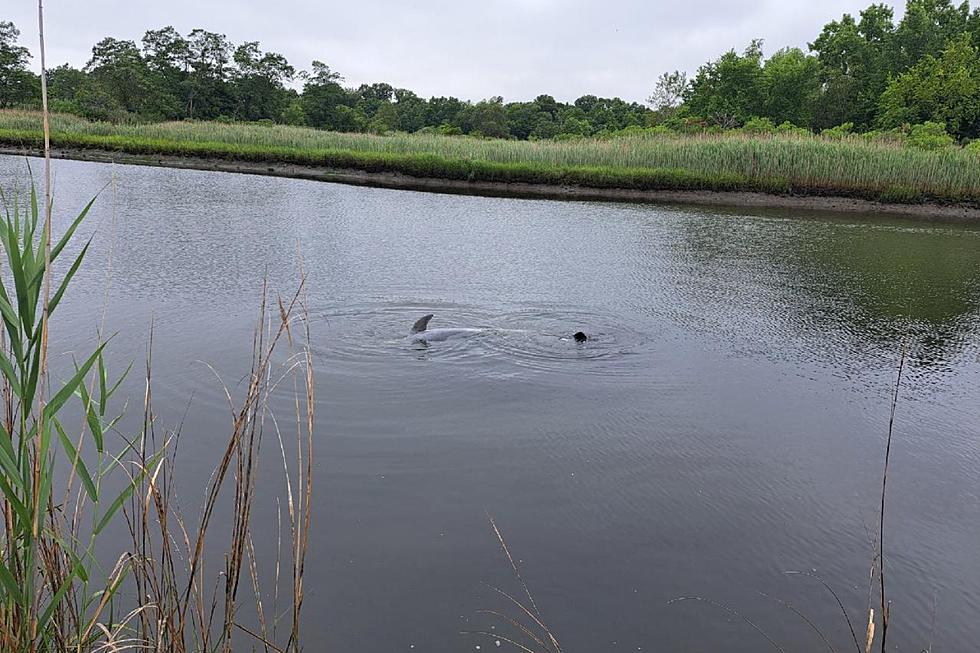 There is a dolphin stranded in Woodbridge, NJ
Dolphin stranded at Alvin Williams Park in the Sewaren section of Woodbridge (Mayor John MacCormac)
🔴 38 dolphins have stranded themselves in New Jersey bodies of water or in the ocean
---
Two dolphins have stranded themselves in New Jersey the past two days, the most recent one near a Middlesex County park.
A dolphin stranded itself Friday morning in Arthur Kill along the Alvin P. Williams Park in the Sewaren section of Woodbridge, according to Mayor John McCormac.
Photos posted by the Facebook group Sewaren NJ History show a Woodbridge police vehicle blocking the entrance to a PSE&G facility next to the park.
A more common location
On Thursday, a bottlenose dolphin stranded itself on a beach in Wildwood, according to Stranding Center's website.
The sub-adult female was alive when it became stranded but died before biologists and volunteers from the Stranding Center arrived. Its remains were taken for a necropsy to the state Animal Health Diagnostic Lab.
Some environmental groups and Republican lawmakers have called upon Gov. Phil Murphy to declare a 60 to 90-day moratorium on work on offshore wind projects to investigate a link to the recent deaths of the sea life.
Murphy has said there is no evidence linking the work to the deaths. Environmental groups have accused opponents of wind energy of exploiting the deaths.
The Marine Mammal Stranding Center early Friday afternoon did not respond to New Jersey 101.5's request for more information about the strandings.
Report a correction 👈 | 👉 Contact our newsroom
LOOK: Longest-living dog breeds
UPDATED: All the stores where NJ legal weed is sold
The number of recreational cannabis dispensaries continues to grow, since the first NJ adult recreational sales in April 2022.
NJ county fairs are back! Check out the 2023 summer schedule
A current list of county fairs happening across the Garden State for 2023. From rides, food, animals, and hot air balloons, each county fair has something unique to offer.
(Fairs are listed in geographical order from South NJ to North NJ)