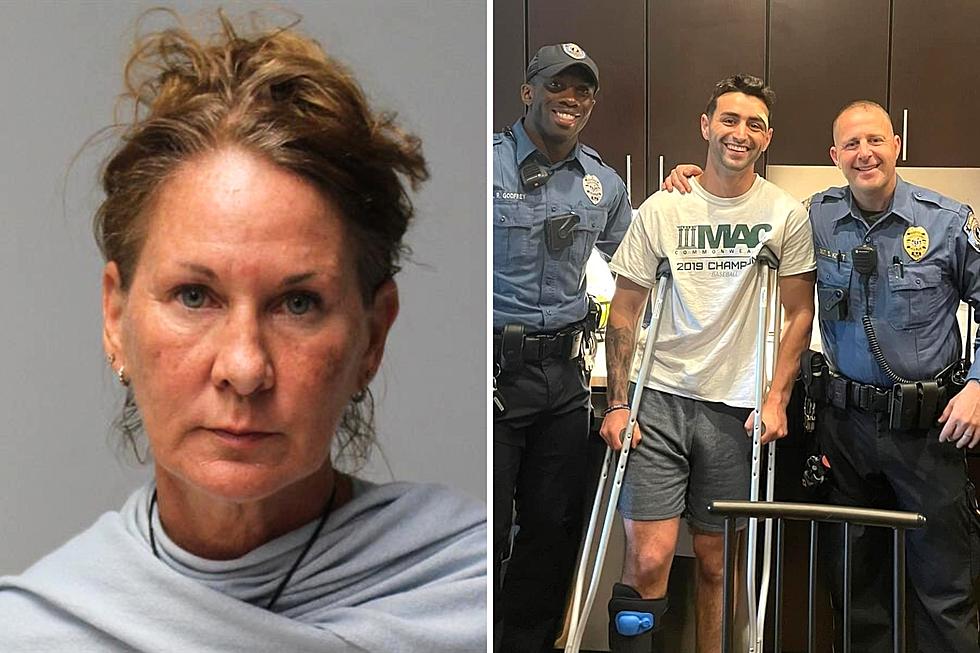 Woman charged in NJ cop hit-and-run has lost her license 3 times
Rachel Glatt, Connor Boyle (MCPO/Facebook)
🚗 An East Windsor woman is charged with driving into a cop and leaving the scene
🚗 She has lost her license three times and has a history of driving infractions
🚗 The officer has been released from the hospital
---
ROBBINSVILLE — The East Windsor woman accused of striking a Robbinsville police officer with her car and leaving the scene has three license suspensions and a long history of driving offenses, according to documents.
Rachel Glatt, 52, is charged with second-degree aggravated assault and fourth-degree assault by auto for the crash on Route 130 South near Voelbel Road on April 22. She is also facing offenses including reckless driving, failure to change lanes for an emergency vehicle, failure to report a crash, and leaving the scene of a crash causing personal injury.
Video of the crash released by Robbinsville police showed Patrolman Connor Boyle, 25, helping a motorist with their disabled vehicle when he was struck by a Volkswagen Passat. The Passat drove off, leaving Boyle to radio for help on his own.
Glatt was arrested later at her home, according to Robbinsville police.
🚗 License suspensions and driving record
Glatt has had her license suspended three times since 1991, according to a driver abstract obtained from the Motor Vehicle Commission by New Jersey 101.5. It includes her violations, suspensions, and crashes.
The abstract shows that Glatt had her license suspended for 60 days starting on March 17, 1991 for not paying her insurance. Then months later on Sept. 8, her license was suspended again for 44 days for the same reason. She had also been issued two tickets for speeding in 1988 and 1989 for four and two points respectively.
Glatt's record remained clean for over 25 years until she was involved in an accident on Dec. 23, 2016. The abstract shows she was issued a violation for driving under the influence at the time of the crash. Then on March 13, 2017, Glatt was again issued a violation for driving under the influence. She lost her license for 90 days after the second DUI.
There are no other incidents on her record until the crash on April 22. She was not accused of driving under the influence at the time of the incident.
👮‍♂️ Robbinsville cop released from hospital
Boyle spent just over a week being treated at Capital Health Regional Medical Center and was released last Monday. Photos posted to social media showed him on crutches with a brace around his right leg.
Robbinsville police Chief Michael Polaski said that Boyle is expected to make a full recovery. When he is ready to work again, he will take up a new position as a school resource officer at Pond Road Middle School.
Rick Rickman is a reporter for New Jersey 101.5. You can reach him at richard.rickman@townsquaremedia.com
Click here to contact an editor about feedback or a correction for this story.
Up or down? Average property tax changes in NJ in 2022
Below are the average property tax bills for every municipality in New Jersey last year.
The towns are listed from the biggest cut in the average bill to the highest increase. On the county maps, the deeper red color means a higher increase above 2% whereas the darker green signifies a smaller increase or a reduction.
Each listing also shows how the average tax bill is split among the county, school and municipal governments.
How much your school district gets under Murphy's proposed 2024 budget
Gov. Phil Murphy's porposed 2024 budget includes $1 billion in new spending for school funding including pre-K funding, pension and benefits, and an additional $832 million in K-12 aid, which is listed below by county and district.
Most affordable places to live in New Jersey
SmartAsset released a study analyzing the
most affordable places to live in New Jersey
. The eighth annual study weighed several factors, including taxes, homeowners' insurance, and home costs relative to the local median income.