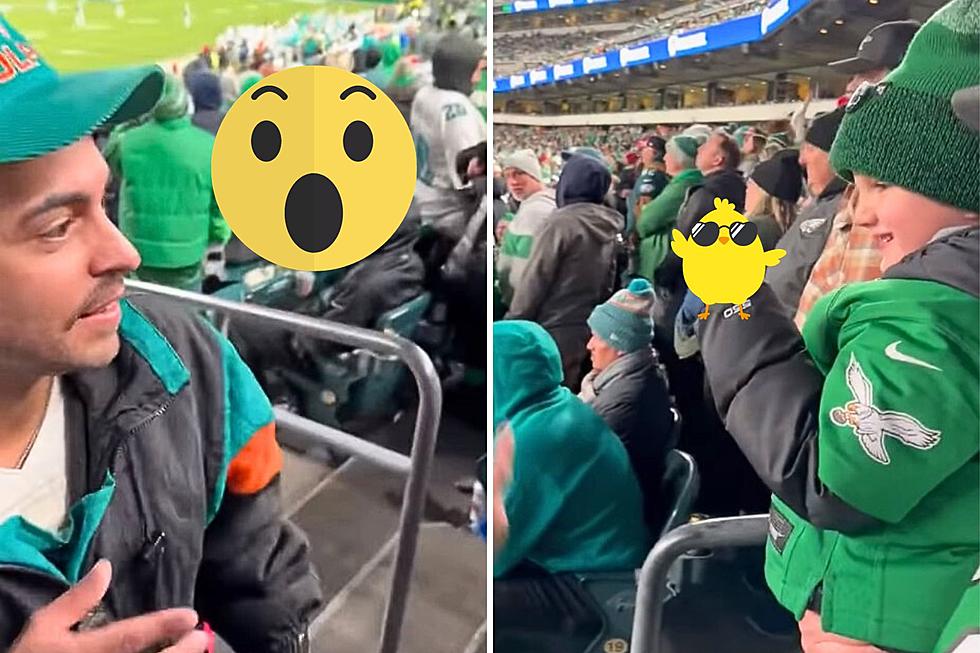 NSFW! Watch Little Boy Flip Off a Dolphins Fan at the Philadelphia Eagles Game [VIDEO]
crossingbroad/Instagram; Canva
The funniest moment of Sunday night's Philadelphia Eagles game at Lincoln Financial Field came when a kid was captured flipping off a Miami Dolphins fan. See the unfriendly gesture for yourself.

Look, when it comes to kids, I'm a big believer in the sentiment, 'you gotta start 'em young', but teaching them to flip the middle finger at people doesn't apply, lol.
If you know, you know: Philly sports fans are the worst, lol. We're the BEST but we're the worst, and never very welcoming to opposing teams' fans.
They get yelled at, heckled, mocked, and, in certain instances, worse. Philly sports fans are not immune to instigating physical violence.
Probably the most common insult is flipping off fans of other sports teams, but never have I ever seen it done by a child. I can't say that anymore, lol.
During Sunday night's Dolphins vs. Eagles game, a Miami fan attempted to high five a little boy who was there rooting for Philly. The Dolphins fan was brutally rebuffed and instead met with a middle finger! Yep, from THE KID (who was sitting IN his father's arms, no less). Philly, am I right? Shocked but not at all surprised, lol.
Check out the clip posted to crossingbroad/Instagram below.
View this post on Instagram
It's so bad to say but I honestly can't stop laughing at it.
Luckily, the Dolphins fan was more entertained than angry about the insult and was a good sport about it and the kid was certainly pleased with himself.
What do YOU think about it? Harmless? Let us know in the comments below.
Celebrities Who Rocked Thin Brows in the '90s and 2000s
Below, check out 25 celebrities that totally nailed the thin eyebrow trend — and make the case for a new wave of perfectly plucked eyebrows. They might just convince you to pull out your tweezers and go to town on your own brows. In this case, less really is more.
Gallery Credit: Claire Epting
LOOK: 23 Child Actors Who Died Young
Stacker
compiled a list of 23 child actors who died young using various sources, including news articles, interviews, and more.
Gallery Credit: Stacker