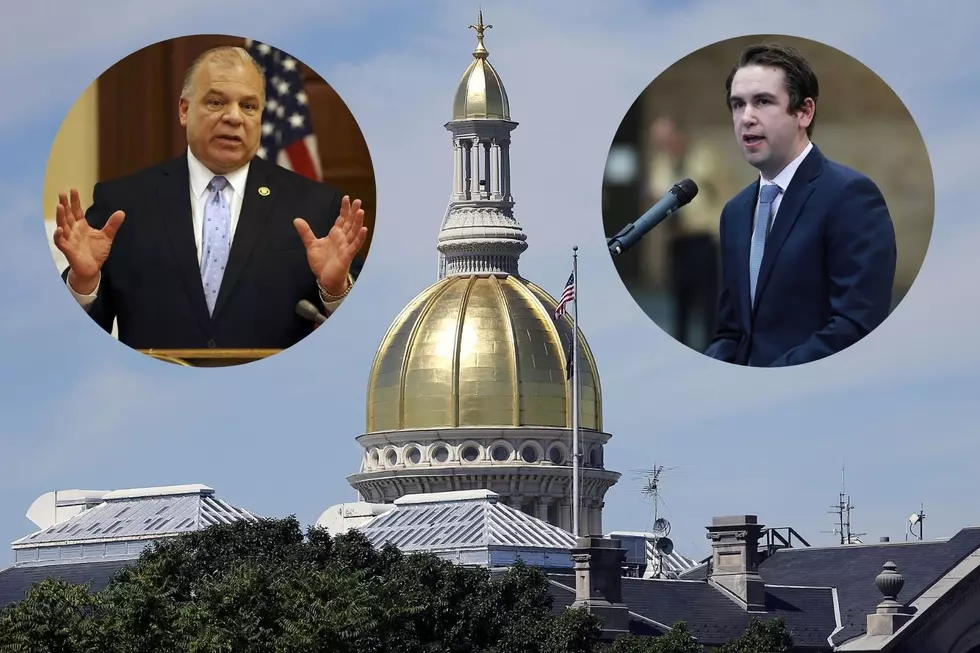 Democratic showdown in NJ? Who runs for Governor?
AP/Townsquare Media Illustration
His term does not expire for another three years, but Jersey City Mayor Steven Fulop says he will not seek reelection.
That has prompted some to speculate that Fulop will again seek the Democratic nomination for governor in 2025.
Fulop surprised many in 2016 when he withdrew from the gubernatorial contest at a time when it appeared his campaign was gaining strong momentum.
The political world had expected a three man race for the nod between Fulop, Senate President Steve Sweeney and former ambassador Phil Murphy.
In a three-way race, Sweeney would have had a strong shot to be the nominee. His South Jersey power base was solid, and northern votes would have likely split between Fulop and Murphy.
Murphy, however, was amassing strong support behind the scenes thanks to a well funded and aggressive media campaign and savvy political staff that was garnering support from Democratic power brokers.
His biggest victory, however, was ultimately chasing Fulop from the race.
Fulop announced he would not run on Sept. 28, 2016, and was supporting Murphy. A week later, Sweeney announced he would not seek the nomination.
Murphy went from outsider to front-runner, and was virtually guaranteed to win in November due to the unpopularity of outgoing governor Chris Christie. Christie's Lt. Gov., Kim Gudagno, was the Republican nominee. Her ties to Christie sank Gudagno's candidacy before it began. Murphy was declared the winner minutes after polls closed.
As Jersey City Mayor, Fulop has quietly rebuilt his brand, consolidated power among North Jersey Democrats, and would carry a decade of executive experience into a race.
Wednesday was a day of reflection for Fulop, who talked about his 10-years at the helm of one of New Jersey's largest cities. In an interview with the Jersey Journal, Fulop talked about family, recalling how "the city's seen me go from a 26-27-year-old elected on the city council, single, no-kids to a place where I'm a homeowner, I have two kids, married."
In 2016, when he dropped out of the race for governor, Fulop said he just "wasn't in a good place."
He is now an experienced 45-years-old and has the support of several prominent Hudson County Democrats should he decide to run.
Sweeney, meanwhile, has seen his political career go in the opposite direction. He lost his senate seat to unknown trucker Ed Durr. It bounced him from his perch as one of the most powerful Democrats in the state.
The former senate president has since started the "Sweeney Center for Public Policy" at Rowan University where he is tasked with "formulating answers to New Jersey's most complex policy issues."
He has said publicly that losing the election has been freeing, and given him time to formulate a path to prosperity for all of New Jersey. Sweeney has also remained a powerful force in South Jersey politics and is still a commanding presence behind the scenes.
Both men posses a passion and love of New Jersey. A primary battle would be intriguing to watch.
Sweeney's experience in the volatile world of Trenton politics would be a significant advantage in helping him as governor, but he will also be eight-years removed from the State House, which is a lifetime in the capitol city.
For Democratic voters, the choice may be between Sweeney and a return to the past, or Fulop and a more progressive, modern, candidate.
Neither Sweeney nor Fulop has formally declared their candidacy.
Eric Scott is the senior political director and anchor for New Jersey 101.5. You can reach him at eric.scott@townsquaremedia.com
Click here to contact an editor about feedback or a correction for this story.
LOOK: Here's where people in every state are moving to most
How much does the average NJ home cost? Median prices by county
Everything is costing more these days — and housing is certainly no exception in New Jersey.
Data for 2022 from January through August, compiled by New Jersey Realtors, shows that South Jersey has been seeing homes hit the market and sell in less than a month, on average.
Median prices for single-family homes have reached $500,000 and above in nine counties in North and Central Jersey.
All but two counties have seen houses go for more than the list price, on average, this year.
New Jersey's Most Terrifying Serial Killers
New Jersey Nightmares - Notorious Serial Killers