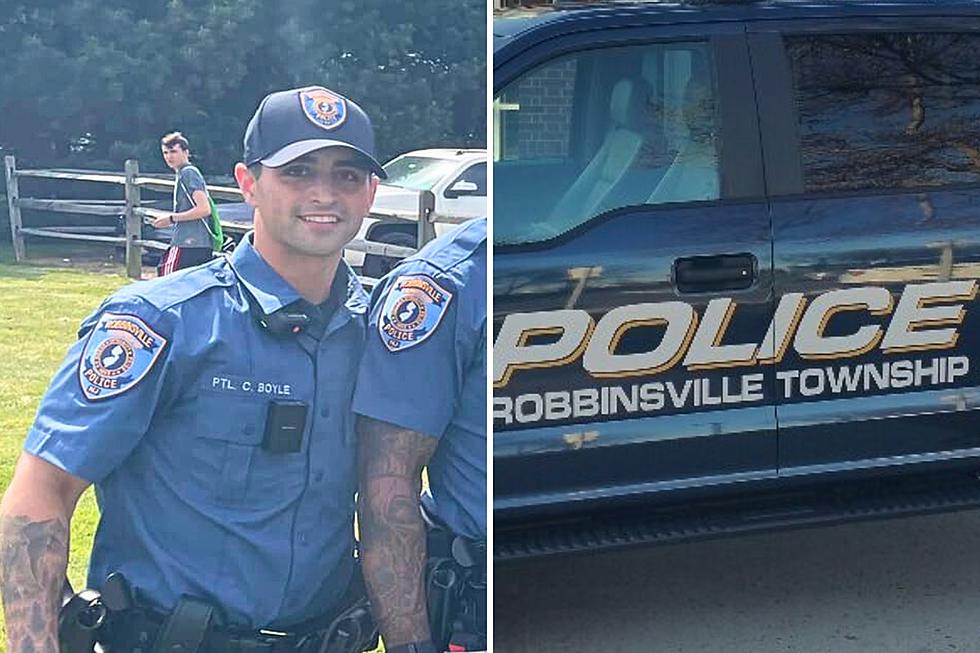 Driver hits Robbinsville, NJ cop and leaves the scene, police say
Connor Boyle (Robbinsville police via Facebook)
🔵 A woman is accused of striking a Robbinsville cop and leaving the scene
🔵 The patrolman was taken to the hospital
🔵 The accused driver faces multiple charges but not DWI
---
ROBBINSVILLE — A police officer was taken to the hospital after being hit by an East Windsor woman who kept driving, according to authorities.
Around 11:30 p.m. Saturday night, Robbinsville Patrolman Connor Boyle, 25, stopped to help a disabled motorist along Route 130 South near Voelbel Road, according to the Robbinsville police. He turned on the emergency lights of his Dodge Charger police vehicle and got out to speak to the driver.
As they talked, a 2020 Volkswagen Passat headed southbound struck the Dodge Charger, Boyle, and the disabled vehicle. Police said the driver did not stop or report the crash.
Fortunately, Boyle was able to use his radio to call for help. Robbinsville EMS transported him to Capital Health Regional Medical Center. He was in stable condition Sunday morning.
Robbinsville police said its officers later found the driver at her home in East Windsor. She has been identified as 52-year-old Rachel Glatt.
Glatt is charged with second-degree aggravated assault and fourth-degree assault by auto, according to authorities. She also faces numerous other offenses including reckless driving, failure to change lanes for an emergency vehicle, failure to report a crash, and leaving the scene of a crash causing personal injury.
Glatt was not charged with offenses related to driving under the influence. She has been taken to Mercer County jail.
Rick Rickman is a reporter for New Jersey 101.5. You can reach him at richard.rickman@townsquaremedia.com
Click here to contact an editor about feedback or a correction for this story.
How much your school district gets under Murphy's proposed 2024 budget
Gov. Phil Murphy's porposed 2024 budget includes $1 billion in new spending for school funding including pre-K funding, pension and benefits, and an additional $832 million in K-12 aid, which is listed below by county and district.
LOOK: Here are the states where you are most likely to hit an animal
Hitting an animal while driving is a frightening experience, and this list ranks all 50 states in order of the likelihood of such incidents happening, in addition to providing tips on how to avoid them.
Play ball NJ: These MLB pros are from New Jersey
A fair amount of New Jersey born baseball players have made it to the majors. These pros, active to start the 2023 season, all have NJ roots.