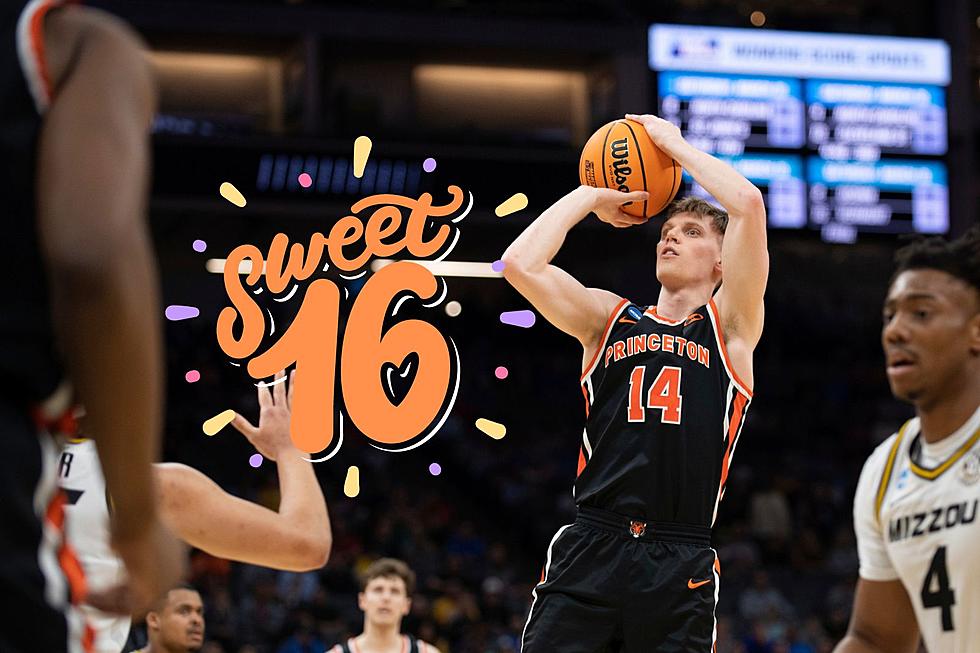 Go, New Jersey! Princeton Tigers roar into the Sweet 16
AP Photo/Townsquare Media illustration
🏀 Princeton will look for its first Elite Eight appearance since 1965 when Bill Bradley was the star
🏀 Princeton was more than a match physically with Missouri with a 44-30 rebounding edge and 16 offensive rebounds that led to 19 second-chance points
---
SACRAMENTO, Calif.  — Blake Peters made five 3-pointers in the second half and Princeton shocked another power conference team to reach the NCAA Tournament regional semifinals for the first time in 56 years by beating Missouri 78-63 on Saturday.
The No. 15 seeded Princeton (23-8) followed up a first-round win over Pac-12 tournament champion Arizona by dominating 10th seeded Missouri (25-10) of the SEC from the start.
The Ivy League school known for giving powerhouses scares and occasionally pulling off upsets a generation ago has reached the round of 16 for the first time since 1967 when only 23 teams even made the tournament.
Princeton will play the winner of Sunday's game between Baylor and Creighton in the Sweet 16 in Louisville, Kentucky, on Friday night.
The Tigers will be the second Ivy League school to make the Sweet 16 in the past 43 tournaments, joining Cornell in 2010. No team from the academically prestigious that doesn't give athletic scholarships has gone further since Penn made the Final Four in 1979.
The fans who made the cross-country trip to California started chanting "Sweet 16! Sweet 16!" in the closing minute.
This marks the third straight year a team seeded 15th made it to the Sweet 16, following Oral Roberts in 2021 and fellow New Jersey school St. Peter's last year. The only other time a 15 seed made it this far came in 2012 when Florida Gulf Coast did it.
Ryan Langborg led Princeton with 22 points and Peters added 17.
DeAndre Gholston scored 19 points and Noah Carter added 14 for Missouri, which was seeking its first berth in the Sweet 16 since 2009.
Princeton showed no signs of being outclassed against another power conference team, controlling the play from the start. Keeshawn Kellman had two dunks and a blocked shot in a span of 16 seconds midway through the half.
Princeton built the lead to 10 points on a corner 3 by Zach Martini and went up 33-19 on a drive by Evbuomwan.
Missouri responded by scoring the final seven points of the half to go into the break down seven.
Every time Missouri threatened early in the second half, Princeton had an answer with Peters hitting five 3-pointers. The fourth gave Princeton a 62-43 lead and Missouri never threatened after that.
The most Irish towns in New Jersey
Using most recent five-year data from the U.S. Census American Community Survey, we plotted the municipalities in New Jersey with the highest percentage of residents claiming Irish descent. Take a look!
Play ball NJ: These MLB pros are from New Jersey
A fair amount of New Jersey born baseball players have made it to the majors. These pros, active to start the 2023 season, all have NJ roots.