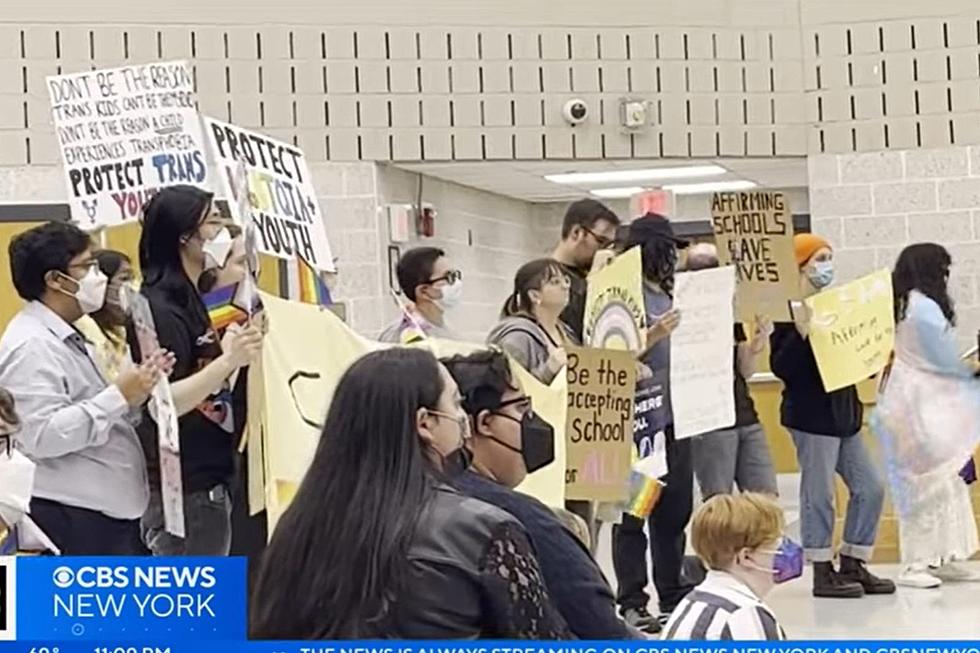 Monmouth lawmaker says Platkin 'fearmongering' on NJ school trans policies
Protesters inside Marlboro's Board of Education meeting 6/20/23 (CBS New York via YouTube)
🔴 One district wants to negotiate with AG Matt Platkin about its transgender policy change
🔴 Assemblyman Rob Clifton accused Platkin of "fearmongering"
🔴 The BOE in Colts Neck votes Wednesday on its transgender policy
---
A Republican Monmouth County assemblyman is accusing Attorney General Matt Platkin of "fearmongering" after filing lawsuits against three school districts that voted to override the state's transgender policy and require parental notification.
Manalapan, Marlboro and Middletown voted last Tuesday to require parents to be notified of any changes made by a student in their gender identity in votes on their respective policy 5756. The next day Platkin filed discrimination lawsuits against each district and emergency motions in state Superior Court requesting preliminary injunctions and temporary restraints to prevent all three of the policies from going into effect while the lawsuits are pending.
Brian Graime, president of the Manalapan-Englishtown Board of Education, reached out to Republican Assemblymen Rob Clifton and Alex Sauickie, both of the 12th Legislative District, to arrange a meeting with Platkin in an effort to negotiate the districts' new policy.
"I've discussed the updated policy with stakeholders, and nowhere does it state that students must share their public social and possibly surgical transition with family, when they truly believe they will be physically or emotionally harmed. The policy states the opposite, so the attorney general needs to stop fearmongering," Clifton said in a statement.
An exception is made by all three districts in cases where the student would be in danger if parents or guardians were notified.
The Republican from Matawan said what should scare people is Murphy and Platkin's belief transition is only one solution to handle gender dysphoria that leaves out parents.
Let's talk about policy
Sauickie, who was appointed to his seat following the death of Ron Dancer, accused Murphy and Platkin of making parents the enemy of their children.
"They believe the worst of New Jersey moms and dads, who with rare exception know, love, and protect their own children more than even the best teacher or adult role model. I don't know what policy Platkin read, but the one I read shows parents and school personnel working together to help suffering students, not harm them," the Jackson Republican said.
Graime said in a statement the Board of Education is confident the changed policy will continue to keep students safe and treat them equally. But he does not relish the thought of a potentially expensive legal battle with Platkin and the Division on Civil Rights.
"Our hope is to consider each revision jointly and craft a mutually acceptable version consistent with New Jersey law that could serve as a template across the state," Graime said in a statement.
"Our focus, of course, remains providing the best educational environment for students," Graime said.
The Attorney General's Office on Wednesday morning did not respond to New Jersey 101.5's request for comment about Marlboro's request.
Marlboro, Middletown ready to fight
The other two districts that voted to change their policies appear ready to head to court.
"The AG's claim that this policy is harmful and an outing policy is completely false. A Public Accommodation policy has a clear definition, and it cannot be arbitrarily redefined to suit the AG's agenda," Middletown Board of Education President Frank Capone said in a statement. "If necessary, we are prepared to escalate this matter to the highest court. We cannot stand by and let harmful policies hinder the well-being of minors."
The attorney representing the Marlboro Board of Education remained confident the district's new policy would stand up to Platkin's legal challenge and "properly balances parental and student rights."
"We vehemently disagree with Attorney General's argument that it is somehow discriminatory or improper to notify a parent that their minor child is changing their gender identity or expression, especially given that the district will be collaborating with the child first about such notification issues," attorney Marc H. Zitomer said. "We also have an exception in our policy if such notification would endanger the health or safety of the child. However, it is our position that keeping parents in the dark about important issues involving their children is counterintuitive and contrary to well-established Supreme Court case law that says that parents have a constitutional right to direct and control the upbringing of their children."
Zitomer said the district will not hold off implementing the policy unless ordered to do so by the courts.
The Colts Neck Board of Education will consider making the same change to their policy at Wednesday's meeting. The meeting was moved to the Conover Road Primary School to accomdate an anticipated large crowd.
Platkin appears to be digging in on enforcing the state policy in a statement with Education Commissioner Angelica Allen-McMillen warned schools not to violate state standards on inclusive curriculum and to comply with state policy protecting LGBTQ students.
Report a correction 👈 | 👉 Contact our newsroom
These are the best NJ high schools for sports
Stacker
put together a list of the best high schools for sports across New Jersey — using data from Niche that included sports championships, family surveys, student enrollment, athletic participation rate and sports options. Here's the top 25.
NJ breweries with top-rated beer
The reviews are in — see which NJ breweries have the most beers with a great rating on BeerAdvocate.
Plant Some Of These In Your Idaho Garden to Keep Mosquitoes Away
As we previously told you, mosquitoes are the most
dangerous creatures on earth
. If you want to keep them away from you're yard, these plants can help!