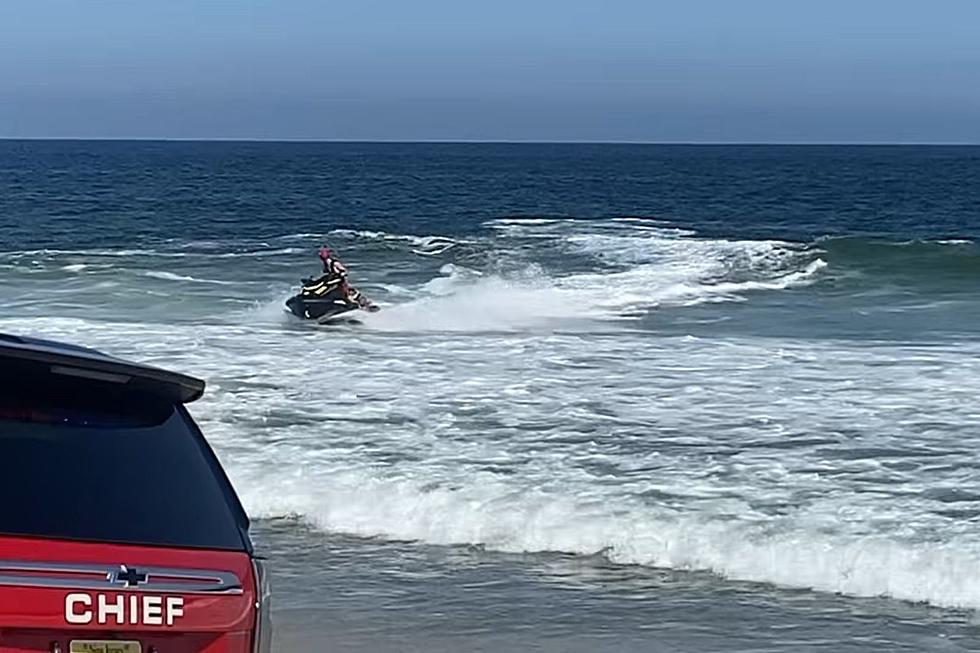 Watch the rescue of an 81-year-old man in Seaside Park, NJ (VIDEO)
81-year-old man brought ashore after near drowning in Seaside Park 9/12/23 (Bryan Dooner via Facebook)
🌀 The rip current risk and waves are 7 feet high already at the Jersey Shore
🌀 First responders raced to reach an 81-year-old man in Seaside Park Tuesday
🌀 Lifeguards will not be on duty in Seaside Heights until Saturday
---
SEASIDE PARK — The rescue of an 81-year-old man serves as a reminder of the dangers of Hurricane Lee on the Jersey Shore.
Even from 1,000 miles away, there is already a high risk of rip currents with wave heights of 7 feet as Lee makes its way north parallel to the east coast, according to New Jersey 101.5 Chief Meteorologist Dan Zarrow.
"The rip currents are just everywhere. And it's they're real strong, real strong. And now we're getting some big waves," Seaside Heights Beach Patrol Capt. Robert Connor told New Jersey 101.5. "It's just a shame that some people are putting people in danger of going out there and having people go rescue them."
Drowning senior
An 81-year-old man was pulled from the rough water of Seaside Park about 200 yards from shore Tuesday afternoon by a boogie boarder, according to Seaside Park police Sgt. Andrew Casole.
Video of the rescue shows the Seaside Heights water rescue joined by Seaside Park first responders in the water within a minute of arriving at the Stockton Avenue beach after drifting from O Street. The man was passed off to a first responder on a wave rider who sped towards the shore to a waiting ambulance.
Casole said he was taken to a hospital but did not know his condition Wednesday morning.
Connor praised the all-volunteer Seaside Heights Water Rescue team as the best in the state.
"The way they react and how many different vehicles and apparatus they have to go out there they pretty much protect the whole island. they're constantly going to Seaside Park, constantly going to Ortley Beach and Lavalette. These guys are are just just unbelievable," Connor said.
No lifeguards until Saturday
Connor said there are no lifeguards on duty in Seaside Heights during the week but his team will return for the upcoming two weekends. The Seaside Park website said their lifeguards are done for the season.
"If we even let anybody in the water. We'll have three or four guards there and we'll keep them knee-deep, waist-deep. We'll do is we'll have vehicles going up and down the beach and talking to people that they're not allowed in the water. We'll throw some red flags up. If they want to get in the water at all, they'd have to go directly in front of the lifeguards," Connor said.
Connor said anyone who doesn't follow the instructions of the lifeguards will be told to leave the beach.
Surfers also risked the surf in Asbury Park ON Wednesday morning as work continued on the stages for the weekend's See. Hear. Now. Festival.
Asbury Park City Manager Donna M. Viero told New Jersey 101.5 that festival organizers have experience with similar situations of potential beach erosion and is optimistic it will happen as scheduled.
Report a correction 👈 | 👉 Contact our newsroom
Animals gone wild in NJ: Turkeys, tigers, snakes, bears and more
The best of animal encounters — real and a few rumored — from around New Jersey.
Visiting the Twin Lights in Highlands, NJ: Photos
A virtual tour of the historic Twin Lights National Landmark. Please note that this particular tour was conducted in 2021 while COVID restrictions were still in place. Since then, all mask and COVID related restrictions have been lifted.
Clever method NJ boardwalk rides use that get you spending more
It's almost like using credit cards and not realizing how much you're spending.