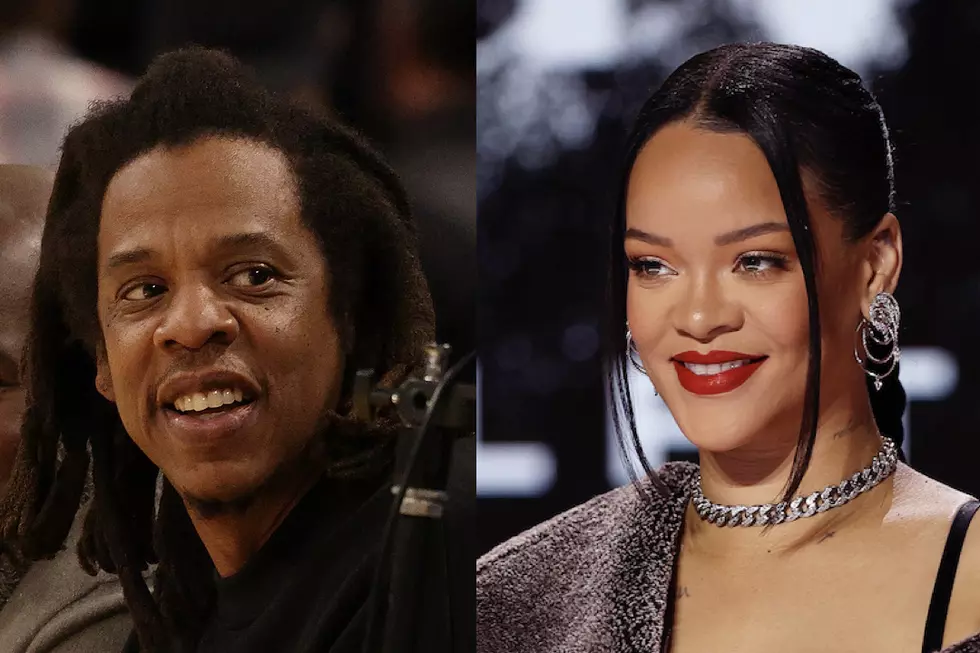 Jay-Z Performing With Rihanna at 2023 Super Bowl?
Harry How/Mike Lawrie/Getty Images (2)
We are just days away from Rihanna hitting the stage to perform for the 2023 Super Bowl halftime show. Fans are speculating that Jay-Z might join the pop superstar during her performance, but will he?
On Thursday (Feb. 9), Rihanna held a press conference/interview ahead of her upcoming Apple Music Halftime Show at State Farm Stadium in Glendale, Ariz., scheduled to take place on Sunday (Feb. 12). During the interview, RiRi was asked about building the set list for her monumental show.
"The set list was the biggest challenge. That was the hardest, hardest part…deciding how to maximize 13 minutes but also celebrate," she said. "That's what the show is going to be, it's going to be a celebration of my catalog."
"We only have 13 minutes, so that's the challenge. You are trying to cram 17 years of work into 13 minutes so it's difficult," she continued. "But I think we did a pretty good job of narrowing it down."
RiRi also added, "There are probably about 39 versions of the set list right now. Every little change counts."
At the end of the interview, Rihanna premiered a short teaser in partnership with Apple Music title, Run This Town. In the clip, a young girl is wearing a school uniform and flashy sunglasses as she struts her stuff in her neighborhood before joining her friends to fly kites. Jay-Z's song "Run This Town," in which Rihanna is featured, is playing in the background.
The video has prompted speculation from fans that Jay-Z may join Rihanna during her halftime performance at Super Bowl LVII. As previously reported, Jay-Z and Roc Nation are helping the singer organize her performance for the event. It would make sense that Hov is helping out since he signed RiRi when he was the president/CEO at Def Jam Recordings in 2004 and is the live music entertainment strategist for the NFL.
XXL has reached out to Apple Music for comment.
On Twitter, fans are hoping that Jay-Z will grace the stage and perform either "Run This Town" or "Umbrella" with Rihanna at Super Bowl 57.
"I really want Rihanna to have her own moment for Super Bowl but I think if she brought Jay-Z out for run this town or umbrella I would pass out," wrote one person.
"Rihanna gonna bring out jay-Z out when she preform run this town calling it," tweeted another fan.
One person didn't want any men sharing the stage with RiRi at the Super Bowl event.
"I saw something that was like 'who's gonna join Rihanna on stage at the superbowl? Jay-Z or Drake?'" she wrote. "Bitch I'm pulling for Shakira and a lil can't remember to forget you throwback. We don't need men sharing the stage [with] riri wtf."
Although Rihanna hasn't revealed if she would bring out any special guests, she did tell E! News last November that with only 12 minutes to perform onstage, she might have to do it alone with no guests.
We'll have to wait and see. You can watch the 2023 Super Bowl live on Fox Sports beginning at 6:30 p.m. ET with the Apple Music Halftime Show starting around 8 p.m. ET.
Watch Rihanna's "Run This Town" 2023 Super Bowl Halftime Show Teaser Below
These Rappers Haven't Dropped an Album in A While and We're Still Waiting