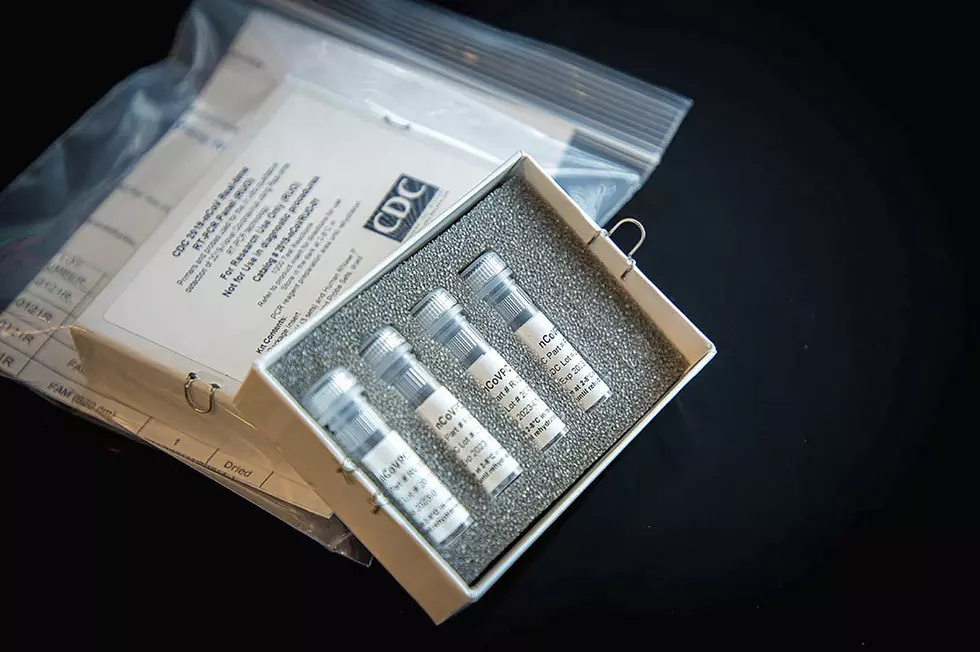 NJ gets 2nd coronavirus case — travel by government officials restricted
CDC's laboratory test kit for the new coronavirus (CDC via AP)
New Jersey state officials said government workers are now restricted from international and out-of-state travel for work purposes after a second presumptive positive case of the new coronavirus was confirmed Thursday.
The announcement was made Thursday afternoon by Lt. Gov. Sheila Oliver a day after the state announced that a Fort Lee man in his 30s had become the first resident in the state to get the new coronavirus, also known as COVID-ID. Ihor Steven Sawczuk, a doctor at Hackensack University Hospital, said the patient is "doing well."
The state lab, which has been approved for testing of the virus, has so far tested 13 people, of which two tested positive. Eight more people are awaiting testing results.
Authorities did not immediately provide more information about the second patient at Englewood Hospital — a case that remained under investigation.
State officials said Thursday that the first patient, who is receiving treatment at Hackensack University Medical Center, had limited contact with people outside the hospital. There is no known link between this patient and the outbreak in Westchester County, New York, although the patient worked in New York City.
The first patient was hospitalized March 2. Officials said that he had not traveled to China, Italy or South Korea, which have seen major outbreaks. It was not clear how he contracted the virus.
State health officials said Thursday that the coronavirus cases are not surprising considering its rapid spread around the world. State epidemiologist Dr. Christina Tan said that most residents are at low risk of contracting the disease or facing serious complications.
Officials are calling the cases "presumptive" because they have not been confirmed by the CDC.
The new coronavirus virus, which originated in China, has symptoms similar to the cold and flu. Prevention methods also are similar.
"The surest way to protect yourself and others is to wash your hands frequently with soap and water, to cover your cough or sneeze and to avoid touching your face, your eyes, your mouth, your nose," Oliver said. "If you are feeling sick, take a day off from work or school and call your doctor or medical practitioner."
Authorities also have encouraged people who have been at high-risk areas or in contact with infected people to practice self-quarantine and social distancing in public places for two weeks.
These developments came as federal health officials said they were providing the state with $1.75 million in what they called initial funding to respond to COVID-19 in New Jersey. The U.S. House also passed an $8.3 billion bipartisan bill to combat the virus earlier Wednesday.
Health Commissioner Judith Persichilli said the state has 700 rooms capable of isolating patients in hospitals across the state, if needed.
Murphy last month set up a task force to prepare for handling the virus, and Persichilli said a crisis management team has been meeting daily.
Fort Lee Mayor Mark Sokolich said there were no plans to cancel or postpone any events in the municipality as a result of the resident falling ill.
"Fort Lee is open for business," Sokolich said.
The Associated Press contributed to this report.
EDITOR'S NOTE: This is a breaking news story and will be updated.
Enter your number to get the NJ 101.5 app