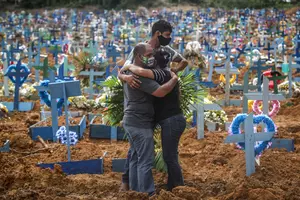 Philly Artist Draws Portraits of Philadelphians claimed by Coronavirus
Photo by Andre Coelho/Getty Images
In March, the country and world had been put to a stop due to the Coronavirus pandemic. Many people lost their jobs and it was unclear when, and if, they would ever return to work.
For artist and photographer, RA Friedman, 61, he left his job as a curator for the University of Pennsylvania on March 9 and has not been back since.
He realized that Philadelphia was losing itself, but what could he do? He began to create portraits for the victims of the Coronavirus.
With only nine completed portraits, a project to give back to the community was born, he said. He calls the project "The Trouble I've Seen (COVID 19 Portraits)"
He stated, "I think the real reason I started, part was for myself. I really wasn't feeling it. I felt there was all this mayhem, tragedy, and grief going on, and I'm like a portrait of privilege. You know, for me, the biggest inconvenience is can I get an Amazon delivery tomorrow?"
Once he started, he realized the magnitude of the whole situation. There are more than 1,200 COVID-related deaths in Philadelphia when he began, and 1,550 at the beginning of July, according to The Inquirer.
He has scaled the idea back and set a goal of 100 portraits. He calls to other artists for their help in order to push further than this goal. According to the Philadelphia Inquirer,  he also says that it has been hard to obtain photos or photos that are clear enough for him to work with.
He said, "the project is really not about my artwork per se, even though that's the hook. And it's certainly the hook ... to get me up in the studio and working because I love to draw. But the real thing is that it's for the community."
He welcomes help from other artists and any photographs of COVID-19 victims that people could send him through his website www.rafriedman.com.
LOOK: Will These Things Still Be Around After Coronavirus?