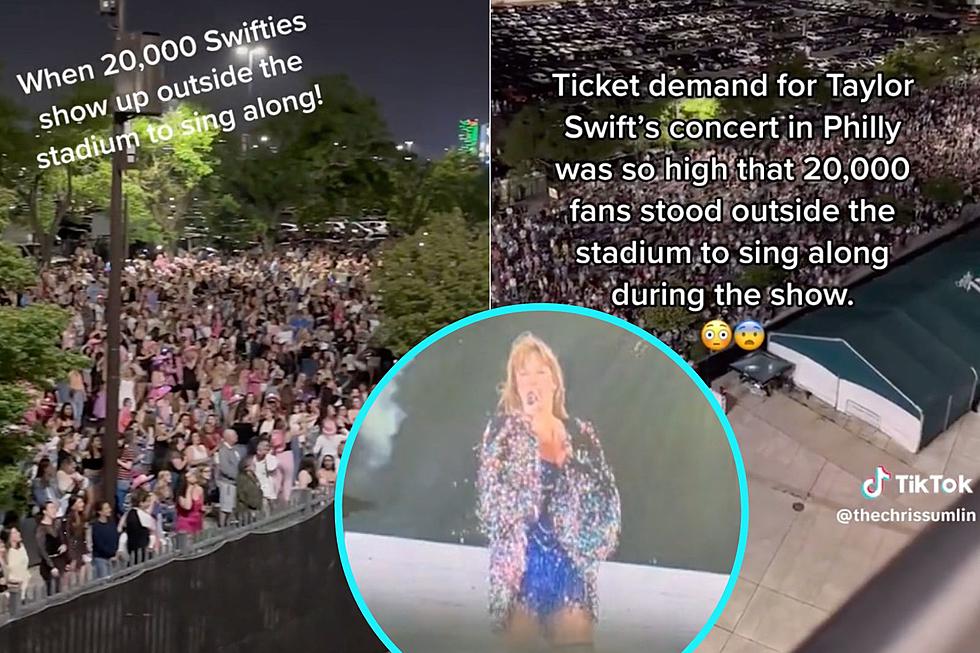 LOOK: 20,000 Taylor-Swift Fans Party Outside The Linc on Night 2 of Eras Tour in Philly
Credit: TikTok @carlyhn_04, @thechrissumlin, @mattymerch
Philadelphia, welcome to The Eras Tour!
Taylor Swift lit up Philadelphia for what she herself described as her hometown show!
Obviously, the demand for these white-hot tickets is at a level that is almost unheard of. The lengths that some people went through to get their hands on them is mind-blowing. Many fans have been unable to get them at all.
But you thought that was gonna stop thousands of die-hard Swifties from pulling up anyway? Think again!
An estimated 20,000 ticket-less fans stood just outside of The Lincoln Financial Center on night 2 of Taylor Swift's Eras Tour in Philadelphia. They were outside singing and dancing along for the entirety of the show, partying just as much as they would inside the sold-out stadium. It was a concert within a concert!
Take a look at this footage from TikTok! It's a sea of Swifties!
20,000 people outside jamming out to "22" right along with Taylor! It's like a block party! A true testament to the dedication and love the Swifties have for their star. You couldn't have experienced a moment like this in your "Wildest Dreams!"
By the way, people pulled up outside for Night 1 of the tour on Friday too. As you can see from this footage, it was still a lot of people, but not as many as night 2 on Saturday. After Friday night it must have caught on that showing up outside anyway was a viable option to still get an incredible experience! Undoubtedly some people came back for a repeat concert.
Were you out there partying at the Linc? Whether it was outside or inside, it was a night to remember "All Too Well" forever!
---
These are the Hottest Pop Concerts Happening in Philadelphia in 2023
2023 will bring some of the best concerts from some of our absolute favorite artists to Philadelphia (including Taylor Swift, Ed Sheeran and P!Nk.). Here's a COMPLETE list of all of the shows (so far) & even details on how you can get tickets to Philadelphia's hottest concerts of 202
Everything You Need To Know For Atlantic City's Adjacent Festival 2023
We've got you covered on everything you need to know for Adjacent Festival 2023, happening this month in Atlantic City, NJ!