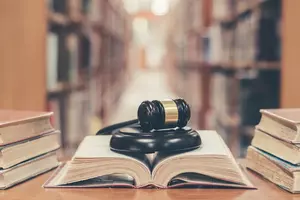 You May Be Breaking These New Jersey Laws & Not Even Know It
Getty Images/iStockphoto
I recently came across some New Jersey laws that are quite absurd, and I have a feeling that most NJ residents don't even know about them. Like: Did you know you can't legally eat pickles in Trenton on a Sunday?
So here are some very strange New Jersey Laws:
| Pickles are not to be consumed on Sunday's in Trenton |  
Not only that, but it is also against the law in Trenton to throw a bad pickle in the street. What else are you supposed to do with them?
Important side note: our girl Snooki needs to stay far away from Trenton.
*Snooki after she ate a pickle last Sunday*
| It is illegal to slurp your soup in New Jersey | 
So many repeat offenders in our office. Should I call the police? This should absolutely be illegal, and more people need to know about the law.
| It is illegal to wear a bulletproof vest while committing a murder | 
According to  2C:39-13, you aren't able to wear a bulletproof vest while committing a murder, bummer. So on top of being charged with murder in New Jersey, you may get another charge if you are wearing a bulletproof vest.
| It is illegal to pass a cyclist, skater, or skateboarder in your motor vehicle without honking | 
I'll try to hold my sarcasm back for this one since I ultimately agree this is a safe practice; though it probably is irritating for the skater or cyclist to get so many honks. This is a law that most people don't follow.
Most of these laws are certainly not enforced today, so maybe it's time they are updated?