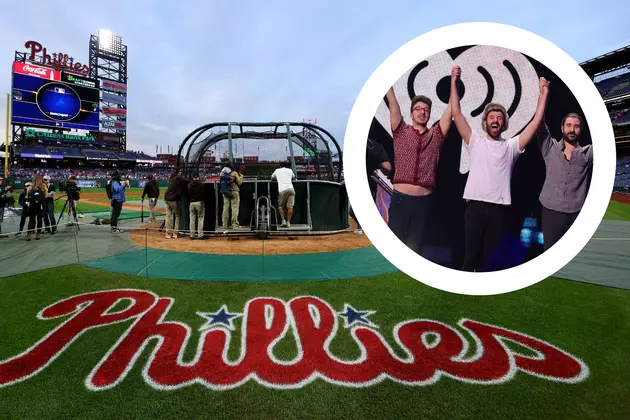 AJR To Perform Post-Game Philadelphia Phillies Concert at Citizens Bank Park
Composite via Getty Images
One of our favorite trios ever is coming to town, and it's gonna be a REALLY cool show.
The Philadelphia Phillies just announced some of their single-game promotions and theme nights for the 2023 season. And, let's just say that this one surely caught our attention when we saw it on the schedule for 2023.
AJR will perform an on-field concert following the Phillies game against the Los Angeles Dodgers on Saturday, June 10. The game is scheduled to start 4:05 pm, and the concert begins shortly after the conclusion of the game.
Post-game concerts are a GREAT way to see a show because you don't need an extra ticket to get into the concert. You get a baseball game and a concert... for one price.
Single-game tickets just went on sale for the 2023 season at Citizens Bank Park. Tickets for this game appear to start at just $30. That's not bad at all!
The brothers of AJR are sure to play our favorite hits including "World's Smallest Violin" and "Bang!"
I've seen them before in concert, and they are SO much fun. I cannot wait for this nice night at the ballpark.
You can buy a field pass but be warned: only a limited number of passes to see the concert on the field are available. If you've never seen a concert on the field at Citizens Bank Park, do it. It's SO MUCH FUN!
By the way, it's sure to be a busy summer at the park as we celebrate the return of our defending National League Champions, the Philadelphia Phillies.

These are the Hottest Pop Concerts Happening in Philadelphia in 2023
2023 will bring some of the best concerts from some of our absolute favorite artists to Philadelphia (including Taylor Swift, Ed Sheeran and P!Nk.). Here's a COMPLETE list of all of the shows (so far) & even details on how you can get tickets to Philadelphia's hottest concerts of 202