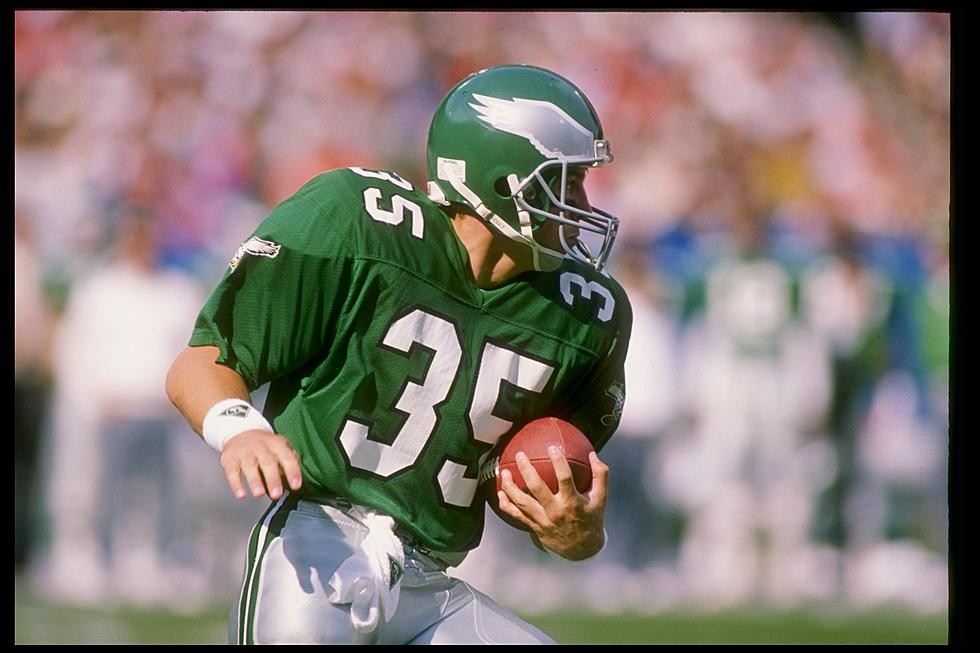 Finally! Philadelphia Eagles are Bringing Back "OG" Kelly Green Jerseys in 2023
Getty Images
Older generation Eagles fans will be happy to see this! Kelly green is BACK!
Philadelphia Eagles owner Jeffrey Lurie just announced that the team will be bringing back the kelly green jerseys and helmets as an alternate in 2023!
Kelly green was the Eagles' main color in the 80's, and the last time they wore the once-popular color was in 2010. But now it'll be back sometime in the 2023-2024 season.
For newer generation Eagles fans, their eyes will need to adjust to the bright, almost-lime green. But even though the Birds have been sporting the new, darker midnight green, you can still see remnants of the past when you look out in the stadiums. You'll always catch a handful of  lifelong fans wearing their old kelly green jerseys from days past. That's certainly one way to spot a real tried and true Eagles fan!
According to NBC Philadelphia, Lurie had his eye on bringing kelly green back, but there was a one-color helmet rule in the way up until 2021. The rule said that teams could only have one color helmet, which was midnight green for the Eagles. Midnight green helmets with kelly green jerseys? Would have looked kind of silly. Jeffrey Laurie wanted to do it right - with kelly green jerseys and helmets. And now's the time!
Are you happy to see kelly green coming back in action? It's a very lucky-looking color! Hopefully it'll bring us more luck in the upcoming season - not that we need it!
---
Where Are They Now? Looking Back at Philadelphia TV's Most Famous Anchors
From John Bolaris to Larry Mendte and from Lisa Thomas-Laurie to Renee Chenault-Fattah, Philadelphia's media landscape has been shaped by some of the nation's most iconic anchors (and reporters). But where are they now? We take a look back:
These are the Hottest Pop Concerts Happening in Philadelphia in 2023
2023 will bring some of the best concerts from some of our absolute favorite artists to Philadelphia (including Taylor Swift, Ed Sheeran and P!Nk.). Here's a COMPLETE list of all of the shows (so far) & even details on how you can get tickets to Philadelphia's hottest concerts of 202