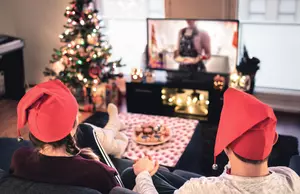 Is This Really Pennsylvania's Favorite Holiday Movie of All Time?
Getty Images/iStockphoto
It is only right to binge-watch holiday movies every weekend until Christmas. I have my list of movies already lined up. I am making it a personal goal to spend my Sundays curdled up on my couch in my onesies, wine in a hand watching holiday movies all day.
My favorite holiday movie has always been 'This Christmas'. Mainly because my future husband Chris Brown is in it. When I ask people about their favorite, I almost never hear them mention that movie. Everyone's go-to is usually Elf, Home Alone, or a Christmas Story.
Uproxx recently put out a list of the number one holiday movie in each state. Using google trends they determine which movie each state googled the most to determine the favorite. The most popular movies across the country were Home Alone and The Nightmare Before Christmas. But in Pennysylvania specifically, residents' top choice for a holiday movie is Home Alone and Elf. Maybe we love the movie 'Home Alone so much because there is a nod to our state in it. If you remember in the movie Kate ended up in Scranton for a little while.
As for New Jersey, the most popular Christmas movie is 'Last Christmas,' according to Uproxx. Don't shame me, but is it bad I have never seen it? So, what about you? Do you area with Home Alone, Elf, and Last Christmas being the top movies in our area?
LOOK: 15 Unconventional Christmas Albums From the Past 50 Years