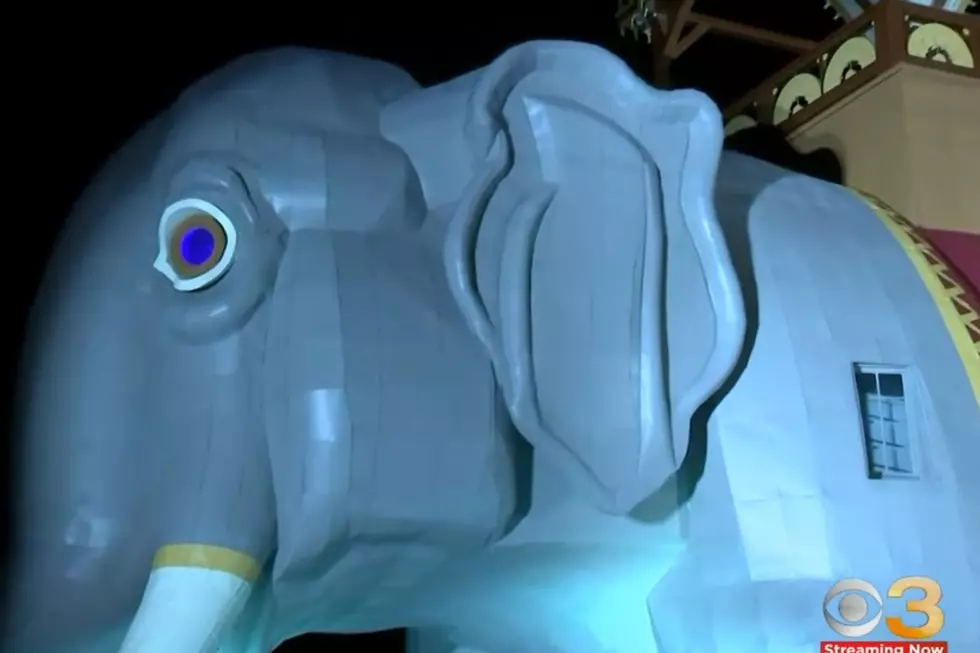 NJ shore's oddest landmark shows off its $2.4 million renovation
Lucy the Elephant after unveiling 12/28/22 (CBS Philadelphia via YouTube)
MARGATE — A refurbished Lucy the Elephant was unveiled Wednesday night after $2.4 million renovation.
Nearly a thousand people gathered at the national historic landmark to see the result of 15 months of work to replace rotted timbers and apply a brand new metal skin.
"I'm overwhelmed and just beyond floored at the amount of people that showed up for our event," Save Lucy Committee executive director Richard Helfant told New Jersey 101.5. "It's Margate, which is a ghost town in the winter. And it was winter and it was a weeknight, and it was cold. There had to be close to 1,000 people there. It was just extraordinary."
🐘 6-story elephant
The six-story elephant stood in the dark before a countdown triggered spotlights showing off her new paint job. They are the same colors as when she was first built: blue body, a reddish-maroon saddle and a tannish-yellow canopy.
Margate resident Dan Walsh sang his song about Lucy after the lights came up.
🐘 More improvements for Lucy
It's been a long road for Lucy's renovations, which saw the cost rise from $1.4 million thanks to COVID-related and material costs. The scaffolding took longer than expected to erect. A labor strike and bad weather also contributed to the delays.
Helfant said the committee's next task is to bring visitors to Lucy and to raise the remaining "couple hundred thousand" for the job. The next phase of Lucy's restoration will be the interior which has suffered water damage.
"So starting in September '23 we're going to be restoring the damaged plaster, redoing her floors, replacing the very old air conditioning and heating systems inside Lucy, doing some upgrades to her fire suppression system and to her alarm system," Helfant said.
Donations can be made via the website LucyTheElephant.org, while visiting Lucy or by sending a check to Lucy the Elephant, 1 Lucy Plaza, Margate New Jersey 08402.
🐘 Inside Lucy the Elephant
Dan Alexander is a reporter for New Jersey 101.5. You can reach him at dan.alexander@townsquaremedia.com
Click here to contact an editor about feedback or a correction for this story.
Don't wait: NJ holiday drive-thru displays still open through the end of 2022
Final operating days range from December 30 to January 1.
In Memoriam: Country Stars Who Have Died in 2022
May they rest in peace ...
LOOK: See how much gasoline cost the year you started driving
To find out more about how has the price of gas changed throughout the years, Stacker ran the numbers on the cost of a gallon of gasoline for each of the last 84 years. Using
data from the Bureau of Labor Statistics
(released in April 2020), we analyzed the average price for a gallon of unleaded regular gasoline from 1976 to 2020 along with the Consumer Price Index (CPI) for unleaded regular gasoline from 1937 to 1976, including the absolute and inflation-adjusted prices for each year.
Read on to explore the cost of gas over time and rediscover just how much a gallon was when you first started driving.