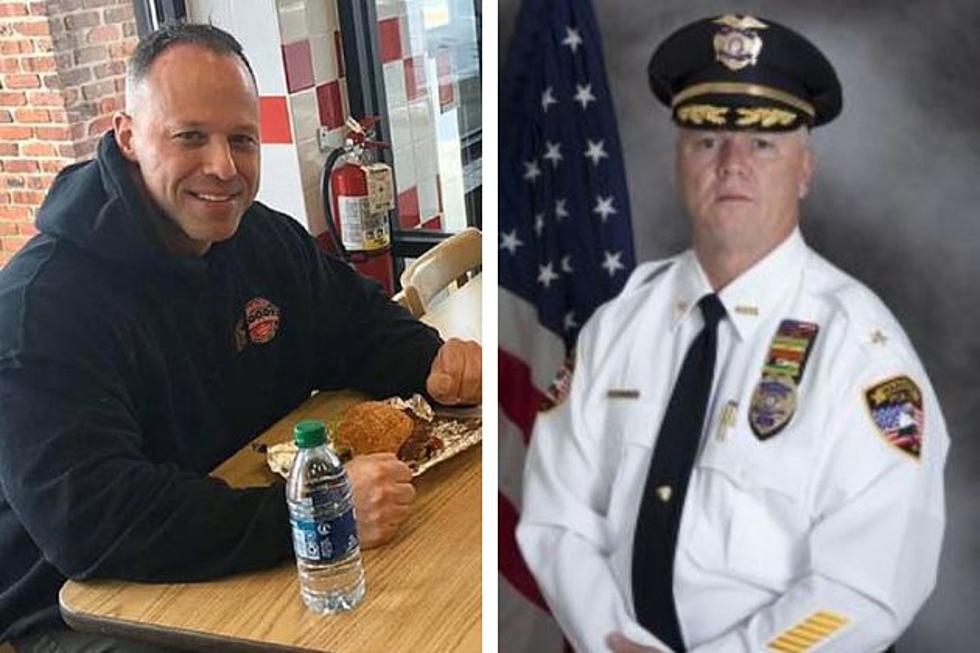 NJ targets police chiefs: One accused of sex assaults, another of covering up affair
Andrew Kudrick (left), retired chief of Howell police (Photo courtesy of Howell police), and Thomas Herbst, chief of Manville police (manvillepd,org)
🚨 NJ prosecutors charge 2 police chiefs — 1 suspended, 1 retired
🚨 One defendant is accused of sexually assaulting multiple women
🚨 One defendant allegedly tried to cover up an inappropriate affair
---
Following a year-long investigation, the chief of the Manville Police Department has been arrested and charged with alleged sexually predatory behavior against multiple women.
New Jersey Attorney General Matthew Platkin on Wednesday announced the filing of criminal charges against Thomas Herbst, 55, of Bridgewater, as well as charges against the now-retired chief of the Howell Township Police Department for his alleged attempt to cover up an affair.
"The badge doesn't make you untouchable, and your office does not give you a right to act with impunity," Platkin told reporters.
Thomas Herbst arrested
Charges against Herbst include two counts of sexual assault, two counts of official misconduct, one count of a pattern of official misconduct, and one count of criminal sexual contact.
He was arrested on Wednesday after having been on paid administrative leave since early 2022 in connection with a sexual assault lawsuit by a veteran employee of the police department.
According to officials, Herbst regularly groped, exposed himself to, sexually harassed, and sexually assaulted a subordinate — the individual who filed the lawsuit — between 2008 and 2021, inside and beyond police headquarters.
Incidents eventually escalated from masturbating in front of the victim to "assaults by penetration," officials said.
"The defendant allegedly ordered the victim at one point to wear skirts, to facilitate and escalate his assaults," Platkin said.
Herbst allegedly attacked the victim in her own home at one point, after entering through the backdoor of her home uninvited.
"Out of fear, she began closing her blinds, locking her doors, parking her car in the garage, so that when the defendant drove by, he did not know that she was home," Platkin said.
According to investigators, Herbst also solicited sexual favors from the wife of one of his officers, in order for that officer to get favorable treatment on the job, such as a promotion.
Herbst is additionally accused of sexually assaulting a woman who had previously been his subordinate while touring the victim's newly purchased home.
James Wronko, Herbst's defense attorney, said Herbst denies engaging in nonconsensual sex with the woman who filed the lawsuit. Wronko added that Herbst has never engaged in any nonconsensual activity "with any woman, period," nor has he ever forced anyone into a sexual act via bribery or threats related to employment.
Former Howell police chief accused of cover-up
Charges against now-retired Howell Police Chief Andrew Kudrick, 49, include official misconduct, false swearing, tampering with public records, tampering with and retaliating against witnesses and obstructing the administration of law — all in connection with an alleged attempt to cover up a sexual affair with a subordinate.
The Farmingdale resident, who retired from his position in spring 2022, attempted to conceal an extramarital affair from Howell during a sexual harassment investigation.
"Given the imbalance of power between a Chief of Police and a subordinate, any romantic relationship would be wholly inappropriate, violative of policy, and detrimental to the safety and well-being of the officers and civilians under the Chief's command," Platkin said.
Local officials were made aware of the potential affair by a confrontation between Kudrick's wife and suspected mistress during a retirement party in 2021. At that point, the township hired a special labor counsel to conduct an internal investigation.
According to officials, Kubrick threatened a police captain who was scheduled to be interviewed for a second time by the special panel and had knowledge of the alleged affair.
Specifically, officials said, Kudrick threatened to open an illegitimate internal affairs investigation against the captain, in order to keep him from cooperating in the probe.
Related charges stem from an interview between a labor attorney and Kudrick. The defendant falsely denied the existence of an intimate relationship with the employee, and denied receiving explicit photos of her, but evidence shows that an affair took place, officials said.
Kudrick's attorney, Robert Honecker, said his client "has committed no crimes."
"Falling into political disfavor does not make you a criminal," Honecker said. "Andy is well respected in law enforcement and the community of Howell Township. He intends to vigorously defend against these charges."
Dino Flammia is a reporter for New Jersey 101.5. You can reach him at dino.flammia@townsquaremedia.com
Click here to contact an editor about feedback or a correction for this story.
KEEP READING: Scroll to see what the big headlines were the year you were born
Here's a
look at the headlines
that captured the moment, spread the word, and helped shape public opinion over the last 100 years.
New Jersey's Most Terrifying Serial Killers
New Jersey Nightmares - Notorious Serial Killers