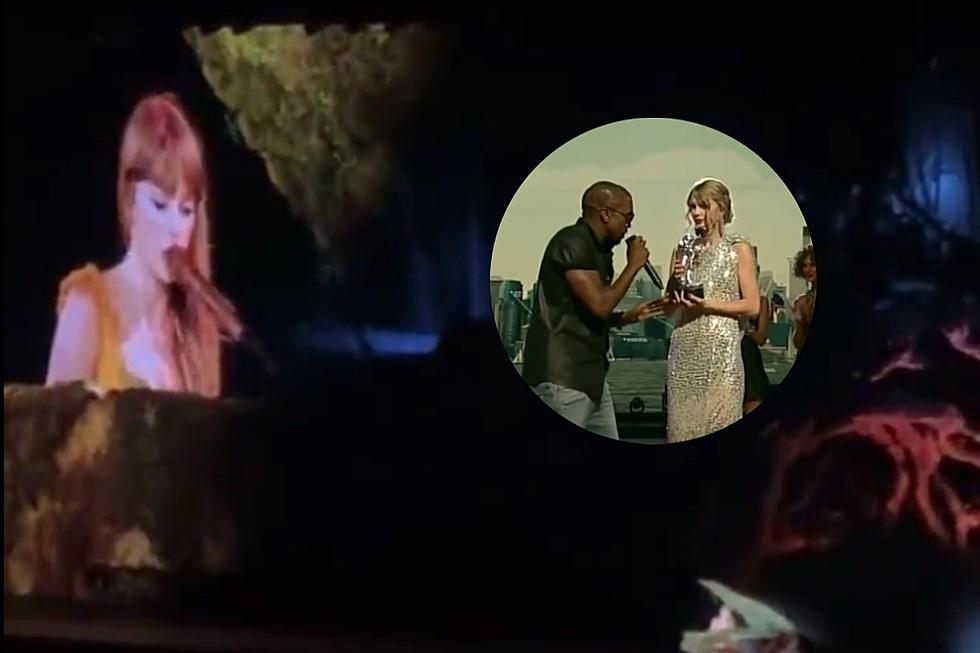 Taylor Swift Seemingly References Infamous Kanye West VMA Incident After She's Interrupted by Fans at Her Concert
popbase/Twitter/Entertainment Tonight/YouTube
Taylor Swift appeared to address her infamous moment at the 2009 MTV VMAs with Kanye West after she was interrupted by fans during a recent show.
Taylor Swift Seemingly References Ye Interruption During Concert
Taylor Swift is currently on the back half of her massive Eras Tour. The pop star recently performed four back-to-back sold-out shows at Foro Sol Arena in Mexico on Aug. 24-Aug. 27. During one of the shows, she was interrupted by fans chanting her name. Taylor then seemed to jokingly reference the 2009 MTV VMAs when Kanye West walked on stage and made a spectacle during her acceptance speech for Best Female Video.
"People chanting your name, it's really the only way to be interrupted," Taylor Swift told the crowd. "And I would know."
Kanye West Interrupts Taylor Swift's MTV VMA Acceptance Speech
Kanye West interrupting Taylor Swift's 2009 MTV VMA acceptance speech was one of the most viral moments of that year. Angered that Taylor Swift's video for "You Belong with Me" beat out Beyoncé's "Single Ladies (Put a Ring on It)," Ye walked on stage and let his feelings be known while Taylor looked on in shock and confusion.
"Yo, Taylor," Kanye said. "I'm really happy for you and I'ma let you finish but Beyoncé had one of the best videos of all time."
The incident led to beef between Ye and Taylor. Things appeared to be squashed years later. However, the issues between the two entertainers came up again when Kanye named-dropped Taylor on his 2016 track "Famous" and also featured a facsimile of the pop star in the music video for the track, which Taylor claimed she was not completely told about. In 2020, Ye said God told him to interrupt Taylor's speech.
See video of Taylor Swift appearing to bring up her viral MTV VMA moment with Kanye West below.
Watch Taylor Swift Reference Kanye West's Infamous MTV VMA Interruption During a Recent Concert
See Wild Rap Beefs That'll Probably Never Be Resolved
Pusha-T and Drake, YG and 6ix9ine, and more.