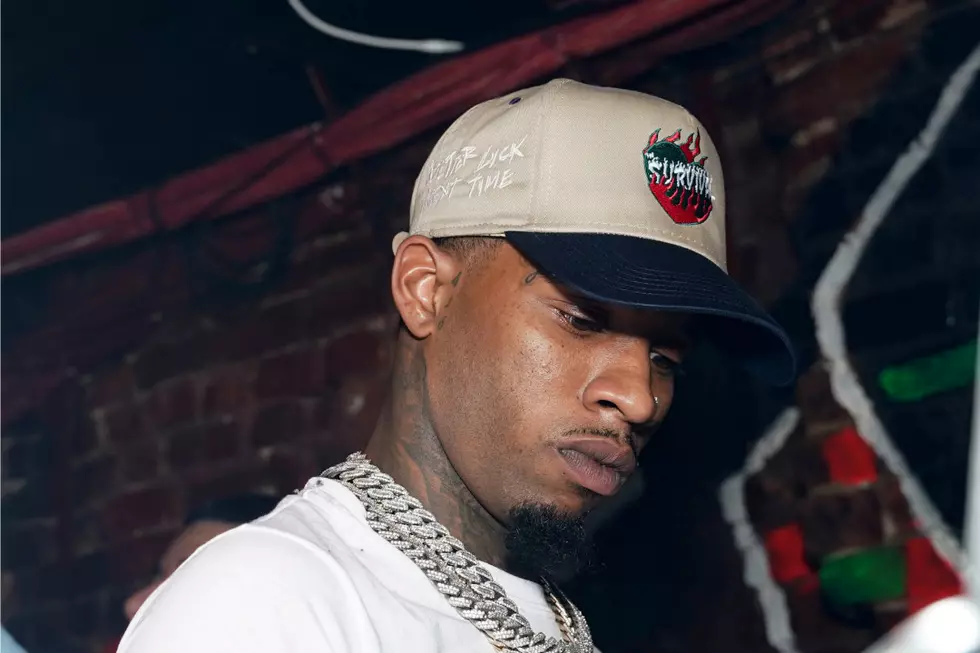 Tory Lanez Denied New Trial in Megan Thee Stallion Shooting – Report
Emerald Knox/Getty Images
Tory Lanez's motion for a new trial in the Megan Thee Stallion shooting case has been denied.
On Tuesday (May 9), Los Angeles County Superior Court Judge David J. Herriford made a final decision in the Tory Lanez prison time saga. Judge Herriford decided Tory Lanez does not have the right to a new trial and the Court will be moving forward with the sentencing process, according to Los Angeles Times journalist James Queally.
Queally shared this afternoon via Twitter, "Tory Lanez motion for a new trial has been denied. We don't have a sentencing date yet. Attorney Jose Baez and the Lanez team did file a motion disqualify Judge Herriford — I don't know on what grounds we don't have copies yet — but Herriford still issued his ruling. That matter will likely be heard outside the county at some point (and that's also a very high bar.) There will be more in the afternoon: defense wanted to ask Herriford to confirm he's denying their due process claims (not relevant at present) and a sentencing date could be set."
On Dec. 23, 2022, Tory Lanez was found guilty of shooting Megan Thee Stallion on July 12, 2020 and convicted of one felony count of assault with a semiautomatic firearm, carrying a loaded, unregistered firearm in a vehicle and discharging a firearm in a grossly negligent manner to cause bodily injury. He was initially slated to be sentenced on Jan. 27. However, he was able to get the date pushed back after acquiring a new legal team in an attempt to secure an appeal.
On March 29, Tory officially filed for an appeal of the verdict in court, citing an unfair trial and arguing some evidence should not have been admitted. On April 6, the prosecution in the case submitted a 16-page document countering Tory's attorneys' claims.
"The evidence presented at trial was properly admitted, and the defendant's claims of errors and violations of his constitutional rights are without merit," the statement read in part. "The verdict reached by the jury was based on credible evidence and was supported by the law."
In an update on April 25, the lawyer handling Tory Lanez's appeal, Jose Baez, announced that in the then-coming days, Tory and his team would bring forth new information regarding the DNA evidence that was used against the "Broke In A Minute" artist in the trial. Baez claims the original DNA information presented was "false and misleading" to the members of the jury.
From there, an incarcerated Tory Lanez hit up Instagram with an audio message calling out his prosecutors and accusing them of "manipulating" the original DNA results in the case.
"I've been incarcerated for almost half a year over a gun that the D.A.s lied and said I shot," Tory began in the jail recording on April 25. "In 2021, they demanded I take a DNA test. I took that test without no pushback, delay or question. Not only because I knew I never shot the gun. But mainly because I was 100 percent positive that I never even touched this gun. In my trial the verdict of innocent or guilty depended heavily on my DNA results."
He continued: "With the help of L.A. Crime Labs DNA expert Randy Zepeda, D.A. Kathy Ta, and Alex Bott completely manipulated my DNA results, and lied to the world, the media, and most importantly my jury, by stating that my DNA on the gun was inconclusive. That was an absolute lie."
Tory Lanez faces up to 22 years in prison when he is sentenced.
XXL has reached out to Tory Lanez and Megan Thee Stallion's attorneys, and the L.A. County District Attorneys Office for comment.
See 44 of the Longest Prison Bids in Hip-Hop History
C-Murder, Max B, B.G. and more.