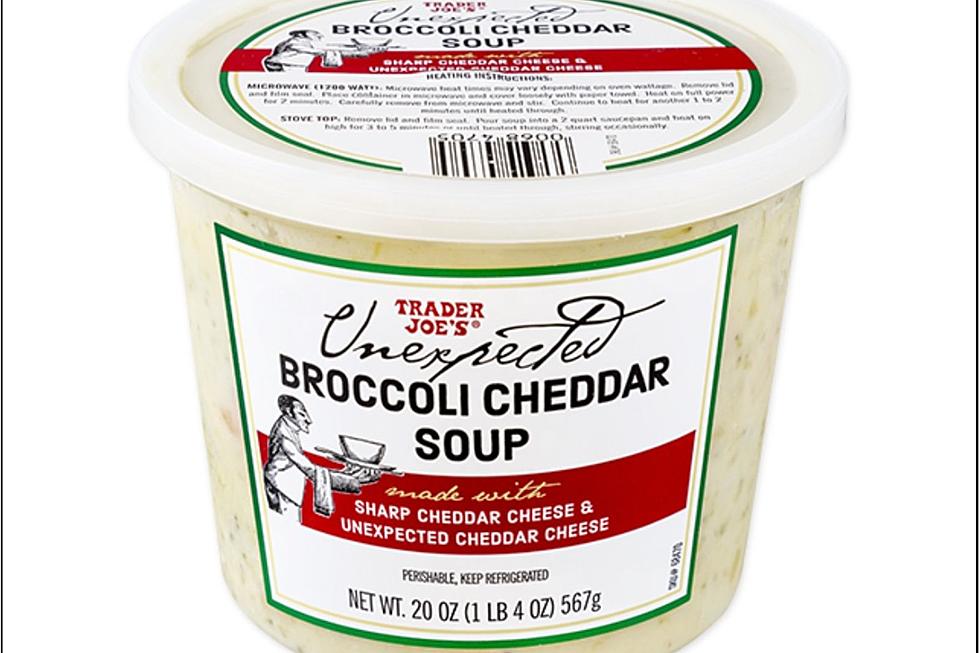 RECALL! Trader Joe's Recalls Broccoli Soup Because of BUGS Inside
Credit: Trader Joe's
If you've bought this popular frozen food item from Trader Joe's you might want to toss it!
Trader Joe's has recalled nearly 11,000 cases of their popular "Unexpected Broccoli Cheddar Soup" after reports of bugs inside of the frozen broccoli florets.
Yep, BUGS inside of the soup. "Unexpected" broccoli soup, indeed!
The 10,889 cases of frozen soup were sold in 7 states: Pennsylvania, California, Connecticut, Florida, Illinois, Texas and Washington.
If you've bought this soup in any of these states, and the soup has a "Use By" date between 7/18/2023 and 9/15/2023, with a SKU# 68470, toss it. But just to be safe, you might want to get rid of your container anyway.
This is definitely a bummer for longtime Trader Joe's customer's. The creamy, cheesy soup has been one of their most unexpectedly popular items for over 10 years, hence the name of the soup.
This comes merely days after the Trader Joe's also recalled due to rocks possibly inside of the cookies - the Trader Joe's Almond Windmill Cookies and Trader Joe's Dark Chocolate Chunk and Almond Cookies (SKU# 98744 and SKU# 82752).
In fact, I myself have had an unpleasant run-in with bugs inside my Trader Joe's organic bagged broccoli. To be fair, the broccoli was labeled as organic, so they were free from bug-killing pesticides. But there were a lot of those tiny bugs embedded in the florets, so I haven't bought Trader Joe's organic broccoli since. It seems as though perhaps the broccoli used to make the soup was not properly washed beforehand.
If you bought to broccoli soup, you can either throw it away or return it to Trader Joe's for a full refund.
---
Viral Trader Joe's Foods You Can Find in Princeton, NJ
TikTok is the biggest social media platform right now and Trader Joe's finds are constantly going viral there. Here are the most raved-about items you can find at the Princeton, NJ location.
Sink Your Teeth into These 10 Bangin' Burgers Spots in Central NJ!
These are some of the best burger joints in Central Jersey, according to Yelp!