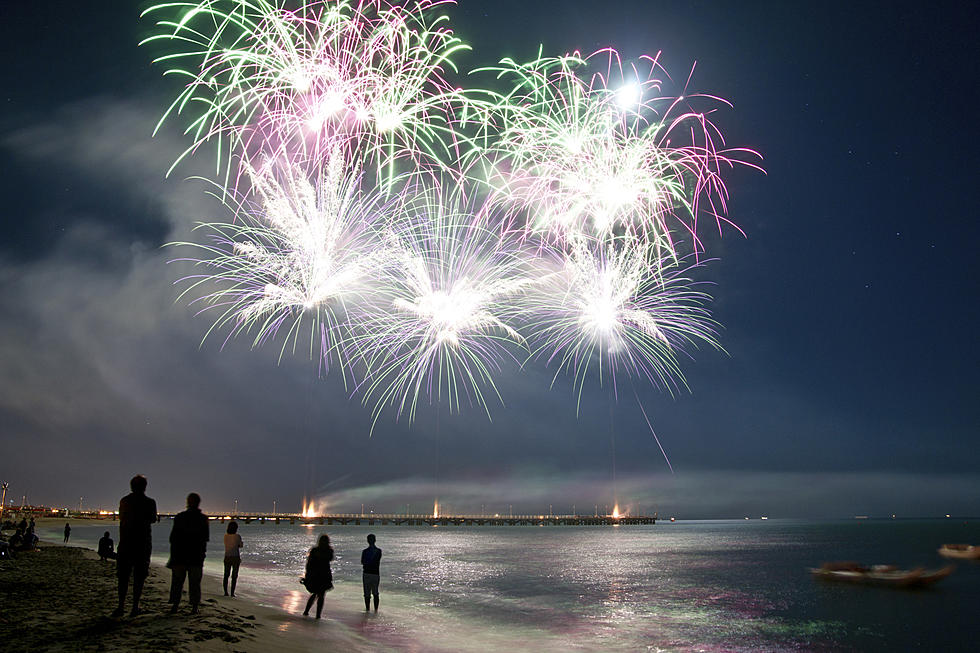 Are Fireworks Legal in New Jersey?
Getty Images
Hey Alexa, play "Firework" by Katy Perry!
It's undeniable - one of the best spring and summertime past times, along with beach days, barbecues, festivals, pool parties, and concerts, are watching big, boomy, beautiful fireworks light up the night sky!
They're a dazzling, flashy way to light up any special occasion and make it one for the memory books! I'm sure more than a few of us have memories of lighting fireworks at family gatherings and backyard events... but where they always legal? Depending on which state you were in...perhaps not! (Admit it, you knew, didn't you!)
With summer and July 4th in mind, It's important to know the do's and don'ts of lighting fireworks, because the rules are not the same in every state.
So are fireworks legal in New Jersey?
The short answer is: No, fireworks are not legal in New Jersey, unless you have a permit.
The law states:
"It shall be unlawful for any person to offer for sale, expose for sale, sell, possess or use, or explode any blank cartridge, toy pistol, toy cannon, toy cane or toy gun in which explosives are used; the type of balloon which requires fire underneath to propel the same; firecrackers; torpedoes; skyrockets, Roman candles, bombs, or other fireworks of like construction, or any fireworks containing any explosive or inflammable compound or any tablets or other device commonly used and sold as fireworks..." - NJ.gov
What types of fireworks are illegal in New Jersey?
As far as aerial consumer fireworks go (a.k.a., the big boomy ones that explode in the sky), those are only permitted if they are part of a public fireworks display, approved by governing body of any municipality. Basically, if it leaves the ground, you need a permit.
That includes:
Fireworks
Firecrackers;
Torpedoes;
Bottle rockets
Skyrockets,
Roman candles
What are the exceptions?
But wait! You can still have some sparkly fun in your backyard this summer. Hand-held, ground-based devices and novelties are ok to use! Think sparklers, glow worms, smoke devices, and pop pop crackers. These are permitted for sale and use for those 16 and older.
What are the penalties for using fireworks illegally?
If law enforcement catches you selling or possessing with intent to sell prohibited fireworks without a permit, you're subject to being charged with a fourth degree crime. If you buy or use a prohibited firework, you're guilty of a petty disorderly persons offense.
So play it safe: if you want some big, flashy aerial fireworks this July 4th, check out these New Jersey July 4th fireworks guides down below!

---
Complete SJ & Jersey Shore 2023 4th of July Fireworks Guide
What would Fourth of July be without fireworks? And there are lots of them going off ALL OVER South Jersey and along the Jersey Shore. Check out our fireworks guide to find out when and where to catch them near you.
Your Complete 2023 Guide To 4th Of July Fireworks At The Jersey Shore
The complete schedule for the 4th of July fireworks at the Jersey Shore. According to
APP
, displays start as early as June 24th this year!