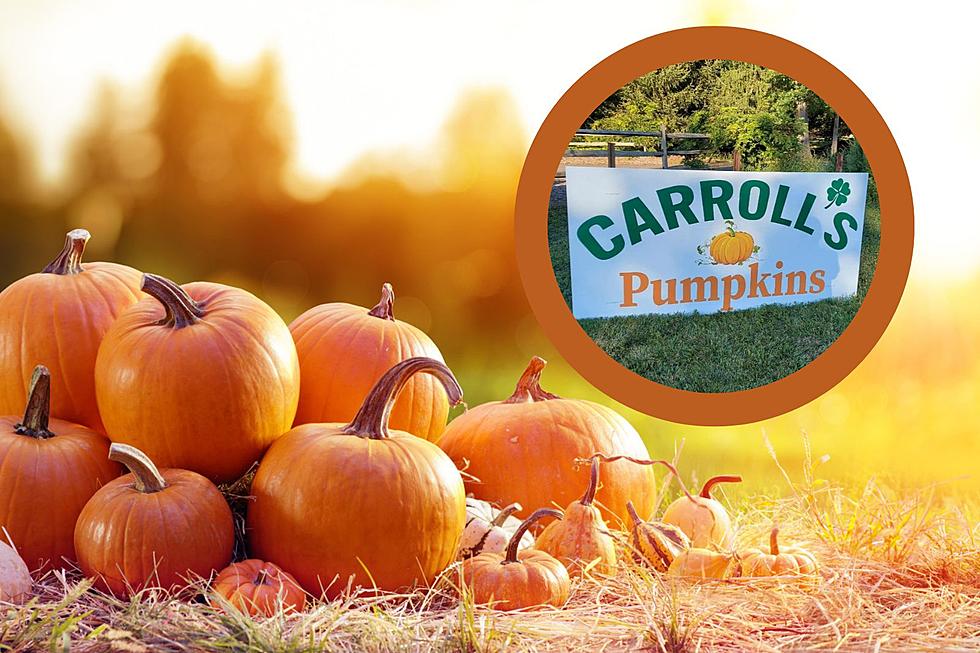 Here's What's New at Carroll's Pumpkins in Lawrence, NJ for 2023
Carroll's Pumpkins/Canva
It's gearing up to be a great fall season at Carroll's Pumpkins on Princeton Pike in Lawrence Township. Get ready for some fun. It's opening this Saturday, September 16th.
If you're asking yourself, wait a minute, isn't Carroll's a Christmas Tree Farm? You're not wrong. Yes, it is, but this will be the 2nd fantastic fall season at Carroll's, renamed Carroll's Pumpkins until Christmas tree season begins in late November.
The popular holiday destination has expanded to include everything fall...pumpkin picking, carving kits, mums, cornstalks, a hay maze, gourds, handmade fall decor (wreaths, signs made from the wood on the farm, candles, etc.), charcuterie boards and everything else you'll need to give you some fall vibes.
Depending on the weekend, you may just catch a visit from the House of Cupcakes food truck.
There will also be face painting and duck river racing for your family to enjoy.
The picturesque farm is also the perfect spot to take family photos (start thinking of your holiday cards). Don't worry, you won't be the only one, many families take advantage of the beautiful farm. The rustic barn and stone spring house are perfect.
Owner, Shawn Carroll filled me in on some new things at the farm for Fall 2023 and they're really cool.
The hay maze has a new design this year. Your children will love it.
Also, new this season will be the Amish-made fall crafts for sale straight from Lancaster County. There are rustic signs for the season (with cute words and sayings) in all sizes measuring from 30 inches up to 6 feet tall, wooden candle boxes, four styles of wooden pumpkins, and more. Don't wait, I have a feeling, they'll sell fast.
Start a new family tradition this year at Carroll's Farm in Lawrence. You'll love it. It's family-owned and operated at their 1820 Farm House.
Carroll's Pumpkins is located at 3980 Princeton Pike, Lawrence Township, NJ.
It will be open every day from 10 am - 6 pm starting Saturday, September 16th.
Once Fall wraps up they kick into Christmas tree mode.
Inside Walt Disney's Storybook Mansion for Rent
Take a peek inside Walt Disney's iconic Los Angeles mansion, now available to rent.
Celebrity Couples Whose Breakups Broke Our Hearts
Here are 25 iconic celebrity couples that definitely made us shed a tear when they went their separate ways.