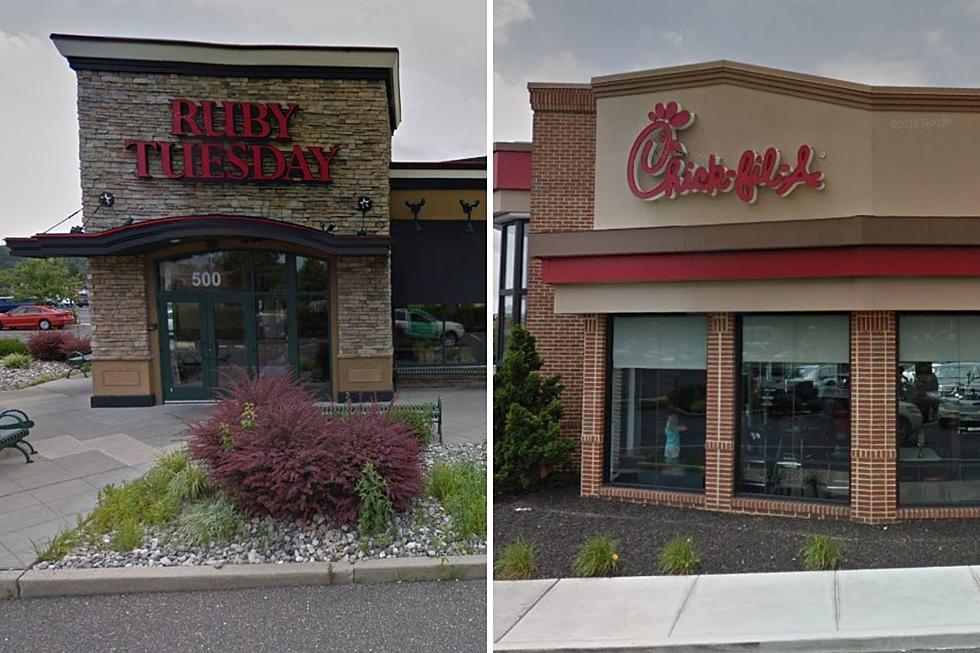 Ruby Tuesday Demolished Preparing for Chick Fil A Move in Hamilton, NJ
Google/Canva
Finally some progress.
Ruby Tuesday restaurant in Hamilton Marketplace, on Route 130 North in Hamilton Township, was demolished today (Wednesday, September 12th), finally.
You can see the current Chick fil A in the background in the picture below.
The reason for the demolition is so Chick fil A can build a new location on that land.
This will give Chick fil A more room for the drive thru lanes, so traffic doesn't back up onto Marketplace Boulevard, like it has since it opened a few years ago, and cause a traffic jam.
We first about these plans in June of last year. It was reported at the time that the Hamilton Township Zoning Board had given the ok for the mega-popular chicken fast-food restaurant to move across the street.
Chick fil A will be building a new, approximately 5,100 square feet location. To give you a little perspective, that Ruby Tuesday restaurant was about 7,000 square feet.
The new Chick fil A will have two drive thru lanes, an outside meal delivery zone, a drive thru cockpit design, and 50 parking spaces for customers to go eat inside.
This is such a smart move. It will definitely help traffic in that already congested area.
I don't think this has been confirmed, but, I've heard rumors that a Chipotle will be moving into the current Chick fil A building once the new Chick fil A across the street is completed.
Hamilton Marketplace sure has a lot of restaurants to choose from. Mission BBQ and Honeygrow are newer additions. There's a Cracker Barrel, Panera, Red Robin, Dairy Queen Grill & Chill, Longhorne Steakhouse, Chili's, McDonald's and more.
Hamilton Marketplace is a awesome shopping center to get something to eat. Mission BBQ just opened a few months ago, Honeygrow is coming soon.
No word on when the new Chick fil A is supposed to open. I'll keep you posted.
Can You Name These Landmarks? Only a True Central Jerseyan Can Pass This Quiz!
Pictured below are things you may (or may not) have seen around Central Jersey. But a TRUE Central Jerseyan can name all of them. See how many YOU can correctly identify!
10 Best Mercer County Bagel Shops, Ranked
Did your go-to bagel shop in Mercer County, NJ make the list?