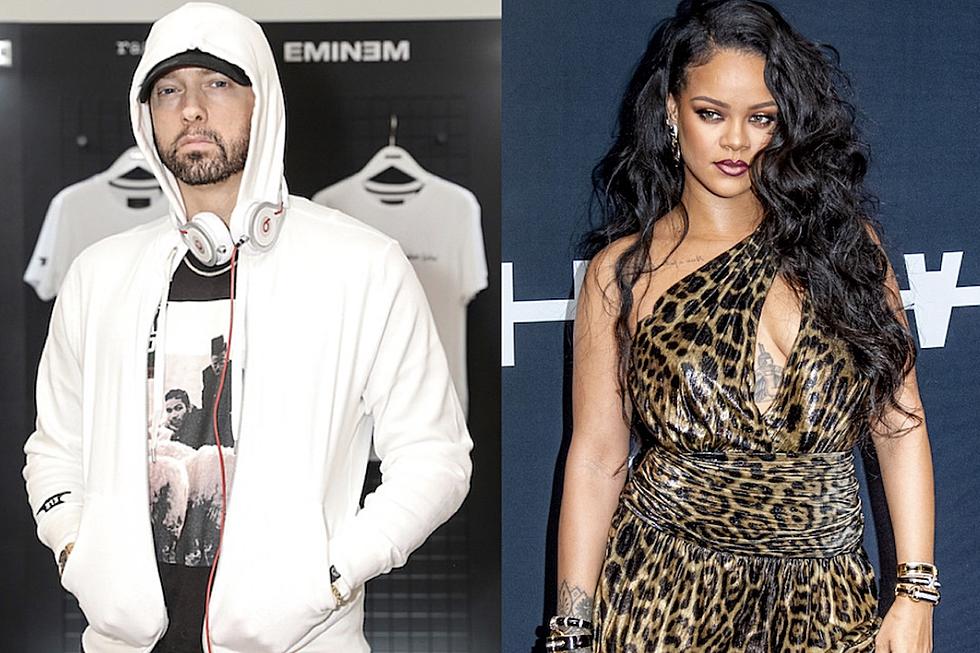 Eminem's Entire Verse With Rihanna Assault Lyric Leaks: Listen
David M. Benett / Roy Rochlin, Getty Images (2)
Last week, a song snippet in which Eminem supports Chris Brown assaulting Rihanna leaked onto the internet. Now, the full reference track containing the lyrics has also surfaced online.
On Monday morning (Nov. 11), the reference track for "Things Get Worse" leaked online. According to reports, the verse was originally taken out during the recording sessions of Em's 2009 album Relapse. A different edit of Eminem's verse appeared on B.o.B.'s 2011 track of the same name.
On the leaked reference track, Em name-drops Rihanna in the second verse and then crudely jokes about Chris Brown's February 2009 assault on the R&B singer.
"I'm not playing Rihanna where'd you get the V.D. at?" he raps. "Let me add my two cents/Of course I side with Chris Brown/I'd beat a bitch down, too."
In a statement to XXL, Dennis Dennehy, who operates as a spokesperson for Eminem, spoke on the leaked song, which he stresses was scrapped and rewritten.
"This is a leak of something that's over 10 years old," Dennehy explains. "After Eminem recorded it, he scrapped it, and rewrote it. Obviously he and Rihanna have a great relationship."
Eminem and Rihanna have collaborated on multiple songs since Em recorded those lyrics, including tracks like "Love The Way You Lie," "Numb" and "The Monster." The two even toured together in 2014.
This new Eminem song leak follows a Joyner Lucas song snippet, reportedly titled "What If I Was Gay?" that made its way online on Oct. 30. The track features both Joyner and Em rapping about the stigma of being gay-Joyner from the perspective of a gay man, and Em from the perspective of a homophobic man.
Listen to the newly leaked Eminem reference track below.
See 50 of the Best Hip-Hop Albums Since 2000