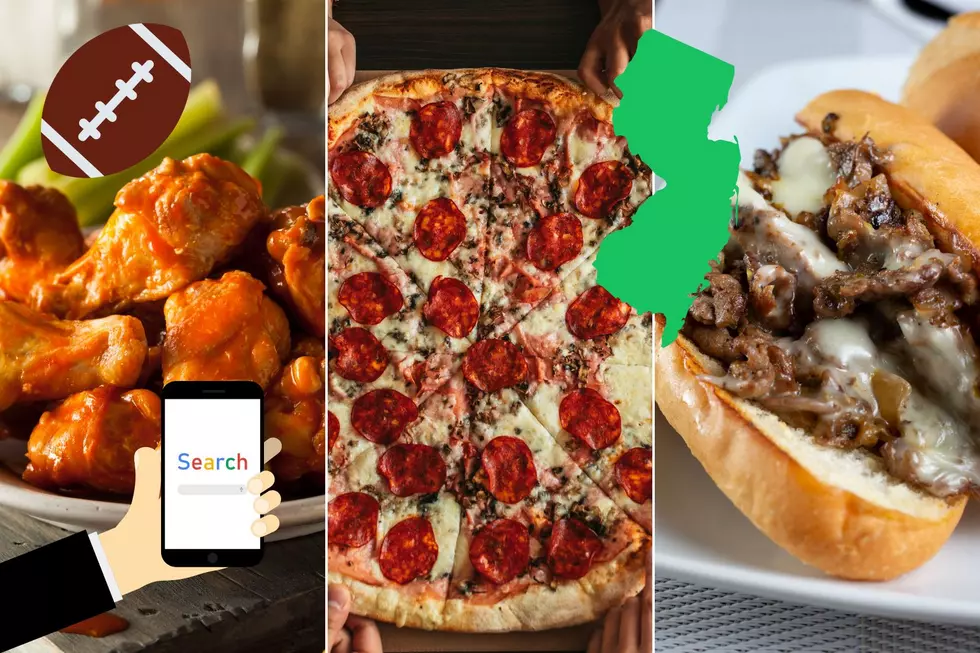 Here Are New Jersey's Most-Searched for Foods Ahead of Super Bowl Sunday
Getty Images
Super Bowl LVII is almost here! You getting hungry yet?
I think we can all agree that food is EVERYTHING when it comes to game-watching parties. Pizza, burgers, hot wings, chips and dip, beer, soda... and for us here in New Jersey and Philadelphia, hoagies and cheesesteaks also play a big part!
According to HealthFacts.blog, the average American will consume a whopping 2,400 calories on Super Bowl Sunday!
Americans will eat an estimated 11.2 million pounds of potato chips, 8.2 million pounds of tortilla chips, 3 million pounds of nuts, 49.2 million cans of beer, and 1 BILLION chicken wings!!
Gambling.com dove into the Google stats for Super Bowl food searched in New Jersey. Here are the Top 10 most-searched food items and the number of searches in New Jersey on Super Bowl Sunday in 2022:
Pizza Slices 102,827

 

Burgers 57,296
Chicken Wings 41,531
Cookies 22,096
Chili 19,269
Ice Cream 19,081
BBQ Ribs 15,744
Chips n Dips 15,372
Shrimp 14,233
Meatballs 8,939
Here are the numbers for the most-searched Dips in New Jersey:
Buffalo Chicken - 5,964
Guacamole - 3,658
Salsa - 2,999
Hummus - 2,598
Queso - 1,697
What are you getting/making for your Super Bowl party? Which foods can you absolutely not go without? If you ask me, I'm going with pizza and chicken wings! Make it a mega-cheat day on Sunday!
Of course, Super Bowl LVII between The Philadelphia Eagles and the Kansas City Chiefs is on Sunday, Feb 12. GO BIRDS!
---
12 Best Pizza Spots in Mercer County, NJ
From Ewing to Princeton, these are the most fan-loved pizza places throughout the county.
Fan Favorite New Jersey Delis
New Jersey is known for its hoagies, bagels, and pork roll sandwiches. These are the most popular delis in the state voted on by New Jersey residents!