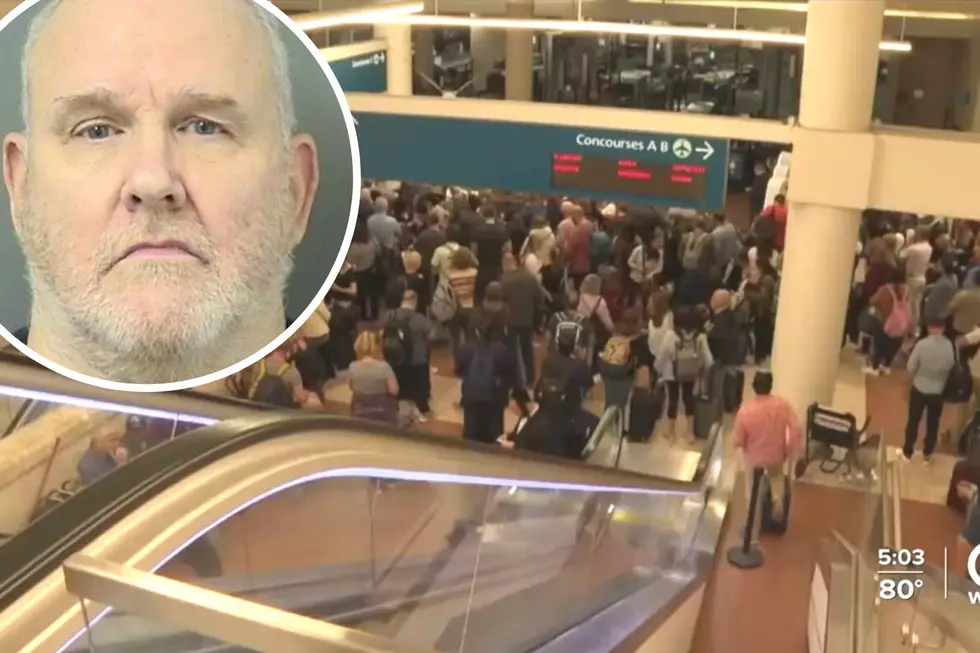 NJ man claims to have bomb: Florida airport searched, cops say
John Magee (Palm Beach County Sheriff's Office) delay at West Palm Beach International Airport (WPTV)
✈ John Magee was overheard in line saying he had a bomb in his bag
✈ The concourse at the West Palm Beach Airport was evacuated and searched
✈ Magee posted $30,000 bond and was allowed to return to New Jersey
---
A New Jersey man denied saying he had a bomb in his luggage at a Florida airport late Tuesday afternoon.
The Palm Beach County Sheriff's Office said John Magee, 66, of Carneys Point, made the threat in Concourse C at Palm Beach International Airport while waiting for his Frontier Airlines flight just after 5 p.m. Passengers were evacuated to the terminal while the concourse and plane were searched.
According to an affidavit obtained by WPTV TV, another passenger in line saw Magee slam his bag to the ground several times. She heard Magee say, "You don't know what you're in for" and "I have a bomb in the bag."
After the passenger told a flight attendant, the captain of the plane had the gate desk call sheriff's deputies. The deputies removed Magee from the plane.
Denies the allegation
Under questioning, Magee told the deputies "I didn't say any dumb s--t like blowing up a plane," according to the affidavit.
Magee told WPTV that the deputies didn't tell him why he was being removed from the plane and brought him to an interrogation room, read his rights and questioned him. He was arraigned and charged with making a false report of a bomb.
He posted $30,000 bond and will be allowed to return to New Jersey
Dan Alexander is a reporter for New Jersey 101.5. You can reach him at dan.alexander@townsquaremedia.com
Click here to contact an editor about feedback or a correction for this story.
NFL pros from New Jersey
There are more than 10 NJ ties among the players in the NFL conference championship games this year.
Four active NFL quarterbacks were born in the Garden State and there are more than 60 active pros with NJ roots.
Some of them may even be on your fantasy football team.
NJ school holidays with the biggest buzz
Just which days NJ schools have off remains a reflection of its community.
Some New Jersey towns now have populations that celebrate religious holidays not previously taken as a district-wide day, such as Diwali or Eid.
Other days off are not religious in nature, but are still stirring up controversy or buzz around the state. The following have been making the most news.
Bands That Broke Up in 2022
Sadly, these bands either announced a breakup, went on indefinite hiatus or broke up entirely in 2022.