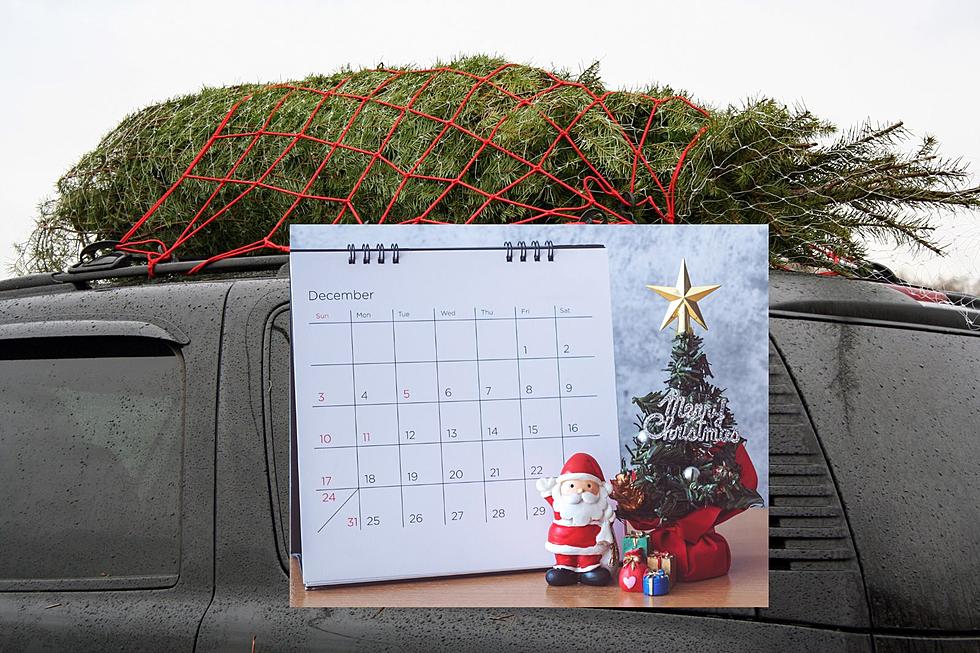 This is the best time to get your Christmas tree in NJ
Townsquare Media illustration
🎄 When is the best time to buy a real Christmas tree in NJ?
🎄 How do you prevent it from drying out and dropping needles?
🎄 Here are simple tips to keep your tree fresh all season long
---
There is nothing more frustrating than finding the perfect Christmas tree, only to get it home and have it start dropping needles all over the floor.
A real Christmas tree can be a true source of holiday joy, but you have to give it the proper care.
Chris Nicholson is the president of The New Jersey Christmas Tree Growers Association and grows his own trees at Hidden Pond Tree Farm in Mendham.
He says a fresh cut tree will last up to six weeks without dropping all its needles if you take just a few steps to keep it happy.
Here are his tips for keeping your real Christmas tree looking its best all season long.
When is the best time to buy a real tree?
That's really a personal decision based on a number of factors, including family tradition.
Some families get their tree the day after Thanksgiving. Others don't get one until Christmas eve.
Nicholson says his personal choice is the first week of December.
Supply will be good at that time, Nicholson says, and the tree will hold up well through New Year's Eve if taken care of properly.
It is also important to know when the tree was cut. That's the advantage, he says, to visiting a local farm and getting a really fresh tree.
What is the biggest mistake people make with a real tree?
Not giving enough water.
"A fresh cut tree will not take any water for about three days," Nicholson says, "People will fill up the water basin, and then forget about it."
Once the tree does start taking water, you'll likely need to add water every day.
A fresh cut trunk is critical. Shortly after being cut, the trees stump begins to "scab over," closing up the capillaries that draw water into the tree.
That is why, Nicholson says, it is so important to keep water in the tree base at all times. Once the trunk scabs over, it will no longer take in water unless the trunk is cut again.
Another disadvantage, he says, to getting a tree from a big box store. If that is where you choose to get your tree, make sure you cut at least in inch off the bottom of the tree to allow it to take water.
Be careful if you store your tree before bringing it inside
Some families may go looking for the perfect tree right after Thanksgiving but stick it in the garage for days or weeks before bringing it inside.
Nicholson says that's ok, but the trunk may scab over while you are waiting to put the tree up.
"That tree will definitely need a fresh cut," he says, "Or it will not take any water and completely dry out."
Top tips for keeping your real tree fresh
🎅 Know when it was cut — A fresh cut tree is best
🎅 Make sure the trunk has a fresh cut before bringing it inside
🎅 Check the water EVERY DAY
🎅 Make sure the tree is not near a heat source, heating vent or fireplace
By following these simple steps, your real Christmas tree should bring joy all season long!
NJ's most hated Christmas decorations
Gallery Credit: Jeff Deminski
Let it snow: The last time we saw snow for Christmas in NJ
Gallery Credit: Mike Brant
25 Christmas songs performed by NJ artists
If you celebrate Christmas, the next month of your life is likely going to be consumed with shopping for gifts, retrieving a tree, decorating the house, and going out on adventures to see elaborate light displays.
The one thing that you must have at the ready for all of these scenarios is Christmas music.
Since a lot of the songs you hear tend to get repetitive this time of year, why not pay homage to some of the great singers, bands, and musicians that make New Jersey's music history so rich.
Gallery Credit: Joe Votruba
Report a correction 👈 | 👉 Contact our newsroom