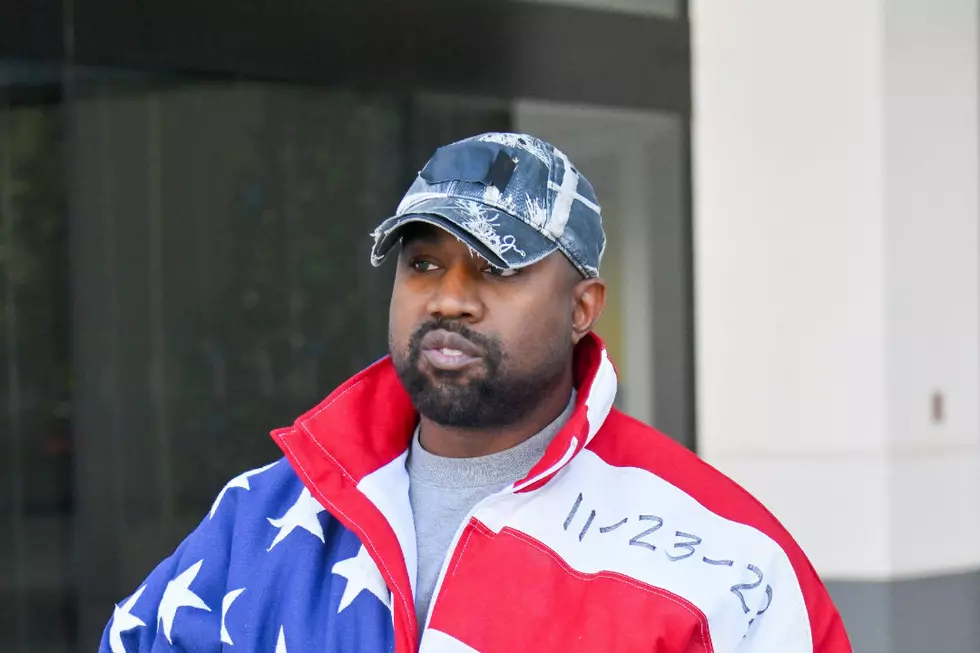 Kanye West Returns to Instagram With Cryptic Post and People Are Confused
MEGA/Getty Images
Kanye West has been mum on social media for a while, but has made a mystifying return to Instagram with a cryptic post.
On Sunday (March 5), following a ban on Instagram a few months ago due to posting a song on the platform addressing his anti-Semitic controversy, Kanye is back on IG. He's teasing what could be a new collaboration. The upload of a photo features a Black man in a dark gray-colored unitard, wearing oversized red sunglasses.The designer brand Balenciaga is tagged in the post, which is ironic considering the fashion house reportedly cut ties with Ye last October following his string of anti-Semitic comments.
Kanye wrote alongside the post: "Write a caption…" Ye's Instagram post can be found at the bottom of this article.
No additional details in connection to the post are available at this time. However, some people are concluding that this could be a hint at Kanye West's next clothing collection while others are simply wondering if Ye is back on the 'Gram.
One person posted in Kanye's Instagram comments, "He's back," including a laughing emoji. Then added, "Or is he gone?"
Another said, "Balencianye?" with a flushed face emoji.
On Oct. 21, 2022, WWD reported that Balenciaga had severed ties with Kanye West. The high-end designer's parent company, Kering, told the outlet, "Balenciaga has no longer any relationship nor any plans for future projects related to this artist."
Kanye West's offensive remarks cost him a few brand relationships, including Adidas, JPMorgan Chase Bank, Vogue, the Creative Artists Agency, MRC, GAP, Peloton and a host of others.
In fact, just last month, Adidas revealed that they'd lost over $1 billion in revenue by no longer selling existing Yeezy stocks. They also disclosed that their profits could've potentially been sliced by $534 million. It's worth noting that the company's initial separation from Kanye West cost Adidas more than $250 million in profit and $500 million in lost revenue although they claimed they would have saved $300 million in marketing fees and royalty payments to Ye. Now they seem to have reached a settlement together to sell $500 million worth of Yeezys.
All in all, what's Kanye up to? Only time will tell.
See more reactions to Kanye West's return to Instagram below and see the cryptic photo he posted.
See Reactions to Kanye West's Return to Instagram
See Kanye West's Cryptic Post Below