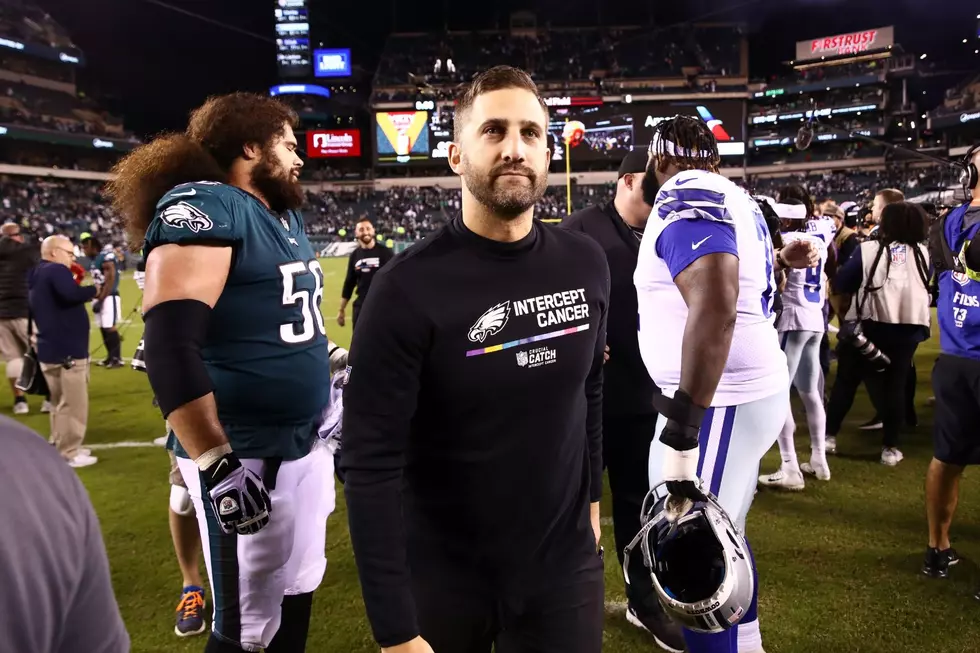 Last Minute Christmas Shopping Complicated For Eagles Fans
(Photo by Tim Nwachukwu/Getty Images)
When the Philadelphia Eagles play this weekend, it will be a collision of different worlds: Christmas Weekend is here and the Cowboys host the Eagles on Christmas eve!  It's a dilemma for those Eagles' fans who have procrastinated with their last-minute Christmas shopping.  If there is any "good news, " you have until kickoff at 425pm to run your errands before the 13-1 Eagles look to get that one more win they need to clinch home-field advantage throughout the playoffs and win the NFC East.  
NFL MVP candidate and Eagles starting Quarterback Jalen Hurts has been ruled out with what NFL Insiders report is a shoulder sprain, so the man behind Center Jason Kelce will be Gardner Minshew.  And what a wild week for the Eagles Backup Quarterback, who delivered the eulogy at his college coach Mike Leech's Funeral Service on Tuesday then got in a full day of practice with the starters on Wednesday and now he starts on Christmas Eve in Dallas!  I can't think of a better Christmas present for Philadelphia sports fans than the Eagles beating the Cowboys with the Backup QB on Christmas Eve in front of a national TV audience!  
But don't forget the 76ers play the New York Knicks at Madison Square Garden on Christmas Day at Noon, so you can't miss watching Joel Embiid on National TV too this weekend!  Holidays like Christmas are all about spending time with your family and friends, so how are you going to work-in watching your favorite teams this Christmas Weekend?
The Locker Room with Billy Schweim and our entire team wants to wish everyone a Merry Christmas!!  Our gift to you is a full Eagles preview show on Saturday Morning: Josh Hennig and I will get you ready for Eagles versus Dallas plus keep you company as you run errands on Christmas Eve.  We will hear from the Sports Book Consigliere Dave Sharapan, live from Las Vegas, brought to you by Dino's Subs and Pizza of Margate.  "The Book" will break down the odds for an Eagles win plus preview the busy NFL Weekend!  Next, we will get the "Keys to the Game" with Fox 29 News Sports Anchor and 973 ESPN Eagles Writer Scott Grayson brought to you by Van Brill Pools.  Finally, an NFL weekend is not completely without hearing from my Fantasy Football Guru Brian Hartley brought to you by Padula Masonry.  He will help you plug in the right players for your Fantasy Football playoffs or your DFS Christmas lineup!
It's a special Christmas Eve in The Locker Room with Billy Schweim from 10am to 12 noon Saturday morning on 973 ESPN Radio!  We will be off for Christmas Day but keep it tuned to 973 ESPN for the Eagles games on Christmas Eve and the Sixers game on Christmas Day!
Learn about Cape May County's Breweries