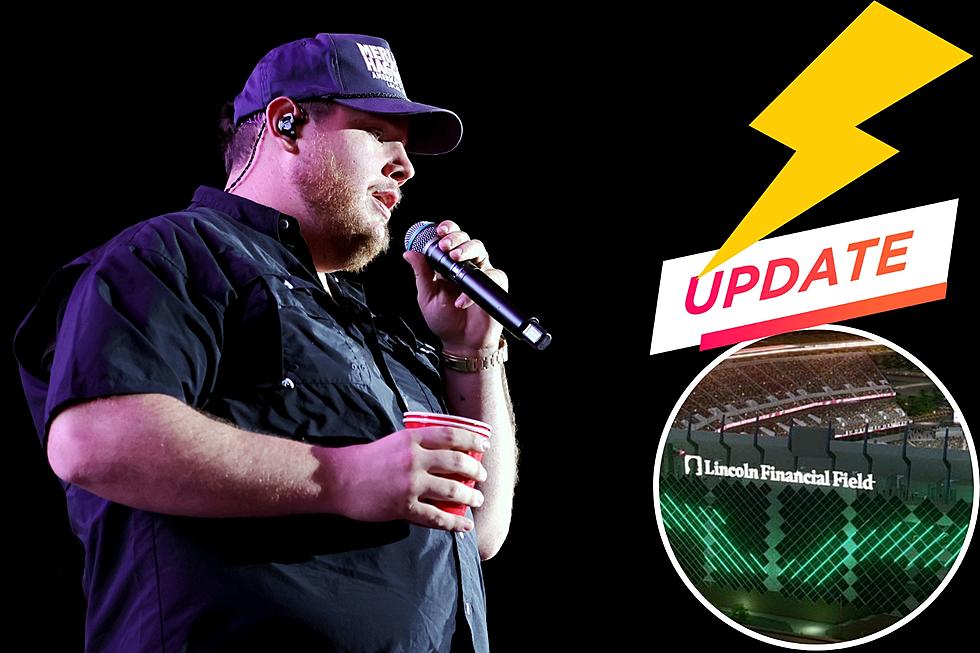 NEW INFO: Lightning Delays Friday Night's Luke Combs Concert in Philly
Composite via Getty Images & Canva
Luke Combs' concert in Philly at Lincoln Financial Field has been delayed by lightning. The storm has brought lightning and heavy rain to South Philadelphia, as of 10:30 pm.
However, stadium officials told us just after 10:30 pm that the show had NOT been canceled. They said the show would resume when conditions allow. They confirmed the news in a tweet on the X platform shared with fans at 10:36 pm Friday night.
"He will play his full set once the weather is clear," they wrote.
Fans reacted excitedly to news that the show was likely to continue this evening.
It's unclear exactly what time Luke Combs will take to the stage on Friday night. But when he does, here's his expected setlist.
Friday's show was well underway when the initial news of a weather delay was shared with fans around 9:00 pm.
The concert's opening acts had already performed. That was about the time that fans expected Luke to take to the stage around 9:00 pm when they learned of the delay as lightning was reported in the area.
Shortly after (around 9:30 pm), officials with Lincoln Financial Field instructed fans to exit the open seating area as a result of the thunderstorm for safety.
"For your safety, please exit the open seating area at this time and seek shelter along the concourses, utilizing the ramps to spread out. Thank you for your cooperation," stadium officials wrote on social media.
"A severe thunderstorm warning has been issued by the National Weather Service for our area. These storms may produce severe conditions, including lightning, and strong winds."
Footage shared on social media showed fans crowding inside the stadium awaiting an update.
The initial announcement about a delay was first shared with fans on monitors throughout the stadium.
That initial message told fans they were awaiting clearance as there was lightning in the area. It was posted just before 9:00 pm on Friday.
"Hey y'all, due to the threat of lightning, we'll be on stage as soon as we get clearance from the stadium. Appreciate your patience," it read. 
While concerts are technically rain or shine, they do not happen during a thunderstorm for safety purposes.
And, yes, the weather radar showed a pretty large line of thunderstorms approaching the city of Philadelphia. And, yes, there's a lot of lightning associated with these storms so far.
In fact, here's a look at the weather radar in the area just before 9:30. It appears as if the storm may last a little longer in the area. We'll keep you updated.
If you're in the stadium, stay patient. Concerts often resume after it is safe again. Stadium officials will keep you updated, of course, the best they can.
Be kind and patient Philly!
Yes, we've seen videos of some inpatient fans fighting in the concourse as they try to pass the time tonight during the delay.
Last Week: Luke Combs Cuts Show Short in Massachusetts
Combs' tour unfortunately has been no stranger to weather delays. Combs' set at Gillette Stadium in Massachusetts was disrupted by a thunderstorm. The storm resulted in mid-show delay last Friday night.
Combs performed for about 40 minutes before the storm delay. Then after he returned for another 20 minutes before more weather rolled in and officials forced the artist to wrap his set early.
Luke was able to perform a full show on Saturday night in Foxboro, Ma., but our sister station WOKQ says Luke was just as disappointed as those fans were.
https://twitter.com/lukecombs/status/1682617308672393218
"To everyone at @GilletteStadium tonight. I'd have played all damn night," Combs wrote on Twitter. "The Fire Marshall made a call that we couldn't play anymore for the safety of the public."

These are the Hottest Pop Concerts Happening in Philadelphia in 2023
2023 will bring some of the best concerts from some of our absolute favorite artists to Philadelphia (including Taylor Swift, Ed Sheeran and P!Nk.). Here's a COMPLETE list of all of the shows (so far) & even details on how you can get tickets to Philadelphia's hottest concerts of 202