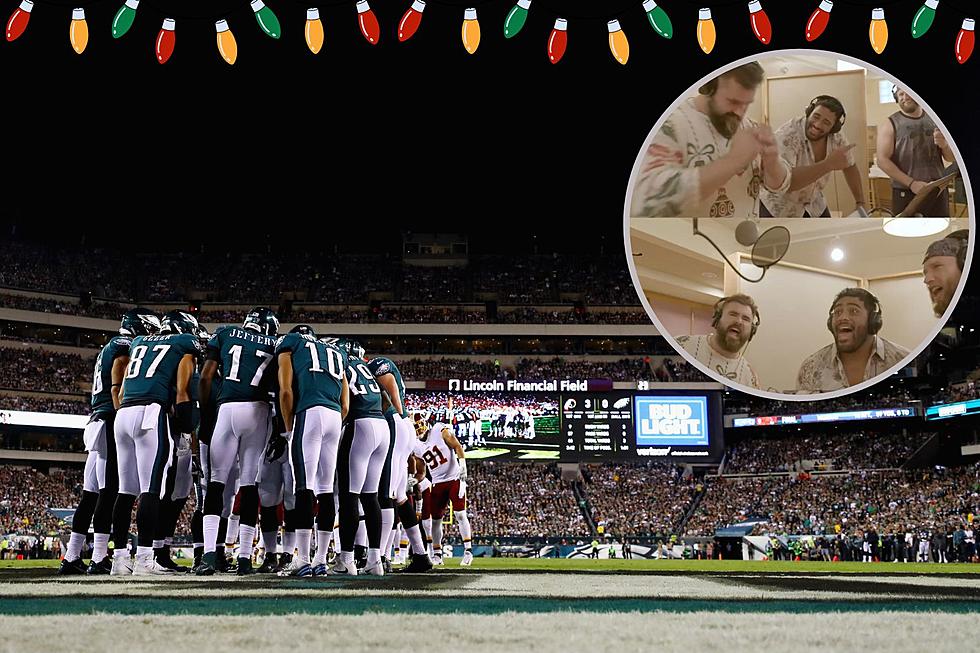 Eagles Players Are Back In The Booth For Another Christmas Album
getty/canva/ @aphillyspecialchristmas via Instagram
Eagles fans are in for another treat this holiday season!
A few of the Philadelphia Eagles have joined forces once again to bring fans another Christmas album to blast during the winter months.
Although it's been a very hot start to fall and I'm sure nobody is even remotely thinking about Christmas time yet (besides Hobby Lobby and the back isles of Target), this is some really exciting news even if your mind isn't in the spirit yet!
6ABC reports that Jason Kelce, Lane Johnson, and Jordam Mailata will be joining forces once again and will bring fans "A Philly Special Christmas Special". Their first album was released in 2022 and was titled "A Philly Special Christmas" which raised $1.25 million in sales that was donated to local charities.
This year, the Eagles guys are hoping to surpass the $1.25 million mark and raise even more money for charities this holiday season.
The album is going to be on vinyl plus a limited edition of the album which will feature a double disc of both "A Philly Special Christmas Special" and the original "A Philly Special Christmas" will be available for purchase as well.
Not only do you get to have some of your favorite Eagles players singing your favorite holiday songs, but the money you spend on purchasing the records goes to a very special cause.
The brand-new album is going to include 10 holiday hits and even an original song by Jason Kelce. Vinyl will be available for purchase on November 3.
10 Adorable Philadelphia Eagles 'Back to Training Camp' Photos
Our Philadelphia Eagles are back on the practice field preparing for the 2023-2024 NFL season, and some of the players took the most adorable photos to celebrate.
These are the Hottest Pop Concerts Happening in Philadelphia in 2023
2023 will bring some of the best concerts from some of our absolute favorite artists to Philadelphia (including Taylor Swift, Ed Sheeran and P!Nk.). Here's a COMPLETE list of all of the shows (so far) & even details on how you can get tickets to Philadelphia's hottest concerts of 202