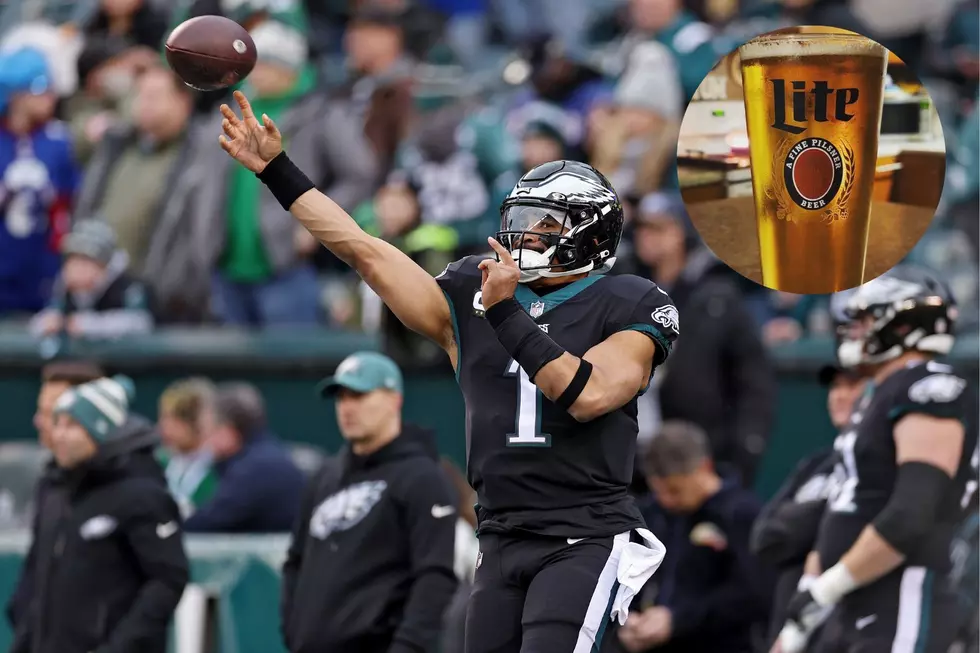 Score A Free Beer To Celebrate The Eagles At Select PA Bars Today
getty/canva
Hey, Eagles fans! What if I told you there's a way for you to get a free round of Miller Lites on the house today after work? It's so perfect for a Friday, especially leading up to the birds' big game tomorrow.If you're from one of these 5 PA counties, you'll be able to snag a free 12 oz Miller Lite at 20 locations today in celebration of the Eagles.
It's all part of Miller Lite's "Road to Pheonix: First Round on Us" program and as long as you're 21 and older, you're eligible for a free beer! Miller Lite and The Eagles are the collab of the century for this! If that wasn't good enough, along with your free beer, you'll be able to win tickets to the playoff game tomorrow at the Linc in Philly. You can go on Miller Lite's website to enter, as long as you're 21 and older. But the real question is….
Where can you get free Miller Lite in PA today in celebration of the Eagles?
According to Pennlive.com and millerlite.com, here are a few locations in Bucks, Delaware, Montgomery, Chester and Philly where you can score a free Miller Lite today.
Bucks County: 
The Ram - 606 West Chestnut Street, Perkasie, PA
Trum Tavern - 1 East Broad Street, Trumbauersville, PA
Station Tap House - 194 West Ashland St, Doylestown, PA
Delaware County: 
Monaghans - 414 Powhattan Ave, Essington, PA
Marty Magee's - 1110 Lincoln Ave, Prospect Park, PA
Montgomery County: 
Screwballs - 208 W Beidler Rd, King Of Prussia, PA
Conshy Corner Tav - 600 E Hector St, Conshy, PA
Audubon Ale House - 2812 Egypt Rd, Audubon, PA
Philadelphia County:
Kellianne's - 1549 Spring Garden St, Philadelphia, PA
Oscar's - 1524 Sansom St, Philadelphia, PA
Bonners - 120 S 23rd St, Philadelphia, PA
Chester County: 
Beaver Creek Tavern - 1350 Bondsville Rs, Downingtown, PA
Square Bar - 250 E Chestnut St, West Chester, PA
Side Bar - 10 E Gay St, West Chester, PA
A full list of every bar participating can be found on Miller Lite's site, here! Fly Eagles Fly!
Tinsel Takes Flight — A Philadelphia Eagles Pop Up Bar — Opens in Center City
Tinsel Takes Flight is now open 7 days a week at 116 S 12th St in Philadelphia, Pa. They'll be open through the football playoffs as we hope to cheer on our team. Check out how AWESOME this place looks on the inside too:
Here Are 10 Cringe-Worthy NJ Pronunciations
I sawl these on Reddit. Youse ready for these New Jersey pronunciations?