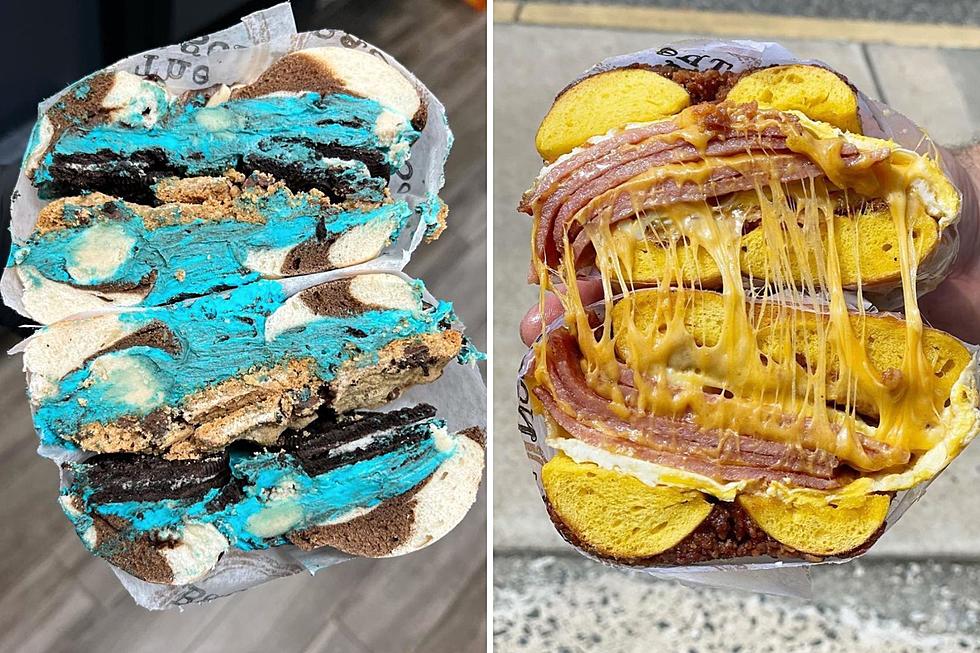 The Bagel Nook, Home of these Insanely Stacked Bagels, Is Opening Another N.J. Location!
Credit: Instagram @the_bagel_nook
These absolutely insane bagels are expanding in New Jersey!
The Bagel Nook, "The original home of the Overload Bagels" based in Freehold, New Jersey, is set to open its second Freehold location, according to NJ.com.
The new store will be located at 4345 Route 9 in early October, so we won't have to wait too long! Although there's no word yet on an exact opening date.
If you can think of any type of bagel under the sun, you can find it here. Even bagels you've never ever dared to dream of! Their selection of bagels is literally a kaleidiscope of different colors and flavors - and they are STACKED.
They're expansive menu features over 25 different bagel flavors, over 10 spreads, and over 25 varieties of "crazy" cream cheese flavors both savory and sweet, like Birthday cake, oreo, cool ranch, nutella, maple bacon and so many more! Feel free to mix and match to your bagel-y delight.
Or you could go for one of their 14 insane "Overloaded" specialty bagels, like Fruity Pebble Overload, Flaming Hot Cheetos Overload, Triple Chocolate Chunk Overload, Cannoli Donut Overload and more!
They also serve egg breakfast platters, breakfast sandwiches, pancakes & French toast, deli sandwiches, wraps, sandwiches, cheesesteaks, paninis salads and more. Check out their full menu HERE!
For now, you can still check out their other 3 locations, 2 of which are in New Jersey:
(Original) Freehold, 51 Village Center Dr
Princeton, 51 Village Center Dr
Las Vegas, 11010 Lavender Hill Dr Suite 140
Are you excited for their new Freehold location? Where else would you like to see The Bagel Nook expand? Fingers crossed they'll open some South Jersey spots in the future!
---
10 Best Mercer County Bagel Shops, Ranked
Did your go-to bagel shop in Mercer County, NJ make the list?
The Most Horrifically Haunted Places in New Jersey