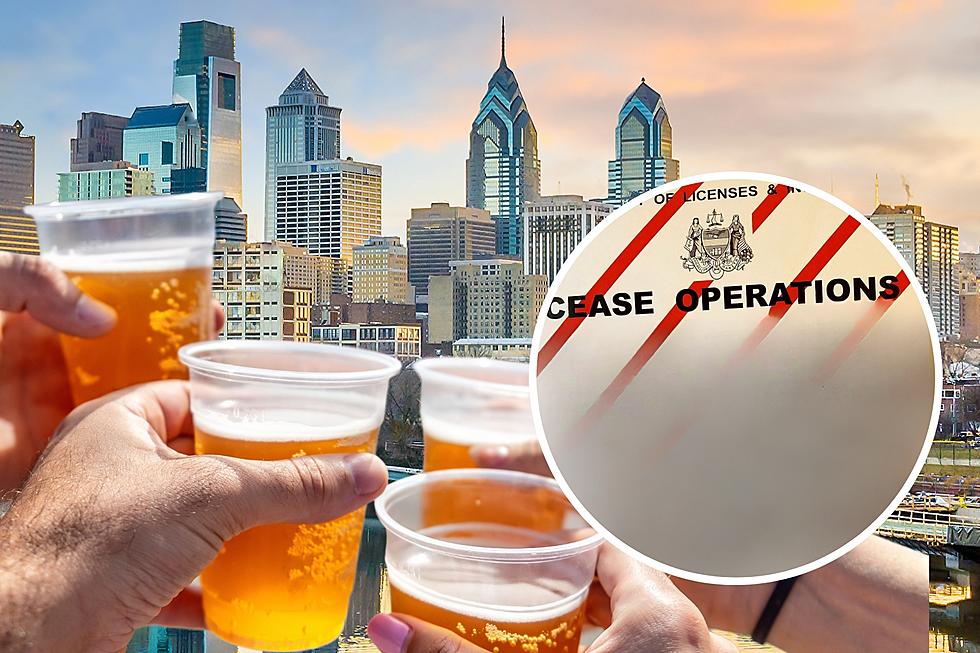 CLOSED For Safety? One of Philly's Most Popular Outdoor Bars Forced to 'Cease Operations'
Composite via Canva
It looks like one of Philly's most popular outdoor bars was forced to suddenly close this week (June 27).
This speculation comes after many noticed that a cease operations sticker was posted outside of the bar by the Philadelphia Department of Licenses & Inspections.
So, what are we talking about?
Well, yeah, it sounds like Walnut Garden will be closed (at least temporarily) as they make repairs to the new beer garden.
The notice, which appears to have been posted on Tuesday (June 27) cited several violations. We searched the city's website, but as of 2 pm, weren't able to find the exact nature of the violations that led to the notice.
We've also reached out to the Walnut Garden officials for a response. They did not reply as of Wednesday afternoon. But they did post on their Instagram that the Garden would be closed for Wednesday evening (June 28). "See you all soon," they wrote in part.
When a notice of Cease Operations Order is posted, the business must close immediately. These are issued in any of the following situations, The city of Philadelphia says:
An occupancy, use, or other activity doesn't have the necessary permits.
There is an actual or potential danger to building occupants. This may be due to explosive or toxic materials, or defective or dangerous equipment.
A structure is in a dangerous or unsafe condition.
There is an immediate danger to life or property.
There is an unsafe or unsanitary condition that presents an immediate danger to the health of the occupants of an abutting premises. This may be due to the presence of raw sewage, garbage, rubbish, or an infestation.
Walnut Garden is located on the 1700 block of Walnut Street in the city's Rittenhouse Square neighborhood.
It's described as the "newest family-friendly cocktail garden in the heart of Rittenhouse." In fact, 2023 is the facility's first season.
The area was previously home to three buildings that were destroyed in fires following the demonstrations in the wake of George Floyd's murder in May 2020. It had been home to a McDonalds, Vans, and Dr. Martens stores, both 6ABC and WHYY reported this month. 
Back in early June, restauranteur Avram Hornick told WHYY that as the new property owner decides the future of the area, FCM hospitality would be operating a seasonal concept there (with Asian street foods, outdoor picnic tables, and two bars).
FCM Hospitality is one of the largest hospitality groups in the city. In fact, they operate some of the city's most iconic outdoor (and indoor) eateries including Liberty Point, Morgan's Pier, Harper's Garden, and more.
We've reached out to FCM Hospitality for further comment as well, but have not heard back.
This, of course, may affect those participating in the very popular Center City SIPS evenings throughout Center City tonight (Wednesday, June 28) as Walnut Garden was listed as a participating venue.
Center City SIPS runs Wednesday evenings through the summer, starting at 5 p.m Participating bars and restaurants offer $7 cocktails, $6 wine, $5 beers, and half-priced appetizers 5-7 p.m. weekly. Plus, some restaurants offer dinner specials after 7 p.m. as well.
18 South Jersey Bars We Used to Close That No Longer Exist
Ah, there's nothing like a local bar where everyone knew your name. Bars you'd hit with friends until the lights came on and the bartender proclaimed 'last call!' Let's look back on the ones you miss the most.