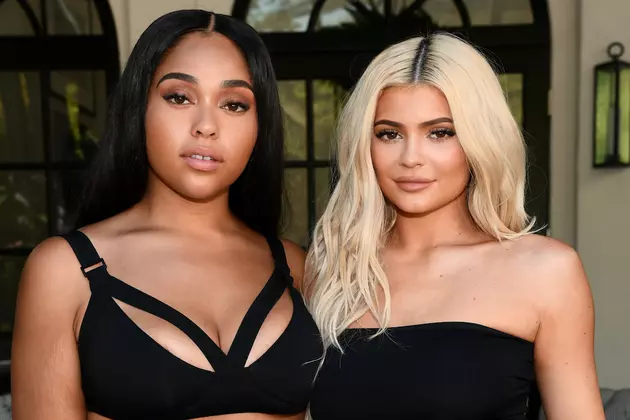 Was Kylie Jenner Shading Jordyn Woods With Lip Kit Sale?
Getty Images for SECNDNTURE
Kylie Jenner and Jordyn Woods may no longer be best buds, but that doesn't mean the makeup mogul is going out of her way to throw shade.
Over the weekend, fans noticed the Jordy lip kit on Jenner's makeup site was half off, People reported. Fans assumed it was the 21-year-old's way of getting back at Woods after she was caught kissing Khloe Kardashian's boyfriend Tristan Thompson at a party. Jenner claims she was completely unaware of the discount, however, and would never stoop that low.
"That is just not my character. I would never do something like that and when I saw it, I was like, thrown back," she told the New York Times in a recent interview. "Jordyn knows I didn't actually put it on sale."
Jenner noted in the interview that the sale had been going on two weeks earlier, weeks after the company switched from white to black packaging. She added that she immediately contacted an employee when she saw that the lip kit named after her former BFF had been effected by the sale. As of Saturday, the price of the Jordy lip kit (which is sold out) had been restored to its full $27. The Kylie x Jordyn best friend line, launched in September, is selling eyeshadow and highlighter at full price.
Sources recently told People that Jenner has had little contact with Woods since the scandal broke. It's been "rough" for her, and she's said to be "upset."
"Kylie has had a rough few weeks," the source said. "She is still upset about the Jordyn situation, although she seems to be doing so much better."
The source added that Jenner isn't trying to cut Woods out of her life completely, but is focusing more on other friendships she's developed. She is said to be "socializing more" and trying to grow her circle of friends.
"She has been socializing more and trying to find a bigger circle of friends that she can be close with," the source said. "After the Jordyn drama, she realized that relying on just one friend is not the best idea."
Jenner hasn't said much else about the drama with Woods. It's expected to play out on the upcoming season of Keeping Up With the Kardashians, which starts on Sunday.
Kylie Jenner's Style Evolution