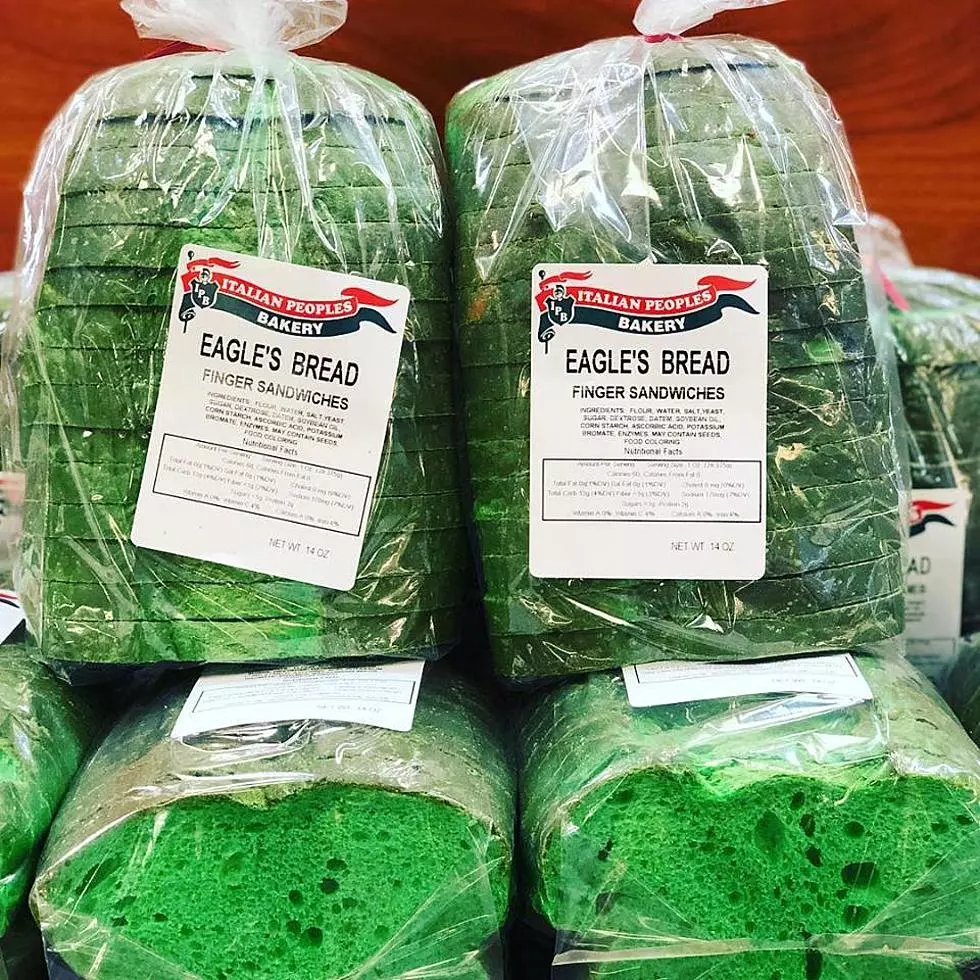 Get Your Eagles or Giants Playoff Bread at Hamilton, NJ Bakery
Italian People's Bakery
Hey Eagles and Giants fans. Get to Italian People's Bakery & Deli before the big Division playoff game on Saturday night (kickoff time is 8:15pm) because they're making Eagles Bread and Big Blue Bread.
Yes! It's Eagles green and Giants blue. Don't you love it? Maybe if you eat it you'll bring good luck to your team. If it were only that easy, right? Haha.
It's perfect for your party sandwiches if you're having friends over to cheer on the Birds, Giants or even if you're watching by yourself.
I was so happy to see on Facebook that the bread is back again. The mega popular local bakery made Eagles bread back in 2017 when the Eagles were in the Super Bowl and again for playoffs in 2019.
The post reads, "Attention!! Giants and Eagles fans! Due to your requests, we have decided to make our Eagles bread and Giants "big blue" bread for this coming Saturday's Division game at 8:15pm. Due to the size of our mixers, we could not make thousands of them so we have decided to make hundreds of them."
They're expecting them to be ready and in all stores on Thursday morning. They suggest making chicken salad sandwiches, tuna salad, shrimp salad, cold cuts, or good old PB&J (peanut butter & jelly). Yum.
The breads will be pre-sliced so all you have to do is put your sandwiches together.
My advice is get there early. Last time it was available, it sold out quickly. Don't miss your chance at the coolest sandwiches in town.
Italian People's Bakery has several locations in the Mercer and Bucks County areas. Click HERE to find the one near you.
Go Eagles...or Giants.
Where Are They Now? Looking Back at New York City TV's Most Famous Anchors & Reporters
From Sue Simmons and Roz Abrams to Ernie Anastos and Jim Rosenfield, New York City's media landscape has been shaped by some of the most iconic anchors (and reporters) ever. But where are they now? We take a look back:
Romantic Restaurants in Central New Jersey Perfect For Valentine's Day
These restaurants will have you and your Valentine in the mood for love.