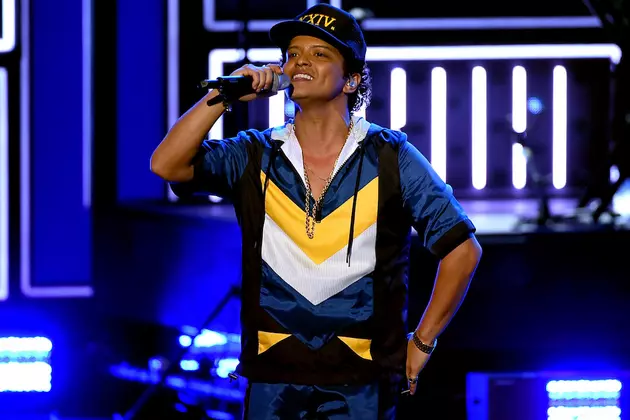 Everything You Need to Know About Bruno Mars' Concerts in Philly This Week
Kevin Winter, Getty Images
"If you're like me, you like knowing what to expect when you go to a concert.  That way, you can plan the best time to hit the concession stand or bathroom.  Plus, you won't be disappointed if you didn't hear a song you love.
If you're not like me and you like to be surprised...stop reading now.
Tonight and tomorrow night (September 19 and 20), Bruno Mars is playing at the Wells Fargo Center in Philadelphia.
It feels like we've been waiting for these shows forever.  It was announced way back in February, right after Bruno won big at the Grammy's.  This leg of the 24K Magic Tour was originally supposed to feature Cardi B as the opening act, but she ended up dropping out in July after she gave birth to her first child.
Philly's own Boyz II Men will now open the shows at the Wells Fargo Center.
The 24K Magic World Tour kicked off in March of last year and StubHub even named it the biggest music tour of 2017.
According to setlist.fm, here's what you can expect to hear at the show:
"Finesse"
"24K Magic"
"Treasure"
"Perm"
"Calling All My Lovelies"
"Chunky"
"That's What I Like"
"Versace on the Floor"
"Marry You"
"Runaway Baby"
"When I Was Your Man"
"Locked Out of Heaven"
"Just the Way You Are"
That's a pretty solid set, right?  (The only "hits" missing are "Grenade" and "It Will Rain").  If you're going tonight or tomorrow...have fun!