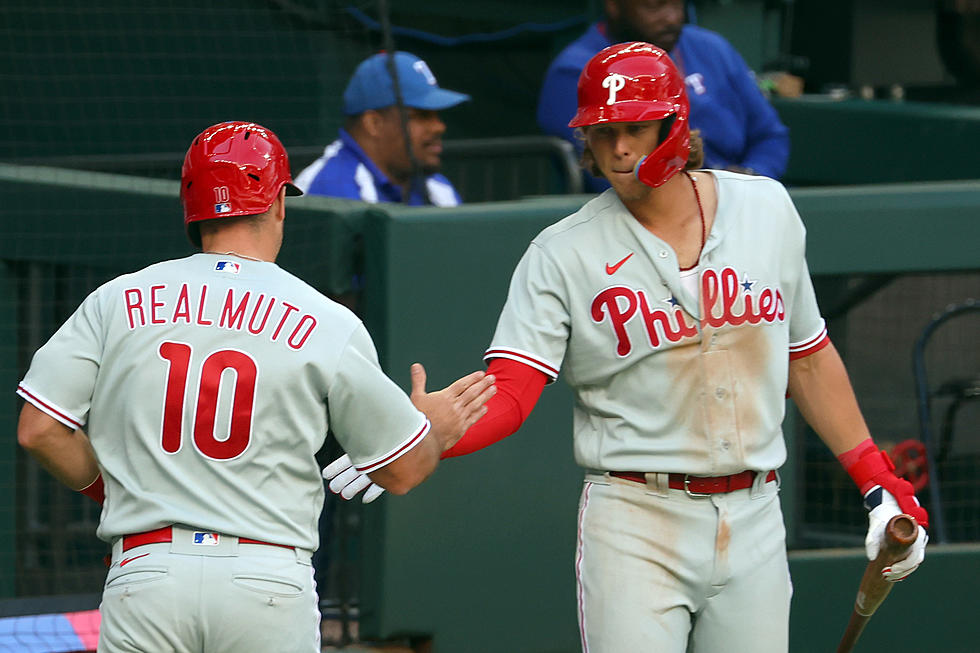 Here's an Awful Change That's Coming to Phillies Jerseys
Getty Images
A big change is coming soon to the Philadelphia Phillies jerseys and I don't like it!
Remember those Phillies jerseys from years ago that were a burgundy color? They looked more suited for a slumber party than for Major League play.
The change coming is worse than that.
There's a good chance the Phillies could soon be joining other MLB teams by putting a patch on their jerseys. Not just any patch - an advertising patch.
Say it ain't so!
Several teams have already "sold out" and the Phillies could be one of the next teams to do it.
All for the almighty dollar.
(Honestly, though, if that's what they have to do to add a few more Trea Turners, I'm ok with it....)
The Padres already have a patch. It's Motorola:
The Arizona Diamondbacks have Avenet as their sponsor. (Who> I had to look it up, too. It's an electronics company.)
The Boston Red Sox are wearing a MassMutual patch for an insurance company. The Cincinnati Reds wear a patch for the grocery store chain Kroger. A few other teams have sponsors, with more on the way.
Which got me thinking: who might end up as the sponsor of the patch on Phillies uniforms?
Comcast and Verizon come to mind. How about Wawa? Geno's Steaks maybe? What about the Pennsylvania Lottery? (Wouldn't the New Jersey Lottery be a real coup?) Oh, wait, I know. A casino! (We can't have Pete Rose in the Hall of Fame, but we can have a casino patch on the jerseys!)
What do you think it will be?
We should hear something soon.
Phillies Managers with the Most Wins Since 1980
Here are the Phillies managers with the most wins in team history.
Amazing Photos from the 2022 Baseball Hall of Fame Inductions in Cooperstown, NY
Don Laible takes his camera around Cooperstown, NY during the National Baseball Hall of Fame Induction weekend on July 24, 2022.